We're up to part six of our season review of the San Jose Sharks, with an in-depth look at the coaches. Just two parts to go after this.
Sharks Season Review:
Coach
GM and Owner (coming next)
As I picked the last edible oranges off my tree earlier this week, I took note of the small oranges which had already formed, the ones I'll pick next year. The growth seasons overlap. Before one season finishes, another has begun.
Hockey is a bit like this; there is some overlap in the seasons. The 2016-17 Sharks season technically began in October when they played their first regular season game. But major things were impacting the 2016-17 team while the team was still playing the 2015-16 season.
San Jose head coach Peter DeBoer was the right coach for the Sharks in 2015-16, when he led them to the Stanley Cup Final. This season, though, was very different. It was not clear if he was the right person for this season.
Last season's roster was very good, and this season it was even better. The results, though, weren't better. The Sharks managed a playoff appearance, but the season ended with a first-round exit. Given the injuries San Jose entered the playoffs with, this is about the best one might expect. The path, though, was problematic.
Managing the Obvious
San Jose entered the season with known risks. Teams that get to the Stanley Cup Final one season rarely get there the next. The short offseason plays a role. But for the Sharks, there were other complicating factors, including the age of key players, the extensive travel, seven Sharks participating in the World Cup of Hockey, and the compressed schedule. All these were known factors for 2016-17, even before the 2015-16 season ended. Combined, these factors projected to have an unusually harsh effect on the 2016-17 Sharks.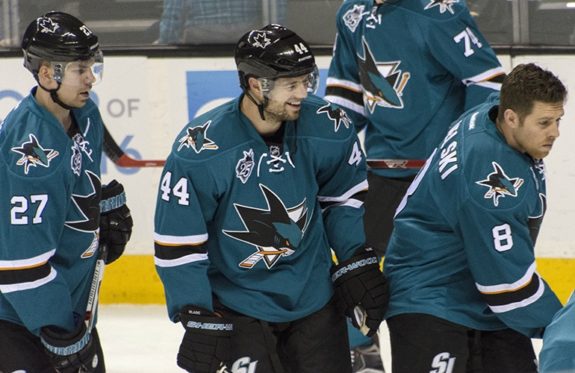 DeBoer said he understood this, and so did general manager Doug Wilson. Both spoke to these issues before the 2016-17 season started.
In the best of cases, it would be difficult to mitigate these issues. DeBoer barely tried, and in some cases, was openly dismissive. The concerns he discussed before the season disappeared into the ether during the season. If the coach doesn't take it seriously, no one else will.
DeBoer sets the lineup and doles out playing time. By the time the playoffs rolled around in April, the Sharks had the most heavily-played forward, the most heavily-played defenseman and the most heavily-played goalie counting ice time from the start of the 2015-16 season. The players are Brent Burns, Joe Pavelski, and Martin Jones.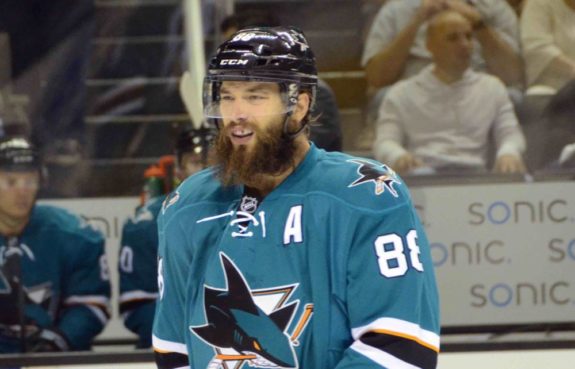 The Sharks had other players near the top of the playing time list, including three who entered the playoffs at least 36 years old: Paul Martin, Joe Thornton, and Patrick Marleau.
Problems
The problem with excess use is simple. Once a player starts to fatigue from long-term overuse, there is no quick cure. Overplaying key players is very risky, with no meaningful reward.
Fatigue manifests itself differently from player to player. Among the players who had issues were Thornton, Pavelski and Burns. Pavelski and Thornton had sluggish seasons compared to their norms, while Burns was great until he hit a wall. Worth noting, some of the fatigue manifested itself as mental errors. Burns, in particular, started making the sorts of defensive mistakes he'd eliminated from his game last season.
These three players played 82 games in 2015-16, all 24 playoffs game, the World Cup of Hockey and every game this season until April, when Thornton's knee gave out in game 79.
Over two seasons, 36-year-old Paul Martin played in 184 games (out of 188), by far the most in his career over any comparable stretch. This total came before the playoffs started.
Goalie Martin Jones saw his save percentage drop each month from November (.924) through March (.885). In a season with a compressed schedule and more back-to-back games than any other, an unconcerned DeBoer used back-up goalie Aaron Dell three times or fewer in every month prior to March. Yet, in every month, from November on, Dell had a better save percentage than Jones.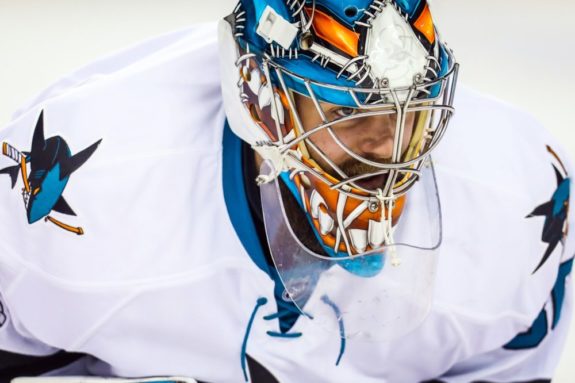 Responsibility
DeBoer knew the risks and ignored them. Following the elimination game against Edmonton, DeBoer stated the team "ran out of gas" in March. He is correct. But it's DeBoer's job to make sure the team doesn't run out of gas in March.
If there is a counterpoint, it is the one player whose ice time DeBoer cut substantially: Patrick Marleau. Marleau was not a World Cup of Hockey participant. DeBoer dropped his ice time by 10 percent compared to the previous season, and took him off the penalty kill, the most demanding ice time. On the penalty kill, his ice time fell by 93 percent (from over 100 minutes to just seven). A fresher Marleau delivered his most effective season in years.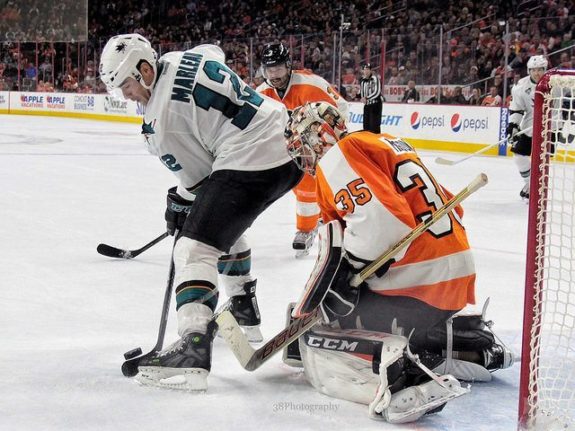 Even within games, there is a subtle trend showing the Sharks' tendency to fade. The Sharks were at their best in the first period, outscoring opponents by 20 goals. In the middle period, they were plus-7, but they were minus-8 in the third period. The Sharks ran out of gas during the season, but even within games, there is evidence of such an effect.
Risk Without Reward
The risks related to extensive player use were known ahead of this season. It was DeBoer's job to set the tone and develop priorities. With Marleau, less was more. With Marleau, less was a reward. But excess ice time is a risk without reward. Good coaches understand risk versus reward. DeBoer didn't.
Lacking Adjustments
The problem area which stood out most was the power play.
San Jose's offense came under criticism, but the drop-off in goals scored from last season to this is entirely attributable to the power play. In 2015-16, the Sharks poured in 62 power-play goals. In 2016-17, just 41.  A drop-off of 21 goals. Overall, the Sharks scored 18 fewer goals this season. The drop in San Jose's scoring is more than 100 percent attributable to the power play.
How bad was it? The Sharks' 2016-17 power play scored the fewest goals in team history.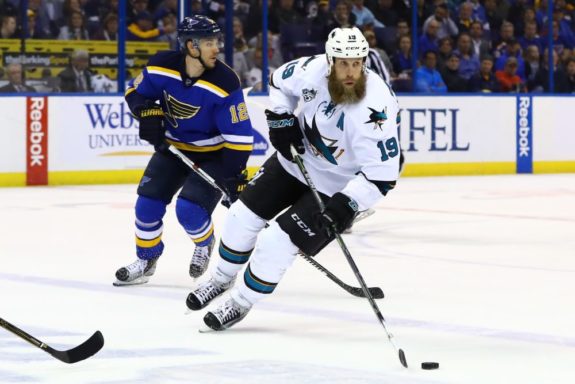 How did San Jose attempt to fix the power play? I'm not sure this is even the right question. Did San Jose attempt to fix the power play? They didn't try very much. The top players are all veterans who have played together for years. Combined, they have over 1,400 goals scored. How could something historically so good go so bad so quickly?
Perhaps even more puzzling, how could it stay so bad? Much attention was focused on Steve Spott, the assistant coach in charge of the power play. But DeBoer deflected such criticisms, citing the responsibility for the unit was on all the coaches, himself included.
Another problem area was faceoffs. The Sharks had seven players take 200 or more faceoffs in the 2015-16 season. The same seven players took 200 or more faceoffs this season. Yet, the success rate dropped, going below 50 percent for the first time in 11 years (48.1 percent).
An Earth, Wind and Fire song lyric says "what used to be right is wrong" and continues "something happened along the way." For San Jose, the power play and the faceoff circle had long been "right." But something happened along the way. And in 2016-17, they were wrong.
Missing Development
San Jose is a veteran-led team, but younger players play critical roles. These younger players need to improve for San Jose to become the best team it can become. Alas, too many players failed to advance.
I'm not as hard on this as some, including DeBoer himself. He called out Chris Tierney and Joonas Donskoi during the locker room clean-out and sent a warning to rookie Marcus Sorensen about his potential to regress.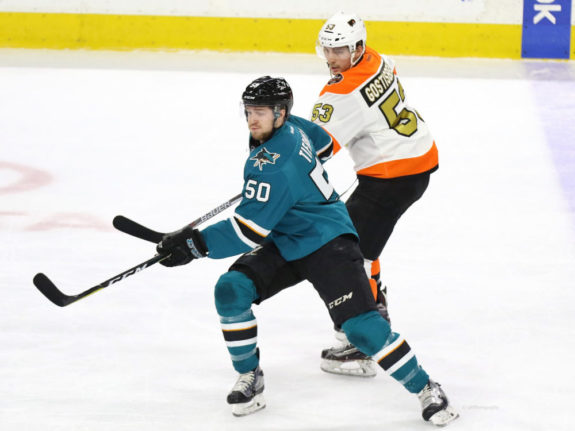 Secondary scoring was an issue, but it is for most teams. Getting younger players to play good defense is a bigger challenge, and on this front, the team had success.
Tierney and winger Melker Karlsson are examples. Both were effective in the playoffs last season. I thought both had successful seasons, though neither was able to raise his game much further this season.
Joonas Donskoi and Tomas Hertl both regressed, though both played with significant injuries, making it tougher to draw meaningful answers.
The Sharks managed just two of the top 100 rookie scorers; Kevin Labanc at 29th and Timo Meier at 85th. Despite being the team's top rookie, Labanc was not on the Sharks' playoff roster.
Integrating Veterans
It was not just younger players who had an issue, but veteran newcomers too, especially Mikkel Boedker. Boedker never did fit in. His scoring output was cut in half. Further problematic, the Sharks wanted to emphasize speed and the speedy Boedker, on the surface, fit this approach. Yet, his speed rarely proved a helpful asset.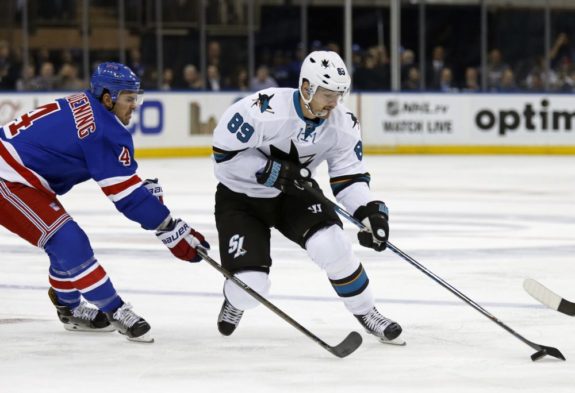 I'm more sympathetic to players coming over at the trade deadline who struggle to integrate. It is, by nature, somewhat hit and miss. Still, Jannik Hansen fell in the category of miss. I'm not blaming DeBoer, but had Hansen integrated effectively, it would move the argument in a more favorable direction.
The Benchmark
The NHL's best coach is Pittsburgh's, Mike Sullivan. One of his top qualities is his ability to integrate younger players and get meaningful contributions. Similarly, he takes modest players and gets them to perform at higher levels. A partial list of these players includes Bryan Rust, Jake Guentzel, Conor Sheary, Nick Bonino and Carl Hagelin. These players are critical to the Penguins' success.
While I mentioned that others are harsher critics of the progress made by San Jose's younger players, I probably place greater importance on the role of coaches in developing younger players. When others blame the player, I'm the one looking closely at the coach.
Coaching up younger talent isn't an area where it is OK to be OK. For a team to be a contender, young talent needs to excel. Top players move the needle, but as Sullivan's Penguins prove, youngsters, even rookies, make a meaningful difference. To be a top NHL coach, one needs to get the most out of these players.
San Jose has a lot of younger players who need to improve and having a coach who can help these players is essential. Fairly or not, DeBoer has a reputation as a veterans' coach, one who works well with established players, but doesn't necessarily get the most out of younger talent still in the developing stage. This season's results will not change his reputation.
Important Positives
The Sharks rolled four lines, including the most effective fourth line in team history. DeBoer's use of Micheal Haley was surprisingly effective. Not only did Haley deliver a decent season, but he also provided confidence to younger players. Having a 'got your back' fighter in the lineup assists players making their NHL transition. Any data is anecdotal, but DeBoer's use of Haley went over well within the locker room.
I mentioned the struggles integrating veteran forwards, and I'll give credit where its due. Free-agent defenseman David Schlemko, though briefly in DeBoer's doghouse, integrated well and delivered a solid season.
DeBoer's Best
The biggest positive in DeBoer's second season as bench boss? The Sharks' excellent defense. Not just the defensemen, but the team defense. San Jose was fifth-best in the NHL in goals allowed, even with below-average goaltending. The 1,359 blocked shots were a franchise record and just four behind the league-leading Islanders.
Prior to the mid-March meltdown, the team defense was the best in the Western Conference and rivaled the Washington Capitals for best in the league.
Team discipline was a strength, as the Sharks were one of the league's least penalized teams. They took only 223 minor penalties, the lowest figure in team history. The Sharks were shorthanded only 212 times, third-best in the league, behind only Chicago (211) and Carolina (202).
DeBoer constantly juggled the forward lines but rarely adjusted the defensive pairs. His willingness to shake things up when they needed it, but also incorporate stability, is a helpful tool.
This team rarely beat itself with undisciplined play. If the Sharks are going to compete for a Stanley Cup in the seasons ahead, DeBoer's defensive structure will play an essential role.
Key Players and Pressed Buttons
Two important players advanced their games. Logan Couture continued to improve and is now the best Sharks forward. Brent Burns, who turned his game around under DeBoer and assistant coach Bob Boughner last season, was terrific this season until he hit the wall. Couture and Burns are the most important players for San Jose.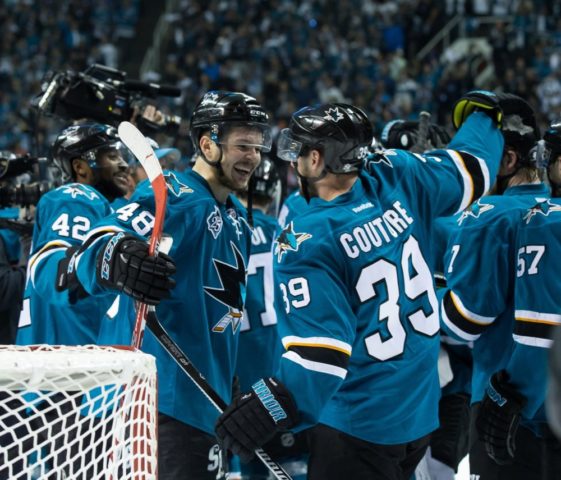 DeBoer has shown he can push buttons and get more from players, at least temporarily. Several times, he 'sent a message' via a benching and got positive responses from players. The response duration was often short-lived, but a good response, even for just a few games, can sometimes be the difference in a game or two. It wasn't overly important this season, but DeBoer's ability can prove meaningful in the years ahead.
Handling Injuries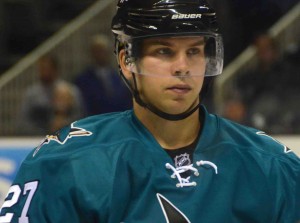 Injuries are largely random; this is not on the coach. Except, well, if it's a re-injury situation. In which case, things get fuzzy. Donskoi separated his shoulder, returned to action and separated it again shortly thereafter.
The interactions between coach, player and medical staff can help or hurt a player. One does wonder if Thornton's knee was already compromised prior to his major injury, as the contact wasn't unusual. One doesn't wonder if Couture was risking further damage by playing without a face cage with an already-fractured face. He was. One doesn't wonder if Thornton risked further damage by playing on already torn knee ligaments. He was. Heck, DeBoer himself described Thornton's knee as "floating" while still playing him against Edmonton.
Excluding the 7-0 aberration (a game where the Oilers basically didn't show up), Couture and Thornton combined for just two points (both assists) and were minus-4 in the series.
Hockey players are a different breed. They are as tough as they come. But the coach has a role in helping players manage injuries wisely. Sending highly-compromised players onto the ice is ultimately the coach's call. Donskoi, Thornton, and Couture are cases where it's safe to say the risk was not worth the reward.
Expectations and Results
DeBoer got about as much out of the Sharks as anyone could expect, given the injuries they had entering the playoffs. The roster, as strong as it was, had the top-three centers (and a couple other important players) dealing with major injuries. A great playoff run was not in the cards.
But accepting the season ending result fails to address real concerns with DeBoer. From the first puck drop in October, the Sharks were in no danger of missing the playoffs. The "can he" questions about DeBoer are important. Can he:
• Develop younger and mid-career players?
• Integrate free agents (especially forwards)?
• Find the right playing time balance to ensure key players do not pass the point of diminishing returns?
• Make critical adjustments to key areas, including the power play and faceoffs?
• Help players manage their injuries in a wiser manner?
DeBoer must deal with these questions next season. Better answers are essential if San Jose is to emerge as a strong Stanley Cup contender.