After his rookie season in pro hockey, Russian defenseman and Los Angeles Kings prospect Damir Sharipzianov was assigned back to the KHL. He will spend the 2017-18 season in his hometown, playing for Neftekhimik Nizhnekamsk. The Hockey Writers reached the 21-years-old player while settling in Nizhnekamsk and talked with him in his native Russian language. In this exclusive interview, Sharipzianov talked about his return to Russia, his first pro season in North America, and his prospects in the KHL.
The Hockey Writers: You are back home. What are your feelings?
Damir Sharipzyanov: I'm very happy. I can't wait for the season to start. I'm really looking forward hitting the ice in my hometown. And (to) play(ing) hockey, of course!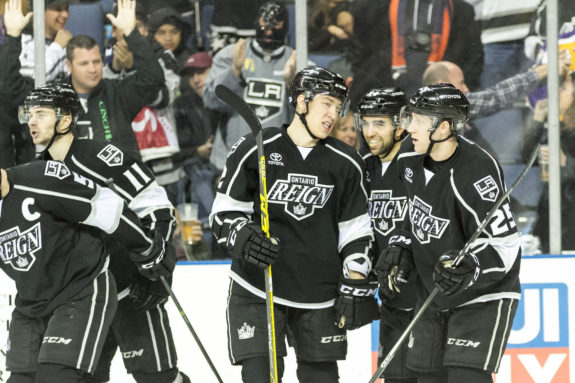 First Steps as a Pro
THW: It's hard to call the last season as a good one. What happened?
DS: I wouldn't say that it was bad. Yes, I didn't have great stats. But the AHL isn't an easy league to play in, and for a defenseman it's hard to score points. I am not saying that it has been a great season. I think I could have been much better, play more. But even when I didn't play I can't blame anyone but myself. I always felt comfortable on the ice, and I think that this season I learned a lot and gathered a lot of experience. I did try my best to get something from each practice and game. I simply tried to play my best hockey, but it looks like it wasn't enough. I will work on myself to show an even better game!
THW: What kind of ties did you have with your coaches?
DS: We had good ties. Our coach [Mike Stothers] is very demanding. I didn't have any problem with him.
THW: How hard was for you the transition from junior hockey to the AHL?
DS: Not too hard. Hockey is faster, the game is more physical and you need to think faster. But I didn't feel any big difference. It's only all much faster.
THW: I read an interview with you from summer 2016. You've been asked what you need to work on in the offseason and you replied "skating" as the first option. Any success?
DS: Yes, I worked a lot on my skating. I think I have made some good steps forwards. But as the saying goes, "there is always room for improvement." There's no limit to perfection; that's why I keep on working on it.
THW: Also, when one watches your video interviews, your English (sounds) great. Did you know the language before moving to North America?
DS: I moved to Canada four years ago and I didn't know a single word. In half a year I started talking little by little. And now I don't have any problem with the English language.
D-man Damir Sharipzianov @Sharipzian44 from @LAKings will sign one-year deal with his first #KHL team Neftekhimik Nizhnekamsk #LAKings

— Yevgeni Belousov (@AliGoWeed) May 7, 2017
THW: What was hard for you at first, other than the language barrier?
DS: I was only 17 when I left home. Being alone, without my parents, was hard at first. But I got used to it quite fast, when we started practicing and playing games. I didn't have free time to miss home.
THW: I recently talked with Washington Capitals prospect Dmitri Zaitsev, and he told me that in his team they had a sort of "European team-within-the-team". Did you experience the same? You had a good number of European players in Ontario.
DS: No, we weren't split into Europeans, Americans, Canadians. We were one team.
THW: Usually in North American hockey there are many fights.
DS: Yeah, of course. I had two or three fights myself. You can't avoid that in North America.
THW: But still, it's hard to call yourself a fights specialist.
DS: Of course not, I prefer playing hockey.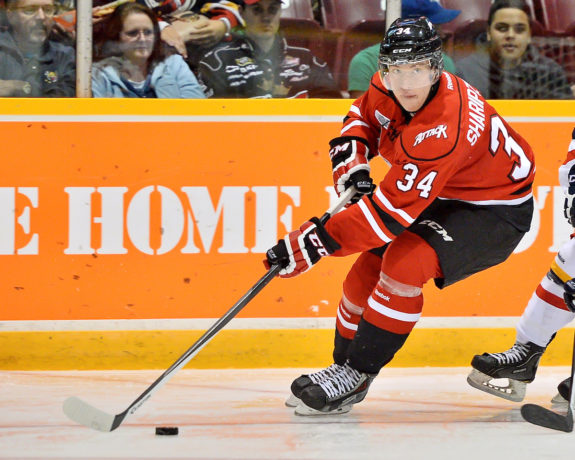 THW: You recently decided to get back to the KHL. Why?
DS: I had a chance to get back home. To be loaned [to the KHL]. And then to get back to North America. I simply want to play. I didn't have this option [in North America] at this moment. That's why I and my agent decided to give the KHL a chance.
THW: Was it your initiative?
DS: Not really, I didn't have (to) even think about it.
Getting Back Home
THW: Your agent is the former NHL champion Igor Larionov. How did he find you?
DS: He found me through Rail Yakupov, Neftekhimik's GM. He recommended me to him, and Mr. Larionov came to see me at a tournament in Russia. Then he told me that I had a chance to go to North America. I agreed. I don't regret anything about it. Mr. Larionov taught me so many things, he helped me a lot and keeps on helping me. He's a true Professor, he knows everything about hockey.
THW: I think you know that you and the other best Nizhnekamsk player of your generation, Nail Yakupov and Bogdan Yakimov, have the same agent. Do you think that your return in Nizhnekamsk is somewhat tied with Yakimov, who's already playing there?
DS: No, I don't really think so.
THW: In any case, I think it's pleasant to play with him.
DS: Sure it is, I know him since my childhood. I already met him.
THW: Your new head coach will be former NHL player Andrei Nazarov. Did you meet him already?
DS: Not yet.
THW: Neftekhimik had some promising acquisition(s) during the free agency so far. Do you think you can reach the playoffs?
DS: We'll try hard to achieve that. Reaching the playoffs is just our first goal.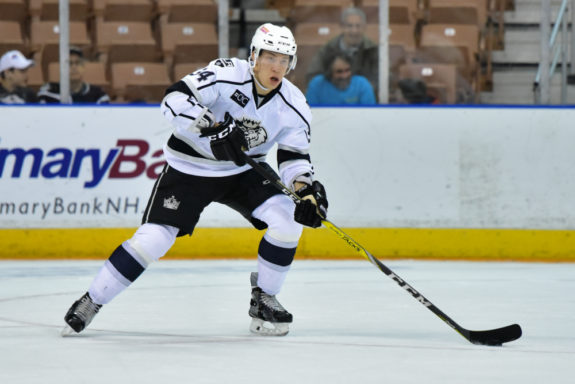 THW: (O)n your team, there are a few players with a similar story. Recently, Neftekhimik signed Andrey Makarov, who left North America not happy with his team. Bogdan Yakimov is also playing his second straight season off North America. We can say that both didn't have the career they could have had overseas. Will you be an exception?
DS: I didn't get back home because I didn't succeed [in North America]. I have great ties with Los Angeles, and I don't want to ruin our relationship. I am back because I want to play hockey. Gather experience. And then I will keep on trying on getting to the NHL with my full forces.
THW: A defenseman's life in the KHL may be easier. More space, other speeds.
DS: Yes, I agree, but you still need to get acquainted with the different ice surface, and not lose puck battles. But I think that I won't need too much time for that and I won't have many problems. The bigger rink means also more space in the offensive zone, and I love it.
THW: Moreover, it also means more time for a good shot from the point. Last year it hasn't been easy to find you on the scoresheet, do you think that you will score some goals this season?
DS: (Laughs) That's a good question. The more, the better. But the most important thing is that my team wins. I want to help my team in any possible way.
THW: Another thing that may be different between North America and Russia is that usually in Russia players play on their off side. Usually, in North America is the other way around. As you are a left-handed player, did you play on the left in Ontario?
DS: Yes, I played on the left, but I didn't feel much difference, there are plus(es) and minuses on either side. It depends on the way you look at it.
THW: Do you think that you'll play on the right?
DS: No difference to me. I'll play where my coach will tell me.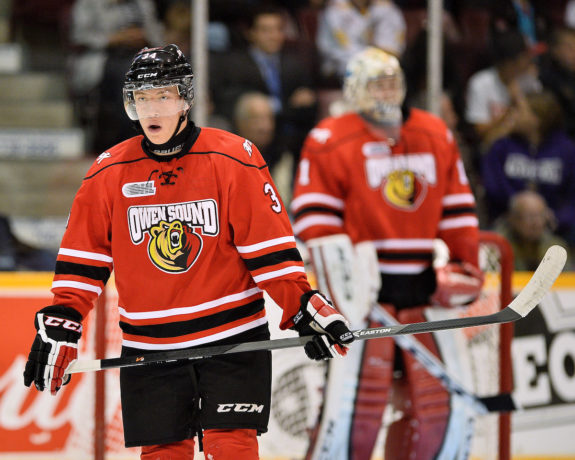 THW: How did you like living and playing in California?
DS: It was great, especially during the winter. The climate is always warm.
THW: A big difference with your native Nizhnekamsk.
DS: Nizhnekamsk is the best city in the world!
THW: Did you really miss home when you were playing there?
DS: Well, as I told you earlier, I didn't really have time for that. Hockey was the first thing.
THW: Many players like to play consoles during their free time. Do you too?
DS: I own a console. But I don't play often, I prefer playing billiards.
THW: What do you think about the decision of the NHL regarding the Olympics?
DS: I think that it's not a good decision. Olympic Games are what everyone really wants to participate in and represent their country. And I think that (to not) give this opportunity (to the players) is not correct.