Drafted by the Washington Capitals in the seventh round of the 2016 NHL Entry Draft, defenseman Dmitri Zaitsev and his Moose Jaw Warriors just finished their 2016-17 campaign with a first-round exit in the WHL playoffs. The Hockey Writers reached Zaitsev and talked in his native Russian about his early move to North America, his prospects with the Capitals, and his plans for the future.
Early Life
The Hockey Writers: Where were you born and when did you start playing hockey?
Dmitri Zaitsev: I was born in Togliatti, and I started skating when I was three. I started playing hockey when I was six.
THW: Are you alumni of the Lada Togliatti hockey school?
DZ: No, Magnitogorsk.
THW: When did you move there?
DZ: I moved to Magnitogorsk in 2007.
THW: Was your move for hockey reasons?
DZ: No, I moved there with my family, for family reasons.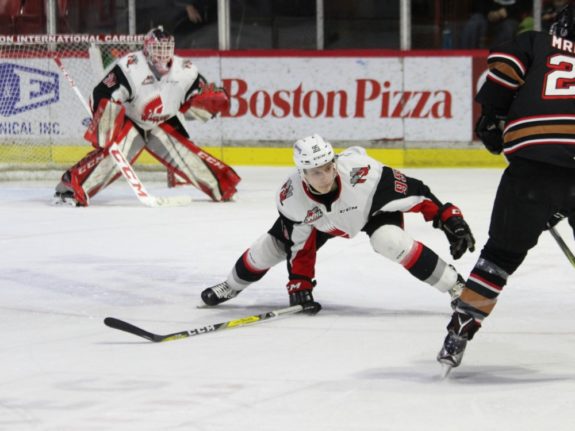 THW: Some of your early career stats say you spent a few seasons as a forward.
DZ: No, it's a mistake. I always played as a defenseman.
THW: You spent many years in Magnitogorsk. Their school is considered to be one of the best in Russia. What's the secret?
DZ: I think that it's because they have a very good board, very good coaches, and of course the city lives hockey.
Move Overseas
THW: After playing in Magnitogorsk, you decided to move to North America. Why did you make this decision? In Magnitogorsk, the team usually gives younger players a chance.
DZ: I always dreamed of playing in North America, and I really wanted to test myself on a new level and with a different style.
THW: You started your North American adventure playing in the NAHL. How did you like the league?
DZ: The league's level was very good, but I wanted more and I also knew that I could play at a higher level. The WHL is much better, though, I think.
THW: How can you judge your team's season?
DZ: I think that we took a huge step forward this year.
THW: Your team played the first part of the season with Nikita Popugaev, then without him as he was traded to the Prince George Cougars. With and without Popugaev, was it like two different teams?
DZ: No, I don't think so. The main part of a team is the coach, we simply execute his game plan. Of course, he was that kind of a player who can score the game-winning goal, I won't deny that. But with the trade, we tried to give more balance to the top three lines.
Nikita Popugaev & Dmitri Zaitsev signing autographs at the MJ Minor Hockey Initiation Christmas Party pic.twitter.com/wPyUYybeIX

— Moose Jaw Warriors (@MJWARRIORS) December 4, 2016
THW: You received another Russian player, Yan Khomenko in return. Did you befriend him?
DZ: Yes, he's a good guy and a good player.
Capitals Prospect
THW: Last year you were drafted by the Caps. Was it a surprise?
DZ: Yes, a big surprise.
THW: How did you know you were drafted? Were you following the ceremony?
DZ: No, not really, I only found out when I started getting congratulations on social networks.
THW: How many notifications did you find on your smartphone?
DZ: (Laughs) I can't remember the exact number, but sure I had a lot of them.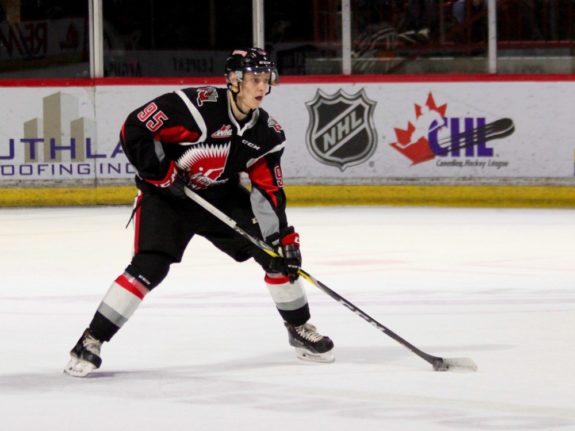 THW: Many Russian players find it hard to kickstart their North American career due to the language barrier. You are now in your second year in North America, and probably you haven't any problem anymore.
DZ: I can only confirm that it was hard for me at first, but then I learned the language.
THW: When you played in the NAHL, your team had a good number of European players. Did you have a "team within the team"?
DZ: Something like that, yes.
THW: And how did you manage to break into the locker room?
DZ: Mostly, I was helped by our goalie Andrei Svistunov. I also tried as much as I could to learn the language in my free time.
THW: What differentiates the WHL from the NAHL, excluding the players' level?
DZ: Speed. Everything happens at much higher speeds.
THW: Did you meet some Capitals staff during the season?
DZ: Yes, I talked with them. They told me that I'm making good progress.
THW: Unfortunately for you and your team, your season ended pretty early. What are your plans for the summer?
DZ: I'll take a short trip back home to visit my relatives, but I will keep myself in shape. The rookie camp in Washington will be pretty soon.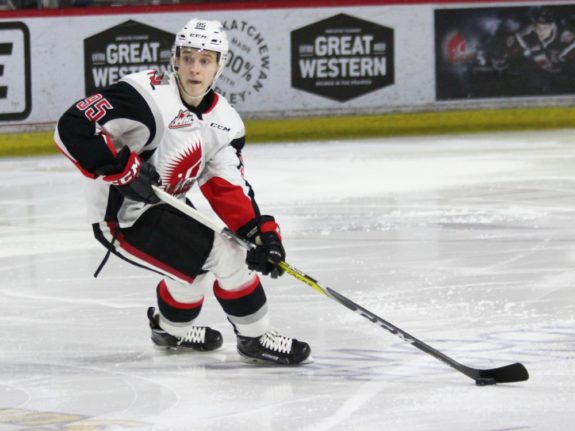 THW: Will you follow the KHL Gagarin Cup Finals? Your former team, Metallurg Magnitogorsk, is in.
DZ: Of course I will support them!
THW: Do you think that Metallurg can win it all?
DZ: Of course!
THW: Do you have a goal to get a spot on the WJC team?
DZ: Yes, every player has such a goal, and I do too. I'll do my best to achieve that!