We're up to part five of our season review of the San Jose Sharks, taking an in-depth look at the roster and salary cap.
Sharks Season Review:
Salary Cap and Roster
Coach (coming next)
Sometimes, roster and cap analysis is pretty dry stuff. It's usually heavy on the math. Not this offseason. There are so many possibilities, math quickly becomes excessive for an article. This is a strategic offseason for the Sharks, so we'll look at strategies and discuss the options while limiting the math.
Before moving into the details, its important to acknowledge one thing. This season's Sharks roster is among the best, if not the best, in franchise history. Yes, the team had injuries and other major challenges. But looking only at the personnel, it is a better roster than the one which went to the Stanley Cup Final the previous season.
Navigating the Waters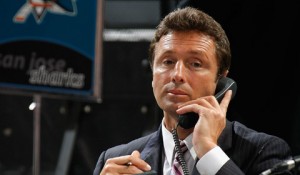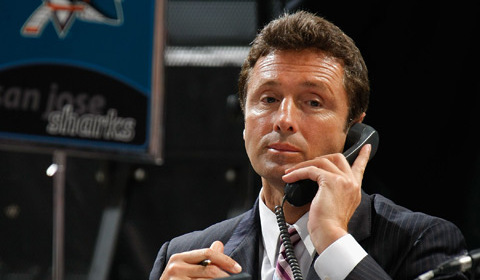 So what do we have for this offseason? We've got big names with expiring contracts, injuries, a big raise, cornerstone contracts, and an expansion draft. Life is interesting.
The Sharks AHL affiliate, the San Jose Barracuda, put together a very successful season (they are in the playoffs now), and this too, impacts decisions. Add in one more major item – a very specific, very important need – and it becomes clear, this offseason is the most challenging of general manager Doug Wilson's time in San Jose.
To make everything work, Wilson must pay careful attention to the salary cap this season and next. Of the top ten players (six forwards, three defenseman, one goalie), as many as eight will have significantly different cap impact within two years (compared to their 2016-17 cap impact). Some players will go much higher, some much lower, some will leave San Jose. Only one of the eight is locked in. Brent Burns' massive contract kicks in next season.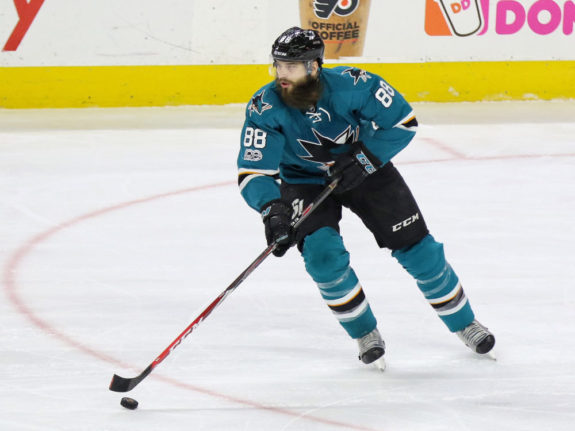 Navigating these waters while finding a way to contend for the Stanley Cup is the challenge for this offseason.
The Moving Parts
There are plenty of moving parts. Some of these parts even have their own set of issues.
Expiring Deals
The Sharks have several expiring contracts. I'll start with one of the straightforward groups, the young, restricted free agents (RFA). The players in this group are likely to be kept while receiving modest raises. The group includes Chris Tierney, Melker Karlsson, Marcus Sorensen and Joonas Donskoi.
There are three unrestricted free agents (UFA) for the Sharks. There is a good chance Micheal Haley returns for close to the league veteran minimum salary. The other two are, well, the biggest names in San Jose Sharks history – Joe Thornton and Patrick Marleau. They have been the two highest paid Sharks, every season, for over a decade. Including last season. But it won't happen again next season. Strangely, these are not the most critical signings San Jose needs to make.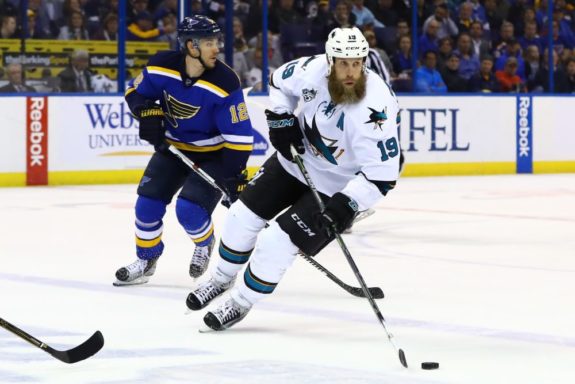 While the spotlight usually shines on the top free agents, two critical players have contracts expiring in just over a year. These are the most critical deals for San Jose. Wilson has indicated getting deals done with these two players is a priority this offseason. Both can expect major raises (combined, expect raises in excess of $5 million). These critical players are defenseman Marc-Edouard Vlasic and goalie Martin Jones. There is no way Wilson wants either player to get even a faint sniff of free agency. The list of interested teams will be long for Jones and basically the entire league for Vlasic.
More Wrinkles
A wrinkle unique to this offseason is the expansion draft. The new Vegas team will select one player from every NHL roster, a total of 30 players. Each team submits a list of players they protect, the rest are available to Vegas. There are limitations on who can be protected, and the analysis on this alone is enough to make one's head swim. One detail worth mentioning, the Sharks are better off waiting to sign their free agents until after the expansion draft is over, which is in late June.
At this point, no one knows the salary cap for the upcoming season. The league has indicated it won't change much, but the players have the option to increase it. While this might seem like an easy call, it isn't. The amount of money players receive is based on a revenue sharing agreement. Changing the salary cap doesn't change the total amount of money going to players, only the distribution.
More Chum
Lest one think its only Sharks players churning the waters, it's not.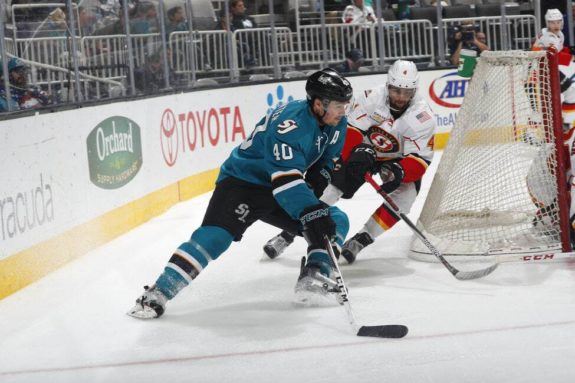 Three San Jose Barracuda players are also in the mix. A goalie, a defenseman and a forward. Each player is at least 26, so it's time for them to get to the NHL. Each is an unrestricted free agent.
Defenseman Tim Heed was second on the Barracuda in points and finished the season plus-14. Forward Ryan Carpenter finished plus-17. In the AHL Calder Cup playoffs, Carpenter leads all Barracuda players with six goals, 11 points and is plus-9 in just eight games. One of the goals was a short-handed series-winning goal. Goalie Troy Grosenick was recently named the AHL's top goaltender. San Jose needs to think about their futures in San Jose, but the players need to think about their futures in the NHL. Retaining NHL quality talent from the AHL team will be a challenge.
A Hole Opens
The final wrinkle, and perhaps the most challenging is cap space for a player not yet named. Sharks management certainly understands the post-Joe Thornton era has begun. For over a decade, Thornton has been the elite center San Jose needed to compete at a high level. This era is over, even if Thornton returns from his knee injury and stays with San Jose.
So how does one replace Hall-of-Fame production? The Sharks best chance is to trade for an elite center, and those do not come cheap. He'll be expensive to acquire and take up a healthy chunk of salary cap. The Sharks will need to leave themselves salary cap room to pull off a major trade.
The First Consideration
Only Doug Wilson knows what he wants to accomplish next season. My guess is he'll decide to take another run at the Stanley Cup and build a roster capable of doing this. The Sharks 2016-17 roster was good enough to go far in the playoffs. They didn't have the good fortune to go with it.
The Sharks quality core is not going to be enough to get them a Stanley Cup. That is unless Joe Thornton can be the player he was. Torn knee ligaments on a soon-to-be 38-year-old make this unlikely. To compete at a very high level, the Sharks will need to upgrade their roster.
A Path Forward
To distil down the complexity, I've laid out a series of steps. These steps are not sequential. They are ordered by importance and complexity. There is some interdependency among steps, so one action can impact another.
Step 1:
The critical path requires keeping a door open. The Sharks must have what it takes to acquire a 'Thornton replacement'. Again, this is replacing the role Thornton has played in San Jose. The player may return, but he won't return to the same role. Keeping a door open means having available cap space with a willingness to let go of important assets.
I'm not trading Logan Couture for Colorado's Matt Duchene, but for John Tavares, I've got to consider it. Earlier in the season, I wrote the Sharks needed to go big at the trade deadline or sit it out. The Sharks went small. They will need a big move to win a Stanley Cup. If it is the right move, they'll only need one big move.
Step 1 is more mental than anything else. The Sharks need to believe in this path. We'll get into details in the steps below.
Step 2:
Also on the critical path, get the cornerstone deals done. These are for Marc-Edouard Vlasic and Martin Jones. Their contracts do not expire for another year, but there is value in certainty. Knowing these two players will be in the fold for the long run, along with the money involved, allows the Sharks to plan this season's negotiations. If either the Jones or Vlasic negotiations prove highly problematic (and there is no reason to expect this), the direction Sharks management takes may require a drastic turn.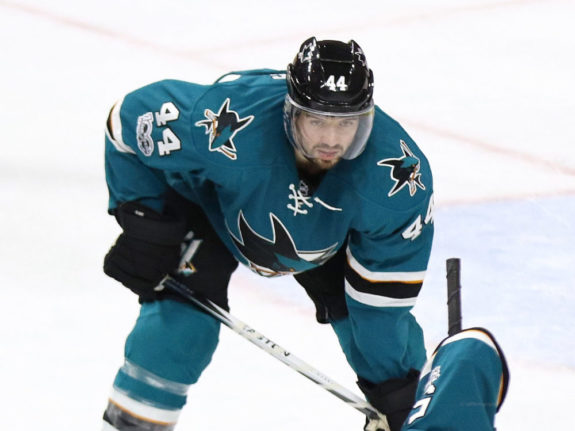 Step 3:
Opening up cap room for the Thornton replacement is essential because this sort of window can open and close on short notice. As the Boy Scouts say: Be prepared.
The Sharks do not have control over the player who will get selected in the expansion draft, but they may have influence. San Jose can offer a draft pick to incentivize Vegas to pick a specific player. To make room for the Thornton replacement, the Sharks need Vegas to select a mid-tier cap hit player. San Jose won't be the only team trying to influence the selection Vegas makes.
Among the possibilities are Brenden Dillon, Joel Ward, Justin Braun, Paul Martin and Mikkel Boedker. All are slated for a cap hit between $3.27-$4.85 million in the 2017-18 season, these are the team's mid-tier cap hits. Ideally, the Sharks part company with one of these players, more for the contract than performance. If Vegas does not help, a trade might be required.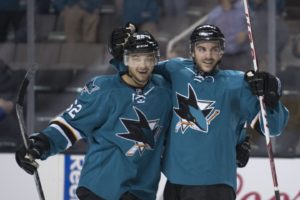 The other part of this approach is to protect important lower-end players, such as Dylan DeMelo.
Another way to open cap room, not re-sign Thornton and/or Marleau. Both are likely to get mid-tier deals. Not re-signing them is an option. Both however, have good reason to stay with San Jose.
Step 4:
If San Jose can manage these parts effectively, I'd expect them to re-sign both Thornton and Marleau, albeit at team friendly deals and on shorter terms. Thornton, with the knee injury, is expected back for the start of the season. Given the Sharks miserable record with knee injuries, consider me a skeptic. If he is 'ready', I'll be concerned he's playing with an unhealthy knee, mimicking the highly problematic cases of Raffi Torres and Tomas Hertl.
Might Thornton already have a deal ready to sign? Before he agreed to return to the playoffs and took further risk with his knee, some think he made a handshake deal with the Sharks for his next contract. It's a reasonable scenario. As mentioned earlier, it is better for all parties if this deal happens after the expansion draft.
Thornton, if he takes longer to recover (and a full year is not out of the realm of possibility), can stay on long-term injured reserve (LTIR) without counting against the team's salary cap. It's possible he can miss the entire 2017-18 regular season, but play in the playoffs. And have a salary cap hit of $0. While its somewhat sneaky, it is also within the rules. The salary cap does not apply in the playoffs. This is an intriguing option. Keeping Thornton on LTIR can accomplish multiple objectives.
Easier Part of the Path
Not every step in the path is complicated, some are straightforward.
Step 5:
Once the Vegas selection is made, the Sharks can look to their AHL players for an immediate replacement. If a defenseman goes, expect the Sharks to close a deal with Tim Heed. If it's a forward which Vegas takes, they'll try to keep Ryan Carpenter in the fold. And if it's a goalie, they can hang onto Troy Grosenick.
Step 6:
I'll expect the Sharks to keep their core lower six forwards intact, including Donskoi, Karlsson Tierney and Sorensen. And, yes, they'll also keep Micheal Haley. These are important players, but their deals have limited impact on cap space.
Upcoming Roster
The Sharks roster for next season will be similar to this season. Joe Pavelski, Logan Couture, Jannik Hansen and Tomas Hertl are all under contracts and coming back. Two others, Mikkel Boedker and Joel Ward are under contract, but I see the Sharks prioritizing moving one or the other to create both roster and cap space.
I'll expect Tierney, Karlsson, Donskoi and Sorensen to be retained, and they'll take a shot at keeping Ryan Carpenter. Top rookie Kevin Labanc is also going to get a spot, as will Timo Meier. Haley likely returns as well. This gets us to 14 forwards, even before Thornton and Marleau are included. San Jose has plenty of forward depth.
On defense, the Sharks will again be elite. I expect six of the top seven defensemen to return, with Vegas taking the other defenseman. San Jose can sign Tim Heed to the seventh spot if a defenseman goes to Vegas. The defense will have Burns, Vlasic, Heed and all but one of the following: Paul Martin, Justin Braun, Brenden Dillon, David Schlemko and Dylan DeMelo. It is a really strong group.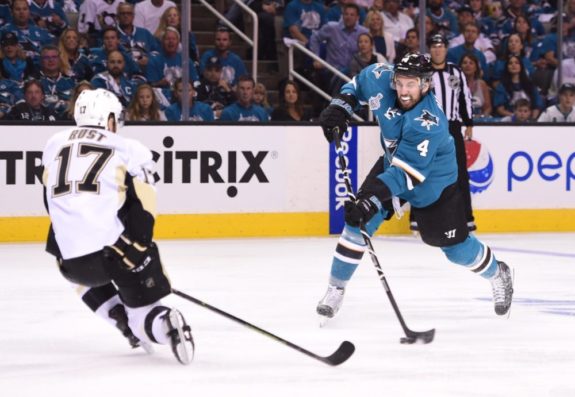 Martin Jones is the goalie, and Aaron Dell will return, barring Vegas grabbing him.
This roster is competitive. Add in the missing piece, a top line center, and San Jose is a top contender. Without this piece, the roster is playoff capable, but early round fodder. San Jose has until the trade deadline to get this piece.
A Cup Contender Scenario
Speculating on the missing piece, one name rises to the top, John Tavares. He has one more season on his current deal with the New York Islanders before he gets to break the bank with his next deal. There are good reasons Tavares could balk at staying with the Islanders. If this happens, the Isles may want to trade him and get value instead of losing him for nothing. Getting Tavares will require parting with major assets. I'd guess this means giving away Hertl, Braun, Donskoi and a couple first rounders to get this done. Maybe more.
A deal like this takes away from San Jose's depth, but depth is a team strength. San Jose can handle losing multiple quality starters in important roles to get one star.
Assume the Tavares trade happens as described and Thornton sits for the regular season, making his cap hit zero, or close to it. The cap space works. The Sharks can roll into next season's playoffs with the following four centers: Tavares, Couture, Pavelski and Thornton. If depth down the middle is a major key to winning a Cup, this is it.
The group of wingers may be weaker and the defense inexperienced on the third pair, but this is formidable playoff roster. The wingers are Marleau, Karlsson, Boedker, Hansen, Carpenter, Tierney, Sorensen and Meier. Defense is Burns, Martin, Vlasic, Braun, Heed, DeMelo and either Schlemko or Dillon (one goes to Vegas).
Martin Jones remains in net. This is the roster of a legit Stanley Cup contender.
Expectations and Results
The Sharks expected to be in this position, with one major exception. They didn't expect Thornton's knee to give out. The future Hall-of-Famer has been the centerpiece of San Jose's offense for well over a decade. Including playoffs games, Thornton has played well over 1,000 games for San Jose. He's been incredibly durable, having missed only nine games from his Sharks debut in 2005 until the knee injury in April 2017.
San Jose can compete at a high level with Thornton playing less minutes, but not with him playing less effectively. Thornton has been key to everything San Jose does. Expecting him to come back, at age 38, from a serious knee injury and be the sort of player he's been, it's not realistic. Playing 'less effectively' is the probable scenario.
The Sharks must keep a door open for a top line center. This means clearing cap space and pursuing opportunities as they come along. It also means not chasing smaller, incremental opportunities which narrow the opening.
If no opportunity comes along, the Sharks chances at Stanley Cup will be minimal. If one does come along, the Sharks need to pounce on it. Teams don't trade Joe Thornton quality players very often. But it only needs to happen once. Its how the Sharks got Thornton in the first place.
The upcoming offseason is filled with complexities, but a solid plan will allow the Sharks to accomplish everything they need to return to the playoffs. However, they'll need a major move to make them a top contender. They have until the trade deadline, nearly ten months from now, to find the missing piece.