In today's NHL, defensemen have to excel at both ends of the ice. Possession, mobility, and offensive/defensive instincts are key, and this article highlights just that. Instead of simply ranking for goals against, I believe that is outdated because defensemen are required to contribute on the scoresheet as well. Therefore, this is a list consisting of the complete depth of the position, on both ends of the ice. I present to you the NHL's top 5 defensive corps.
1. Anaheim Ducks
The Ducks have been a top team in this league for a while now, consistently finishing near the top of the standings in the past handful of regular seasons. If they win their next game against the Edmonton Oilers, they have a good shot at making the Stanley Cup Final for the first time since their Stanley Cup-winning season in 2006-07.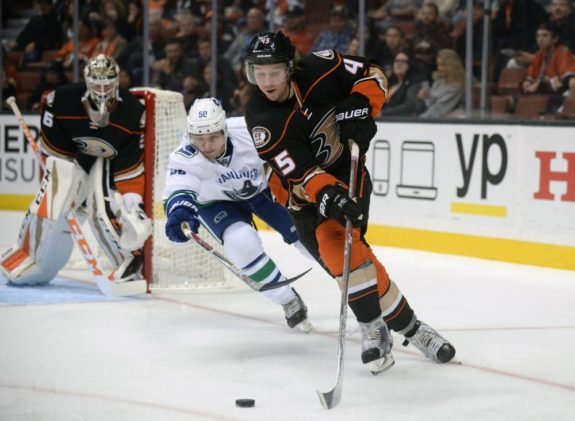 Current Defensive Roster Depth
The Ducks have had some very good drafts while finishing near the top of the standings, and have a very deep defensive pool as a result. Cam Fowler was linked in multiple trade rumours last season, and it seemed to motivate him, as he posted his highest point total since his rookie season with 39 points. With prospects like Shea Theodore, Brandon Montour, and Josh Manson taking on big roles with the club, all of a sudden they have six top-four-capable defensemen. Surely, they will lose one via the expansion draft or trade soon, but this depth combined with steady veterans up front has led to yet another lengthy playoff run for the Ducks.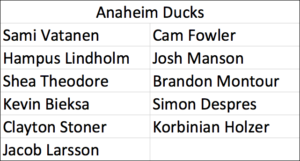 Their top-six group is unmatched, and that is why they have the top spot in this ranking. They do not possess a franchise player on the back end, but 6 defensemen who are capable of stepping up at any moment. The Ducks are well-rounded on the blue line from top to bottom. Look for them to make a trade after playoffs to deal with their surplus and gain more talent up front.
In the System
With players like Montour and Theodore graduating to the big club this season, the Ducks' defensive prospect pool has become weaker but still shows potential. Players like Jacob Larsson provide an option to be brought up slowly, ensuring that development is instilled correctly. A first-round pick of 2015, Larsson has time to adjust to the North American-styled game, but in a few years could be yet another defenseman capable of playing in the Ducks' top four.
2. Nashville Predators
Was their defensive corps supposed to get worse after losing both Shea Weber and Ryan Suter? Apparently not, as they have six solid defensemen of their own, most just hitting the tip of their potential right now. A group led by Roman Josi and P.K. Subban, this defensive corps is full of puck-moving, mobile defensemen who can burn you just as easily as they defend.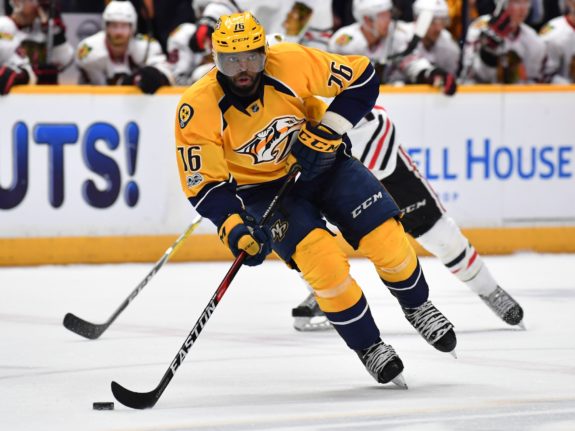 Current Defensive Roster Depth
While P.K Subban and Roman Josi put up stellar seasons as expected, Ryan Ellis had a career season and it did not go unnoticed. With 38 points in 71 games, Ellis put up a career-high 0.54 points per game, tied with former Predator Shea Weber.
Mattias Ekholm is no slouch either, but had a tough time repeating his career-high 35-point 2015-16 season. Regardless, it's very tough to match the mobility of this blue line. With a combination of superb goaltending and timely offense, it's no surprise that the Predators are in the Western Conference Final.
In the System
The defensive prospect pool is getting shallow for the Predators, but is not completely lost. In 2014, they drafted the right-handed Jack Dougherty. In his post-draft season, he played for Portland of the WHL and put up 52 points in 68 games, showing offensive potential. However, he has struggled to translate that offense to the pro level, playing for the Predators' AHL affiliate, the Milwaukee Admirals. To be fair, it was his first season playing pro, so he could bounce back in a big way in 2017-18.
3. Washington Capitals
The Washington Capitals allowed the fewest goals in the 2016-17 season. With a top-four group consisting of John Carlson, Kevin Shattenkirk, Karl Alzner, and Matt Niskanen, they have great defenders with an elite power-play specialist in Shattenkirk.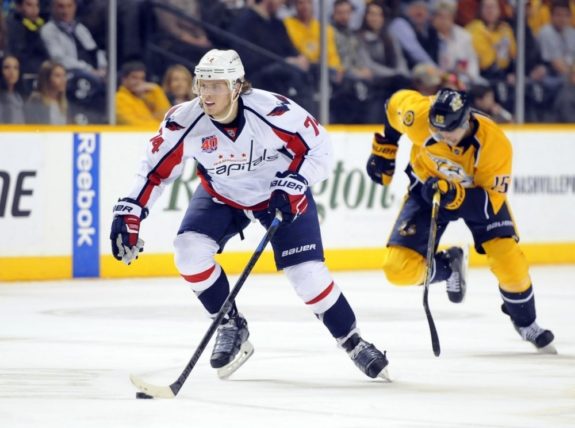 Current Defensive Roster Depth
As depth options they have the always dependable Brooks Orpik and the young and smooth-skating Dmitry Orlov, who broke the 30-point plateau for the first time in his young NHL career. This top six provided the depth to push this squad to 118 regular-season points, good for first in the entire NHL.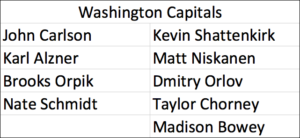 Although facing a Game 7 battle against their arch-nemesis, the Pittsburgh Penguins, the Capitals gave it their all this year. They bolstered their blue line at the deadline. This is their window to win a Cup, and it's closing quickly. After this season, they could lose Alzner and Shattenkirk due to free agency.
In the System
In a portion of the first-round series against the Maple Leafs, Nate Schmidt got an opportunity to play when Alzner went down with an injury. When Schmidt stepped on the ice, he was the fastest skater out there. When you are playing the Maple Leafs, that is saying a lot. Game-breaking speed is a nasty tool for a defensemen, and surely he will be able to use it more consistently in the NHL next season. Madison Bowey, a right-handed shot, could start to be considered for a roster spot in the next few seasons, so even though they typically finish the regular season strong, they seem to draft well enough to restock their prospect pool.
4. Minnesota Wild
The Wild have a very impressive top-four group, led by Ryan Suter, that also includes Jared Spurgeon, Matt Dumba, and Jonas Brodin. They all play a very structured game, which is why we have seen the Wild climb the standings towards the NHL's elite. The moment Zach Parise and Ryan Suter signed in the summer of 2012, this team was changed forever.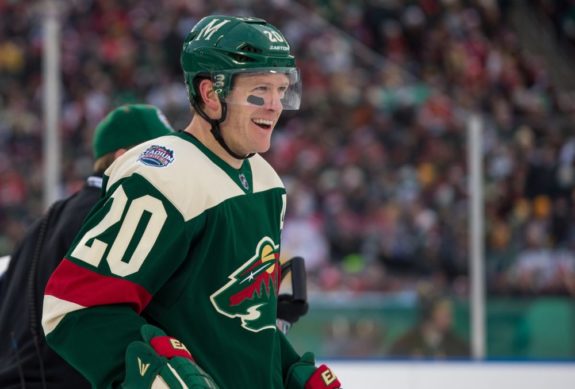 Current Defensive Roster Depth
Impressive drafting has led to a good combination of a veteran and younger defensive core with a few dynamic young players in the mix. Dumba is a very valuable piece to this organization, but they could lose him in the expansion draft. Although a bit on the smaller side, Dumba is not afraid to throw thunderous checks and show off his flashy offensive game.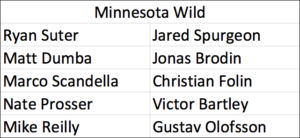 Suter has been a defensive horse his whole career, and continues to be the backbone of whatever franchise he plays for. He was an astonishing plus-34 this year, good for a tie for first in the NHL.
In the System
Gustav Olofsson is an intriguing player as a prospect because of his unique combination of size and ability to jump into the offensive rush. He has size to grow into which can be used to box out in front of the net. The left-handed Oloffson also has a very hard slap shot, but with steep competition on the left side it may take some time to become a permanent NHL player. Expect him to try and push to make the Wild's opening night roster next season, along with Mike Reilly. Reilly, a product of the University of Minnesota, shows top-four potential, but again, competition is steep.
5. San Jose
Although they are getting older, the Sharks' blue line is aging like fine wine. They possess one of the NHL's most interesting characters in Brent Burns, but he's also arguably the best defensemen in the NHL. He enjoyed a dominant regular season, scoring 29 goals and 47 assists for a total of 76 points.
Current Roster Depth
Not to be ignored is Vlasic, a very dependable defensemen in his own right. He might not be flashy with the offensive numbers, but his plus/minus has been solid his whole career.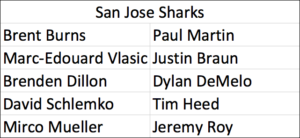 In fact, he's only had one season in his entire career where he was a minus player, and he played for Team Canada in the 2014 Olympics.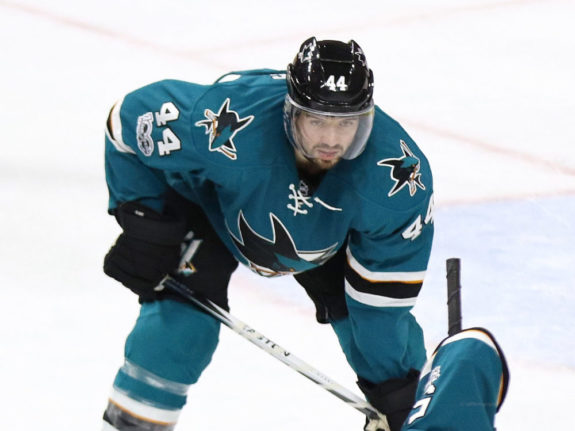 To be honest, this is a team that could have been ranked higher on the list, but age is a factor. After getting knocked out of the first round by the Edmonton Oilers, their window is closing to win a Stanley Cup. Their best players are in their 30s, and when players start to hit that range of age their decline is sadly inevitable. Their best seasons might be behind them, but then again, Brent Burns could prove me wrong.
In the System
With a core that's getting older with each passing year, the next wave of defensemen have to be ready. Luckily for San Jose, that shouldn't be a problem, as they have a few prospects that have shown potential. Jeremy Roy, a second-round pick in the 2015 NHL Entry Draft, showed great promise before suffering a season-ending knee injury. He was producing near a point per game in the QMJHL. Fans will have to wait to see what he brings to the table next season. Mirco Mueller, the 18th overall pick of the 2013 NHL Entry Draft, seems destined for a depth position in the upcoming future.
Knocking on the Top 5 Door: Hurricanes
Carolina has been creeping towards playoff hockey with each passing year, looking very impressive at times but lacking consistency. They have been stacking defensemen for years through the NHL Entry Draft, and have turned that into their main asset. The Hurricanes' defensive corps is young, so how good they get is really a matter of how fast they mature and adjust to the NHL game.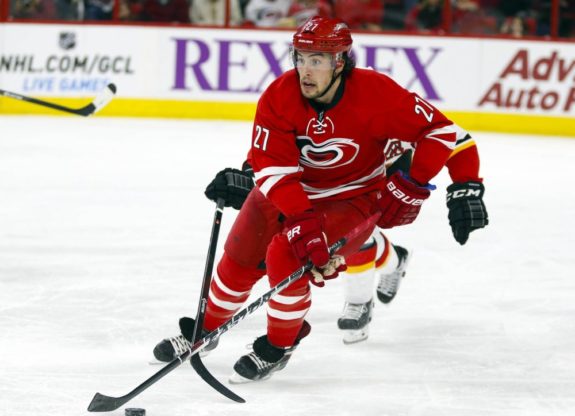 Current Roster Depth
The current group is led by Justin Faulk, who has been the Hurricanes' number-one defenseman for a few seasons now, he is an NHL veteran. Beyond him, however, there is not a veteran presence on this blue line.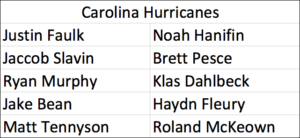 Despite the lack of veterans, that is exactly why they are expected to join the top five soon; because the best is yet to come. In the next few seasons, you will see them quickly become an elite defensive team, with the depth to stick around the top for a long time. Led by three young defensive studs in Hanifin, Slavin, and Pesce, smart drafting and deciding to load up on defensemen is a move that will pay off in the long run for the Hurricanes.
In the System
The Hurricanes' current roster shows immense potential, but so do their prospects. They boast two defensemen with sky-high potential; Jake Bean and Haydn Fleury. Both were first-round draft picks, Bean at 13th overall in 2016 and Fleury at seventh overall in 2014. In Bean, the Hurricanes possess a smooth-skating defenseman who makes good puck decisions and plays a strong positional game. With 45 points in 43 games in what could be his last year of junior hockey, his offensive side of his game is elite as well.
In Fleury, they get more or less the same thing. He is very solid positionally and projects to be a top-4 defenseman in the NHL. The future is bright in Carolina, and they are stacking their defensive corps very well.
Honourable Mentions:
Columbus Blue Jackets, Pittsburgh Penguins, Los Angeles Kings and New York Rangers.