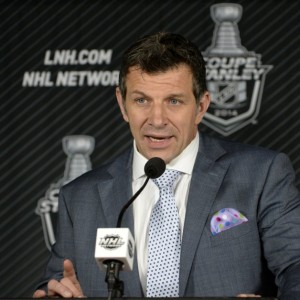 Montreal Canadiens general manager Marc Bergevin has a busy summer ahead of him, to put it mildly. Really, this top-secret, personal checklist of his doesn't do the magnitude of his responsibilities justice. Seriously.
So, where does he begin painting himself out of the corner, improving a team built to win now that nonetheless fell disastrously short in Round 1 against the New York Rangers, scoring just 11 times in six games? Not where you might think.
Here are the Habs' highest priorities, ranked in increasing order, for the coming offseason:
3.  Find Scoring Help
This item could in theory be called "Re-Sign Alexander Radulov," but it's best to keep it vague to temper expectations. There's a good chance the Canadiens won't be able to keep the Russian in the fold, in spite of the relatively impressive offensive contributions he made during the regular season.
To play devil's advocate for a second, based on the team-leading seven playoff points he put up in six games, can the offensively challenged Habs afford not to re-sign him? Yes, yes they can. Because of a little thing called math. The salary cap is $73 million. It's projected to increase to just $76 million. The difference and then some is likely bookmarked to give raises to the likes of Nathan Beaulieu (theoretically) and other pending free agents.
So, that means, unless Radulov takes a hometown discount to play in a city he's only called home for a single season and turns down what realistically will be a flurry of lucrative long-term offers to play elsewhere, the Habs will have to look elsewhere themselves. On the plus side, the $5.75 million that would come off the books can come in handy elsewhere.
2. Re-Sign Alex Galchenyuk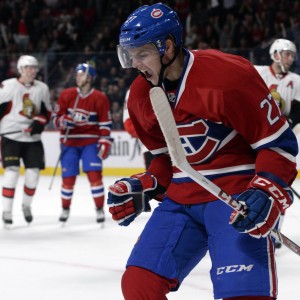 One of the additional free agents that the Canadiens will need to re-sign is Alex Galchenyuk. Of course, there's a good argument to be made that Radulov should be the higher priority, but consider their age differences.
Radulov will be 31. Galchenyuk just turned 23 and had just one less goal than Radulov this season, despite playing 15 fewer games. He was also on pace for 60 points. Radulov had 54.
Granted, most intangibles that you could name (grit, experience, most fearsome toothless smile, etc.) are well in Radulov's favor.
That's all nice and good, but, to compare the two, do you know where, skill-wise, Radulov was at 23? Mastering the art of over-celebrating a face-off win in Ufa, one season removed from bolting from the NHL to Russia… for the first of two total times.
So, not bothering to re-sign Galchenyuk or trading him outright just to get Radulov under contract doesn't make much sense. Radulov suffered through some growing pains too.
Why give up a 23-year-old, 60-point player to keep a 31-year-old one, who likely won't be able to keep up his high level of play forever? Because he can't play center up to former-defenseman Bergevin's standards? It's not like Radulov played much of center for the Canadiens either (or, you know, at all).
1. Extend Carey Price
It may be slightly controversial to have extending goalie Carey Price as the No. 1 priority here. After all, he does have one more season under contract. However, getting Price signed to a new one as soon as possible is obviously paramount, and that's not just because of all that he means to the team.
If, for whatever reason, the Canadiens struggle next season and fail to make the playoffs, the damage will ripple through the organization. Not only will an additional year of this team's window to win it all have vanished, but it may close altogether if Price is not yet under contract and decides that maybe playing for a team going backwards in the standings is not the best way to win a Stanley Cup. It's science.
Firstly, the Canadiens don't need the distraction of an unsigned Price looming over them all next season. Secondly, and not to state the obvious, but without a contract, he will be able to walk away for nothing in exchange next July 1.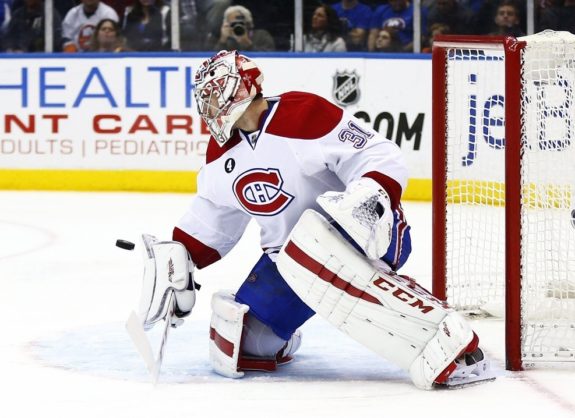 Of course, if he does end up leaving next summer, he's probably already thinking about the possibility, meaning he might hem and haw at signing on the dotted line up to then. At least now though, the Habs still hold the promise of a brand new season with a solid core all under an elite head coach, so selling him on staying with the only NHL team for which he's ever played will be easier sooner rather than later. he longer they wait, the bigger the role of the dice they'll be taking, though.
Getting him under contract also affords the team more flexibility, and, should Bergevin opt to blow this thing and his career up, a non-pending-UFA Price is infinitely more valuable than one who is. The bottom line is, on whichever side you fall in the whole trade Price-don't trade Price debate, it's just good asset management to lock him up now. There's no debating that.