We continue our season review of the San Jose Sharks, this is the second in our series. We'll cover the forwards in this piece.
Sharks Season Review:
The Forwards
The Defense (coming soon)
The Sharks forwards both underachieved and overachieved. On the overachieve front, they rolled four lines more effectively than anytime in team history. However, the Sharks top guns came up short, sometimes they came up injured.
There were two grand milestones. Joe Thornton had career assist 1,000 and Patrick Marleau career goal 500.
Head coach Peter DeBoer used his line blender often. Game to game and within a game, lines changed frequently. He wasn't hesitant to bench a player for a period or a game – to send a message to the player they were not meeting expectations. So who did meet, or exceed, expectations? Let's get to it.
'Jumbo' Joe Thornton
Joe Thornton, the best player in Sharks history, left the April 2 game against Vancouver with a knee injury. Though he returned in the playoffs, the news on the injury sounds devastating. He tore both his ACL and MCL, two critical ligaments. Though one's heart wants to see Thornton return, the head has to acknowledge the possibility Thornton has reached the end. Two Sharks have had major knee injuries in recent years. Tomas Hertl's recovery has gone on for years, but he is still not the player he was before the injury. Raffi Torres never made it back to the NHL.
Thornton will turn 38 over the summer. The list of 38-year-old players in any sport who've returned from major knee surgery is short. Really short.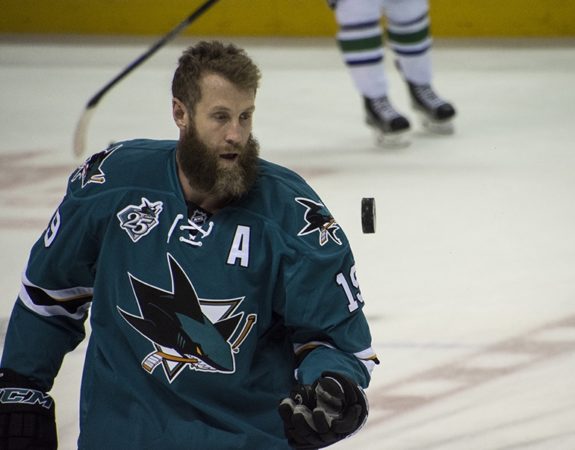 For over a decade, Thornton, nicknamed Jumbo, has been the centerpiece around which the Sharks offense revolves. His defensive game greatly improved over the years, and the prior season, Thornton was a dominant as any player in hockey, leading the Sharks to the Stanley Cup final.
Thornton also appeared in the World Cup of Hockey. The exceptionally short offseason appeared to have had a major impact on Thornton. He posted a 50 point season, his lowest output since 1999. Yes, 1999.
Thornton is high on several all-time NHL lists. He is 22nd in points, tied with Brett Hull. His 1,007 assists place him 13th. If he is fortunate enough to return and have even modest success, he'll pass Mario Lemieux, Joe Sakic, Marcel Dionne and Gordie Howe on the assist list, all 42 or fewer assists ahead of Thornton. Thornton's ticket to the Hockey Hall of Fame is a done deal. But his future as a player and whether it is with the Sharks, neither is a sure thing.
Questions about Thornton's future cast a massive shadow on this season.
[irp]
The Top Guns
Thornton is the highest paid Shark. Joe Pavelski, Patrick Marleau and Logan Couture are the Sharks next highest paid players. These three had very different seasons, though one similarity was their goal scoring. They were the Sharks top three goal scoring forwards, each netting between 25 and 29 goals. The drop-off to the rest of the Sharks forwards, though, was dramatic. Fourth best was eleven goals.
Joe Pavelski
Pavelski had a decidedly down season. Like Thornton, overuse and the cumulative effects of injuries (though none were reported) robbed Pavelski of his usual production. At the start of the playoffs, Pavelski had played more minutes than any NHL forward in the past two seasons. He didn't look right towards the end of the season. Pavelski finished with 29 goals, after averaging 39 the prior three seasons. He sat for the Sharks final game of the regular season. DeBoer mentioned that any player who sat that game was "dealing with something." In sitting out the last game, Pavelski snapped his consecutive games streak at 495.
Patrick Marleau
Marleau saw his playing time reduced considerably, but delivered his best season in the last several years. While his point totals were similar to recent seasons, there was an unmistakable jump in his game and he was a plus-player for the first time in five years. Marleau nailed a major milestone with his 500th career goal against Vancouver. He had a milestone game in Colorado, as he potted four goals in the third period. A natural hat trick with a chaser. It was his first four-goal game.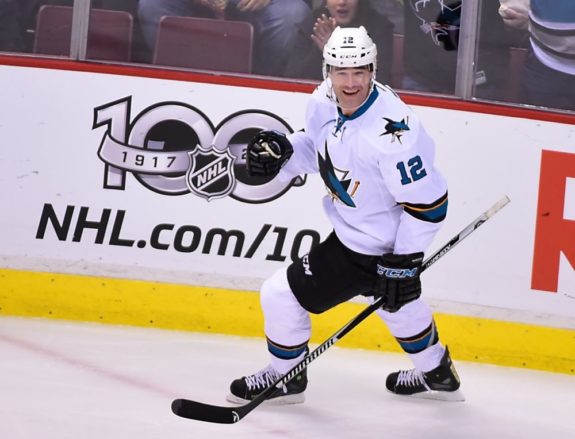 It is possible to have one great period in a season of mediocrity, but this wasn't the case with Marleau. The reduced minutes resulted in a more energized and engaged player, including in the postseason. He scored goals in three of San Jose's six playoff games. When asked about injuries this season, Marleau said "bumps and bruises, a broken thumb." Still, he kept his consecutive game streak intact, now at 624 games, the tenth longest in NHL history.
Logan Couture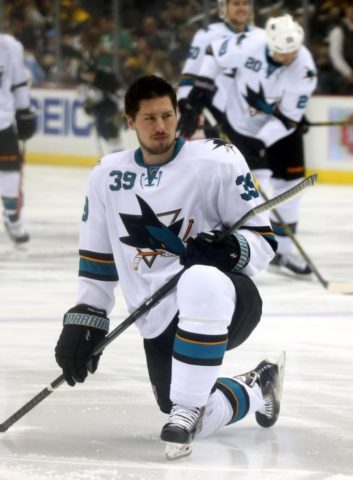 Logan Couture was the Sharks best forward. His all-around game continued to improve. He led the team in 'goals against per 60 minutes of ice time' (GA60), highlighting his defensive game. His goals for (GF%) of 62.1% was twelfth best in the league. Notably better as a passer this season, Couture played with a variety of linemates. Most benefitted playing alongside him. If there was a statistical fly in the ointment, it was in the face-off circle, where he finished a shade under forty percent and only two players (out of 150) in the league fared worse.
Alas, Couture suffered a brutal injury late in the season. A puck to the face resulted in serious damage. He will require plenty of visits to dentists and doctors in the offseason. Facial fractures and lost teeth are just part of the damage. One can question the wisdom of Couture's return to the lineup for the playoffs (he wasn't very effective outside of the one blowout win), but not his courage.
[irp]
Steps Sideways
One reason for optimism in San Jose was the large group of younger Sharks developing their NHL game. At the heart of this group are Joonas Donskoi, Tomas Hertl, Chris Tierney and Melker Karlsson. While an NHL veteran, free agent acquisition Mikkel Boedker also fits this group, as he was playing for a top contender for the first time in his NHL career.
Of this group, no player took a major step forward, and most failed to met expectations. Melker Karlsson was the best of this bunch. He delivered a strong season, though he had already raised the expectations bar with his solid regular season and strong playoffs the prior season. His overtime game winner in the series against Edmonton was among the top highlights of San Jose's season.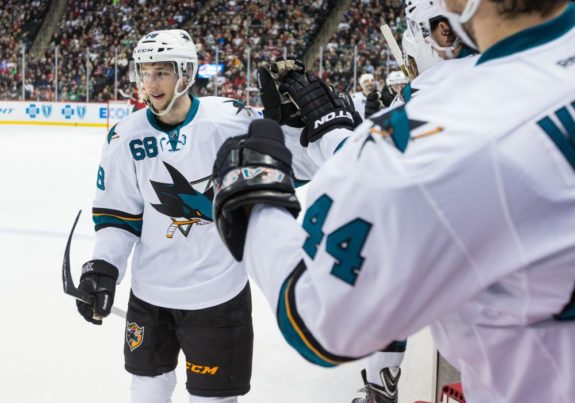 Tierney had a decent season, anchoring the fourth line – which was as good as a Sharks fourth line has ever been. Attempts to move him up to the third center role, though, didn't work out. Expectations were high for Tierney, a strong performer in last year's playoff run (9pts, plus-8). Tierney had a respectable year outside of the times he was given a bigger role. He led Sharks forwards in short-handed ice time, typically playing against opposing teams' top units at the start of the man-down situation (often paired with Karlsson). Tierney was effective, though winning more face-offs would help him considerably.
Steps Back
DeBoer wasn't as generous towards Tierney. He called out both Tierney and Donskoi after the season when he said:
"I don't consider Chris Tierney a young player anymore. Some of these guys have to take some steps. Joonas Donskoi is not a young player anymore in my mind. He has to take some steps."
Donskoi battled significant injuries, as did another key forward Tomas Hertl. Both regressed. How much the injuries played a role is hard to discern. Hertl had a midseason knee operation, then late in the season had a broken foot. Hertl progressed in his attempt to become a center, frequently leading the third line. He was among the Sharks best in the face-off circle.
Donskoi separated his shoulder, twice. DeBoer was openly disappointed in Donskoi's step back from last season to this, which included 14 fewer games, less than half the points (36 to 17) and going from a plus-4 to a minus-5.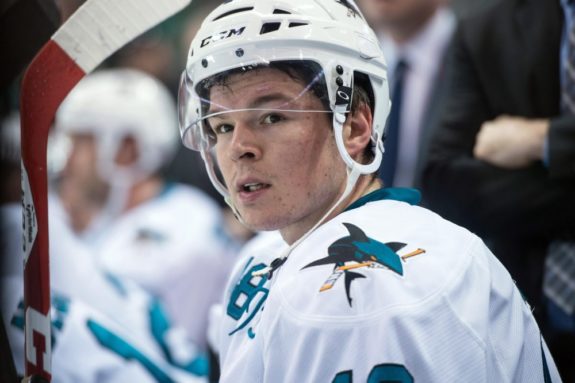 Boedker, an expensive free agent, topped this list of disappointments. Twice a 50 point player, he delivered only half that for San Jose. He often appeared lost on the ice, not knowing where he needed to go or where his teammates were. Both general manager Doug Wilson and DeBoer cast a critical, but hopeful tone about Boedker.
A ray of hope for Boedker came when he joined the line with Marleau and Couture, but it didn't last. He did have the team's lone hat trick against Edmonton, while playing on the fourth line. In the playoffs against Edmonton, though, Boedker found himself out of the lineup twice, playing only four of the six games.
[irp]
Veterans
Joel Ward had a modest season. The aging veteran was a frequent mover in DeBoer's frequent line blender. His 29 points were among his lowest career outputs and a drop-off from 43 last season. Still, his point total was still good enough for sixth best on the team. He finished minus-2, a considerable improvement from the prior season. His work on the penalty kill was perhaps the best part of his game. Still, at 36, the eye test makes one wonder how much he has left.
One forward experiencing an unexpected uptick was 31-year-old Micheal Haley. With several smaller and younger players, the Sharks fighter played 58 games in a protective fourth line role. Haley entered the season with just four career points, but added a dozen this season and was plus-6, the first plus season of his career. Haley easily outperformed very low expectations. He doubled his previous high in games played and had the highest per game ice time of his career. For the playoffs, where fighting is much less frequent, Haley was a spectator.
Jannik Hansen played 15 regular season games after arriving from Vancouver at the trade deadline. He scored seven points. Hansen brings experience, grit and speed. There was an expectation he'd make a playoff impact. Alas, he wasn't much of a factor, his only postseason point was an assist in the Sharks 7-0 win in Game 4.
Youth and More Youth
Sharks fans had reason for excitement with an influx of talented, younger players. To start the season, several were assigned to the AHL team, the San Jose Barracuda. The group was headlined by ninth overall pick Timo Meier. Meier, however, came down with mononucleosis at the beginning of the season and wound up starting his season about a month late. Meier split his time between the AHL and NHL clubs, but he clearly was not ready for the NHL game. That is, until the playoffs, when he played his best NHL games.
The best Sharks rookies were modest contributors Marcus Sorensen and Kevin Labanc. Labanc led the Sharks rookies in pretty much every area. He spent time on the top line with Thornton and Pavelski. His puck retrieval instincts proved a good fit. In 55 games, Labanc had 20 points. His plus-9 was third best among Sharks forwards, behind only Pavelski and Couture. Nonetheless, Labanc did not make the Sharks playoff roster.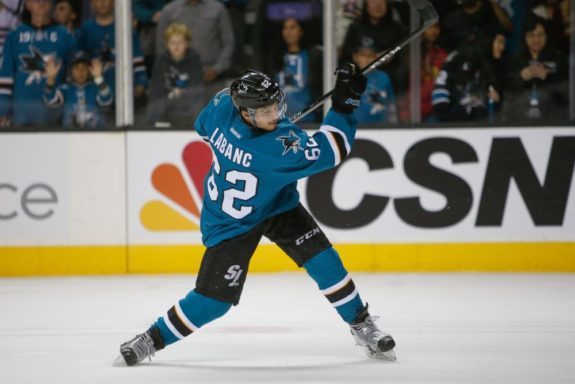 Sorensen is the third Scandinavian import in three seasons to begin his career in San Jose, following Karlsson two years ago and Donskoi last season. Each of these players came as mature player, having honed their skills in Europe. Sorensen was 24 at the start of the season. Listed as the smallest player on the roster, he shows exceptional quickness. In 19 games, he had four points and was minus-1. Despite the modest numbers, he fit the Sharks well and DeBoer kept him in the lineup for all six playoff games against Edmonton, part of an effective fourth line with Tierney and (for most games) Meier.
One other notable who saw time with the big club was Ryan Carpenter. He had four points in 11 games and finished plus-5. His solid play seemed to merit a longer look, but it didn't happen. The Sharks were 8-3-0 with him in the lineup. At age 26, he'll look for NHL work next year and there are easier lineups to crack than San Jose's.
Departures
Tommy Wingels and Matt Nieto each left San Jose mid-season. Wingels went to Ottawa, Nieto to Colorado. They played in 53 games between them. Nikolay Goldobin, a former first round pick, didn't pan out for San Jose. He was traded to Vancouver in the deal which brought Jannik Hansen to town.
[irp]
Expectations and Results
The Sharks assembled a deep, talented group of forwards. In terms of raw talent, this forward group rivals the best in Sharks history. In terms of third and fourth line talent, this is the best group San Jose has ever had. Quality forwards went 15 deep without a major drop-off.
Still, too many underperformed, and the reasons are varied. Injuries played a role, so did overuse, especially with Pavelski and Thornton. The Sharks rolled four lines, which was an effective approach. Secondary scoring was an issue, though not to the extent some think. The Sharks scoring deficit from last season to this season is entirely attributable to the power play. San Jose scored 18 fewer goals overall, but 21 fewer on the power play. Importantly, the Sharks forwards (for the most part) were defensively solid across all lines.
Faceoffs were an issue. The Sharks had been above 50% in the faceoff dot for ten straight seasons. This season's 48.1% rate was 23rd in the league and the team's lowest since the 1998-99 season.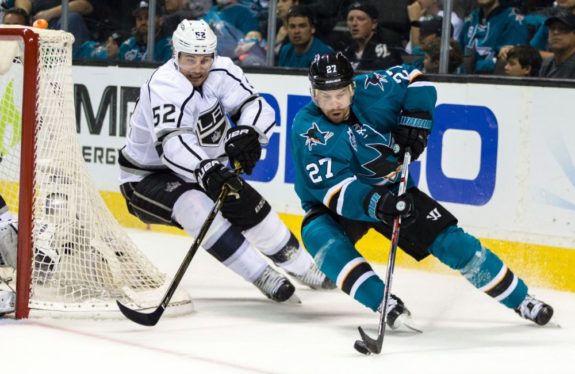 The limited development of Tierney, Boedker, Donskoi and to a lesser degree Hertl, is concerning. Whether this is on the players or the coaches is unclear, but there is reason to suspect both played a role.
DeBoer's open questioning of these younger players as they cleaned out their lockers sent a message about future expectations. Still, if players are expected to take steps forward, aren't the coaches part of insuring this happens? If the lack of development is due to effort, I get it. The role of the coaches in all this, though, is also worth examining. Especially as the Sharks become more reliant on their younger forwards.
At the end of the season, the questions about the top forwards are the most pressing. The health of Couture is an issue (and perhaps Pavelski, though nothing has been reported), but it is the two legends headed into the unknown which creates the most anxiety. Both are free agents, and one has a serious knee injury which recently required major surgery. Everyone understood the Thornton/Marleau era in San Jose had to end at some point. It is possible it already has and we just don't know it yet.
ZEKE is a native of the DC area where he witnessed the birth of the Capitals franchise. After graduating from Cornell University, which had seen hockey glory before he arrived, he moved west to San Jose. There he witnessed the birth of the Sharks franchise. His wait to witness a Championship from any of these teams finally ended in 2018.