Add another honor to the distinguished OHL career of Alex DeBrincat.
On Friday, the Ontario Hockey League named DeBrincat the winner of the Red Tilson trophy, given to the OHL's Most Outstanding Player. He becomes the fourth Otters' player to win the award since 2000. Brad Boyes won it in back-to-back seasons in 2000-01 and 2001-02. Connor Brown won it in 2013-14 and Connor McDavid won it in 2014-15.
The award goes back as far as 1944-45. Other well-known recipients of this prestigious award are Mitch Marner, Vincent Trocheck, Ryan Ellis, Tyler Seguin, John Tavares and Corey Perry.
Why DeBrincat?
DeBrincat enjoyed his third consecutive 50-goal season in 2016-17, becoming the single-season Otters' leader for goals in a season with 65. He averaged over a goal per game for the season. He also tallied a career-high 62 assists in those 63 games. His 127 points was 18 more than his next closest competitor, teammate Taylor Raddysh. DeBrincat finished a whooping 27 points ahead of the third-place finisher Adam Mascherin.
DeBrincat finished the regular season on a tear, scoring goals in 19 straight games and 22 of his last 23 games. As it turns out, the Otters needed this production down the stretch, as they were still in a fight for the top seed in the playoffs. Thanks in large part to DeBrincat's strong finish, the Otters finished first by two points. With home-ice advanatage in hand, they are now playing for an OHL Championship.
As great as an accomplishment as this is for DeBrincat, only one thing matters to him. That's winning a championship and then winning a Memorial Cup. The time for celebrating will come later after the season is over.
DeBrincat beat out a list of deserving candidates, including Owen Sound goaltender Michael McNiven, Mississauga Steelheads forward Owen Tippett, Windsor Spitfire goaltender Michael DiPietro, London Knights goaltender Tyler Parsons and Kitchener Rangers forward Adam Mascherin.
In the end, DeBrincat's dominance carried him to this honor. There was nobody close to DeBrincat's goal production anywhere in the CHL.
As for his immediate future, he looks to help the Erie Otters win their second OHL championship and first Memorial Cup. After that, he'll make a run at making the Blackhawks next season. More likely, you'll see him make his professional début for the Rockford Icehogs in the AHL.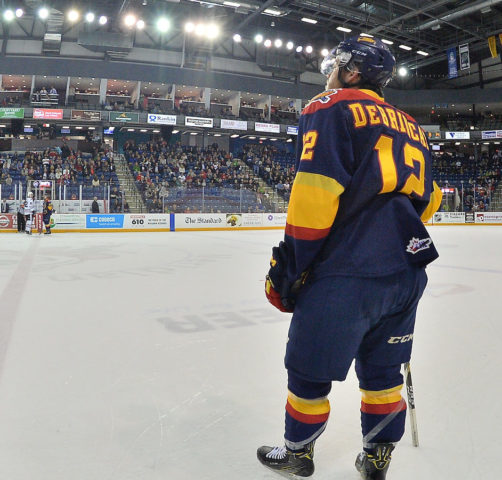 My Red Tilson Ballot
I had the honor of casting a ballot for the Red Tilson. Members of the media voted their top-3 candidates from a list of 20 players, one from every team.
My ballot was as follows.
Alex DeBrincat
Michael McNiven
Owen Tippett
The DeBrincat story becomes more Hollywood-like by the day. From undrafted to 50-goal scorer three times over, to now Most Outstanding Player, DeBrincat is a perfect example of a player who never gave up even though several teams passed over him. Some said he was too small. Others said he'd never make it in hockey. I think he's doing just fine.
Congratulations to Alex DeBrincat, your 2016-17 recipient of the Red Tilson trophy as the OHL's Most Outstanding Player.