As the NHL regular season heads into the stretch drive, it is a good time to look at the San Jose Sharks – who is hot, who is dominating and who might be able to make a major difference. We'll start with the hottest Sharks player.
Patrick Marleau
Patrick Marleau added historic goal 500 against Vancouver last Thursday. It was Marleau's seventh goal in five games. He now leads all Sharks forwards in goals scored. Even though his goal run ended against Arizona, he assisted on both Sharks scores.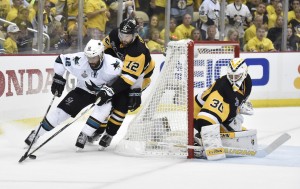 Scoring 20 goals is helpful, but being a minus player isn't. Marleau finished minus-22 and minus-17 the prior two seasons, near the bottom of the league. But this season, Marleau's play has been better and he is a plus player.
There has been plenty of speculation this would be Marleau's final season in San Jose. He is in the last season of his expensive, three-year, contract. At age 37, he could either leave the Sharks or take a severe pay cut if he wanted to stay with San Jose. There are several factors working against Marleau. The Sharks are tight to the cap now and for the foreseeable future. The NHL, regrettably, doesn't offer any salary cap relief for legacy players. Also, contracts for players over age 35 carry some added risk for a team. And Marleau's play during his contract has been suspect. Until now.
Marleau's bounceback season suggests he doesn't deserve the size of pay cut many had penciled in. Given the salary cap constraints, an ironic problem has emerged: Marleau's improved play will make it harder for the Sharks to retain the longest-tenured player in team history.
Brent Burns
Brent Burns' case for the NHL's most valuable player (Hart Trophy) is getting stronger as the season goes on. Among the statistical categories he leads the Sharks are: points, goals, GF%, GF60, plus-minus and ice time. It is rare for a defenseman to lead a team in all these categories.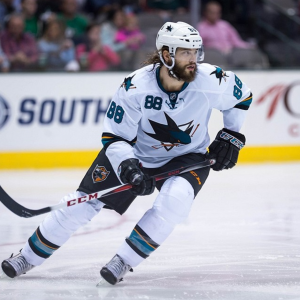 The most well-known defensemen have their stat lines highlighted by their power-play performance. In Burns case, though, he has been at his best at even strength and even short-handed. It is his all-around game which makes him so deserving of an MVP award.
The two skaters most often mentioned as contenders for the Hart Trophy are Sidney Crosby and Connor McDavid. Burns has the same even-strength goal total, 16, as McDavid and is only four behind Crosby.
[irp]
Burns is on pace for 25 even-strength goals, a number which hasn't been reached by a defenseman since the NHL started tracking even-strength goals some 30 year ago. Heck, no defenseman has even reached 20 in the last two decades (NHL.com shows Burns reaching 20 even-strength goals in 2013-14 as a defenseman – he played forward that season).
In both total goals and even-strength goals, Burns has scored almost as many as the next two defensemen combined.
One doesn't think of penalty killing as a key for an MVP player. Crosby, for example, has played just six minutes on the penalty kill this season. Burns has played over 100 minutes. In these critical minutes, Burns has been stellar. Among players with over 100 minutes of penalty-kill time (108 players total), Burns is in the top 25 in both GA60 (short-handed goals allowed by the team, normalized to 60 minutes of ice time) and GF60 (similar to GA60, but 'goals for' while short-handed instead of goals allowed).  In terms of 4-on-5 short-handed goal differential (GF60-GA60), Burns is 13th best in the league.
Burns' case for the Norris Trophy as the league's best defenseman is overwhelming. Should he continue to play at his level, anything short of a unanimous vote would be a shock. Burns' play in every facet of the game makes him tremendously valuable. The MVP award, so rarely given to defensemen, is very much in play.
The Top Trade Target
Speculation always rises at the trade deadline. If I'm Sharks general manager Doug Wilson, the first player I ask about is John Tavares of the New York Islanders. Players at Tavares' level rarely hit the open market. He has another season on his contract after this one. But if Isles general manager Garth Snow is concerned about his ability to re-sign Tavares after next season, now would be the optimal time to trade him.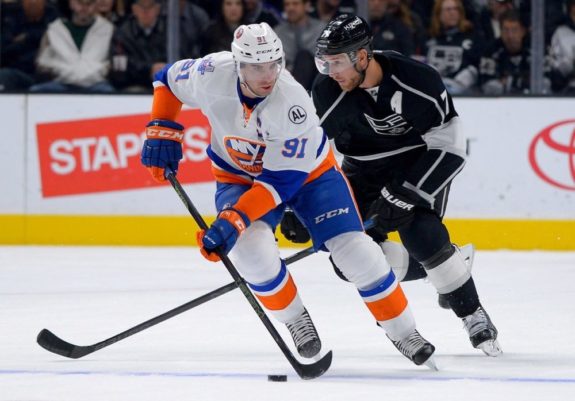 The Isles are a franchise in flux. In the last few weeks, they fired their coach, jettisoned their nominal starting goalie and acknowledged they need to move to another venue in the near future. Further, life in the insanely tough Metropolitan Division does not look promising. This season, the best the Isles can hope for is the second wild card spot; they are one of five teams in close competition for it.
Talents like Tavares do not come cheap. Getting Tavares would likely mean sending a boatload of talent to Long Island. It would include multiple good players who the Isles could keep long-term (examples: Tomas Hertl, Justin Braun, Timo Meier), high-end prospects (examples: Nikolay Goldobin, Mirco Mueller) and high draft picks (Rd. 1, not lottery protected). A trade also needs to be salary cap neutral for a Sharks team up against it, a task made easier by Tavares' reasonable contract.
[irp]
Tavares ticks off a lot of boxes for San Jose. The Sharks are clearly in 'go for it' mode this season and probably next. They are also looking for a long-term replacement for the aging Joe Thornton. Sharks general manager Doug Wilson has made major trades in his career, including acquisitions of Thornton, Burns and Dan Boyle.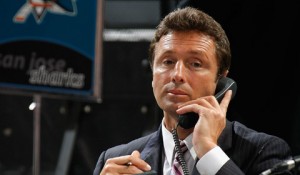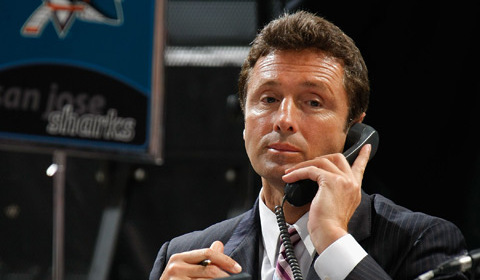 Landing Tavares is a longshot. He is only available if the Isles are not confident they can sign him to a long-term extension after next season. It never hurts to ask. If there is an opportunity, San Jose should be very aggressive. For the Sharks, there is the potential to have Thornton, Couture and Tavares down the middle for a playoff run. Such a lineup would make San Jose the odds-on favorite to win the Stanley Cup. Which is most certainly their goal.