Former baseball pitcher turned author Jim Bouton famously observed:  "You spend a good piece of your life gripping a baseball and in the end it turns out that it was the other way around." Professional athletes retire mostly for one simple reason: their services are no longer in demand. For a very few players, retirement becomes a celebration. Cal Ripken and Mariano Rivera went out with style. They received long ovations, even in their opponent's ballparks. Rivera with the Yankees and Ripken with the Orioles were fixtures in the game, and importantly, fixtures their communities.
The norm, even for a great athlete long associated with a team and community, is not a Ripken-esque ending. Instead, the athlete meanders around the league for their final seasons. Among the sadder sights in sports is seeing a favorite player finishing up a great career in another uniform.
Joe Montana finished up as a Kansas City Chief. Johnny Unitas finished as a San Diego Charger. Willie Mays spent his final season as New York Met. Michael Jordan last wore the uniform of the Washington Wizards. In the NHL, Mike Modano finished up in Detroit. Wayne Gretzky managed to play for the Kings, Blues and Rangers after turning age 35.
The list goes on. Legendary goalie Martin Brodeur won 691 games. Of those, 688 wins were with the New Jersey Devils. His final three wins came with St. Louis.
The salary cap means it will be more likely, not less, that iconic players will finish their careers away from the city they called home for so long.
In rare cases, it works out. Ray Bourque went out on top in Colorado, with love that could be felt all the way from Boston.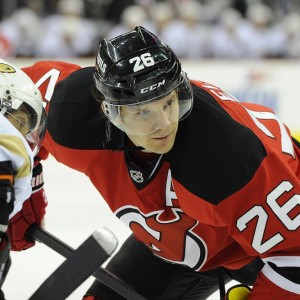 It is beyond the scope of this article to look at what motivates players towards the end of their careers, but parting with an iconic player is inherently connected to business needs of the organization. At least part of this is salary-cap driven. As the league gets comfortable and smarter with analytics, an uncomfortable fact keeps showing up. Players peak earlier in their careers than previously thought. Moneyball has come to hockey and that means more turnover of good, but aging players.
Players often do not see pay decreases as they get older. For the San Jose Sharks, Patrick Marleau is taking in about $6.7 million per season for his play to age 37. At age 39, the New Jersey Devils' Patrick Elias entered the last year of his deal with a cap hit of $5.5 million.
Hockey teams are in the business of trying to win, but they are also in the business of trying to sell tickets. Long-term players who have bonded with the community are assets. But players know their careers have limits, and are reluctant to take significant 'hometown discounts' for what is likely to be their last paychecks of anything close to that size.
Retaining A Legacy
There is a way to partially mitigate these situations. Create a cap savings associated with players who have established themselves with a franchise over an extended period. My suggestion would be to give teams salary cap relief of 2 percent per year on any contract associated with a player who has played more than 10 seasons for one team (ie 2% in Year 11, 4% in Year 12, etc). That sort of cap relief is fair to all. It is not so large that it fundamentally changes the market, but does provide enough relief so that home teams are more likely to keep their iconic players through retirement.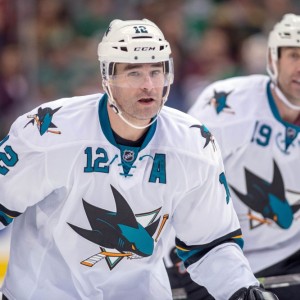 Let's look at an example. A 14-year veteran who has spent an entire career with one franchise signs a three-year-deal worth $5 million per year. This player counts $5 million per year against the salary cap. Under the proposed plan, however, there would be a 10 percent salary-cap discount for Year 15, a 12 percent discount for Year 16 and 14 percent discount for Year 17. The corresponding amount of cap relief ranges from $0.5 million to $0.7 million.
The league could consider caps on the maximum relief under such a plan (example: no more than 2 percent of a team's salary cap for the year), it could also consider a limit on the number of players per team at a time eligible for this relief. There could be an age requirement, say 32 or over before this can kick in. All these options are worthy of considering.
Though I have put forward a plan with some specifics, I am not tied to this particular plan. A plan should be considered, and accomplish these major objectives.
It does not change the salary cap in a major way.
It will not be substantial enough of a benefit to the home team to keep a player who can earn 20 percent more going to another team.
It does not result in monetary savings, so it doesn't impact the balance sheet, meaning teams still need to decide if a player is worth what he is being paid.
It creates new, but modest, incentive for teams and players to stay together for the duration of an iconic player's career.
The incentive doesn't create an obstacle to Ray Bourque-type ending to a career.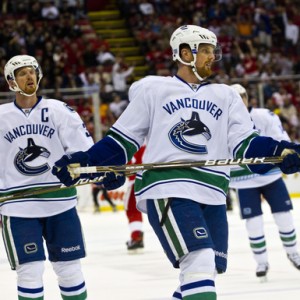 So whether it is Henrik Lundqvist or Patrick Marleau or the Sedin of your choosing, this is something the league and players can change. From Shane Doan to Patrick Elias, keeping these players where they mean something to their community means more than an extra win.
None of the players I just mentioned stand to benefit from this sort of change because there will be no Collective Bargaining Agreement (CBA) changes coming for several years. It is the next generation of players who should have this opportunity.
Players who fit this description could be given a name. It could be modest, such as 'designated veteran player status.' Or it could be high fallutin', like 'iconic player status' or 'legacy status.' Given the time, I'm sure someone will come up with an appropriate acronym.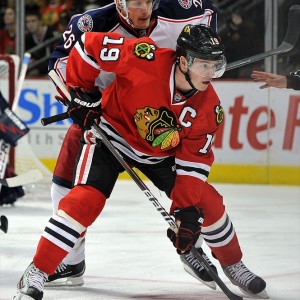 This approach tweaks the salary cap without upending it. It rewards players and teams that stay loyal to each other. And ultimately, it helps players, teams and communities to build deeper and better relationships. Which is to the benefit of everyone, including the NHL and its players.
It will be a while before the new CBA comes up for its next renewal, but issues such as this often need long lead times to convince the powers that be. It is in their long-term interests to get this right. When the current CBA expires, this issue could well be there for players such as Anze Kopitar, Jonathan Toews, Sidney Crosby and Steven Stamkos.
Hockey is a business. It is important to recognize the connections legacy players have with their teams and communities are very much a part of the business. In the age of Moneyball, the league would be wise to find ways to encourage these legacy connections.