The San Jose Sharks are the defending Western Conference champions and will play the Edmonton Oilers in the opening round of the Stanley Cup playoffs.
The Sharks are very similar, personnel-wise, to the team that made it to the Stanley Cup Final last season. The coaches and all the top players are back, so the continuity is high.
But while the continuity is high, it doesn't mean this season looks like last. It is a different team, even if the top names are familiar. One word defines this Sharks team: 'if'. So many 'ifs'.
An Ides Warning
The Oilers may have found the perfect time to face San Jose, as injuries to key Sharks players have piled up in the last few weeks, and the team's play has declined. A formidable team in February looks vulnerable now.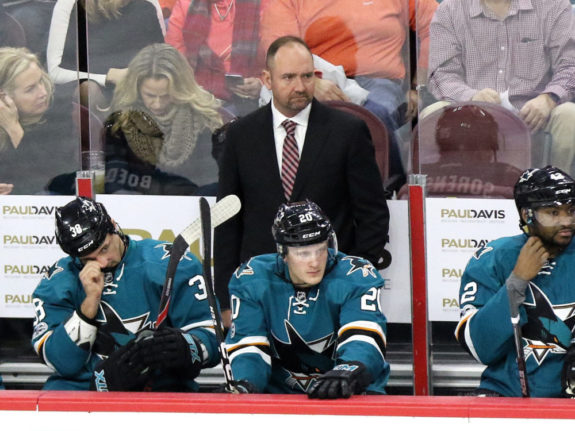 San Jose is at their best when they button things up defensively. They have the skills to do this. Tight defense, strong possession play and a big-game goalie equal the Sharks' recipe for success, but that recipe has been missing for over a month.
The warning, beware the Ides of March, didn't help Julius Caeser 22 centuries ago or the Sharks in 2017. Excluding games against free-falling Vancouver, the Sharks' record since mid-March is 2-9-0. The team is hurting, but unlike Caeser, they are not mortally wounded. However, they'll need to play better approaching the Ides of April if they want to get past the opening round.
In Goal
Martin Jones (number 31) has been a workhorse the past two seasons, with more NHL ice time than any other goalie (including postseason time), and it's not close. His goals-against average is middle of the pack, while his .912 save percentage may be the lowest among goalies starting in the playoffs.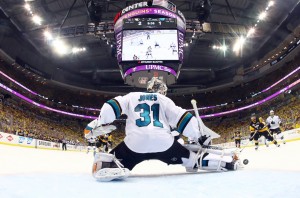 Jones, however, also had an average save percentage last season, then showed an ability to step up in the playoffs. He came up huge for San Jose, stealing critical games for the Sharks. They will need this from Jones again. The Sharks backup, Aaron Dell (30), had a strong season (.931 save percentage), but it is unlikely he sees action for a reason other than injury or mop up duty.
Headlining the Defense
If the Sharks have been steady in one area, it has been on defense. The pairings are well established.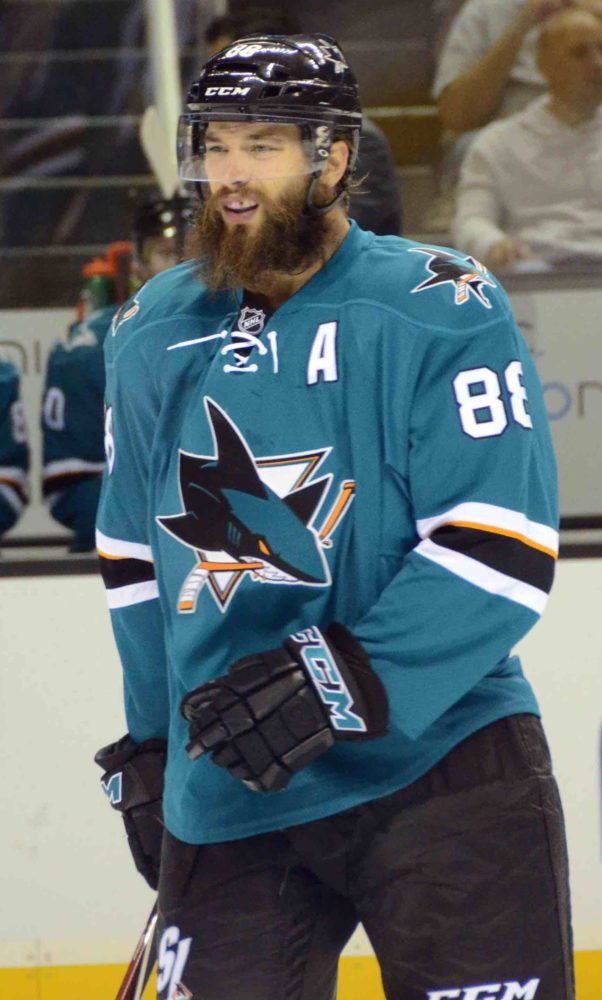 Heading the list is Brent Burns (88), who plays with Paul Martin (7). The pair is finishing their second full season together. Burns (76pts, plus-19) had a phenomenal season, but in the last month, he has been relatively quiet. He leads all defensemen in playing time over the past two seasons. And like Jones, one wonders how much Burns has left for the playoffs.
At his best, he dominates. His quick release shot from the point is one of the best weapons in hockey. His shot is a big part of the reason Burns led the NHL in shots on goal this year. His 29 goals were the most among defensemen by a wide margin. In transitions, he covers a tremendous amount of ice. He's become a good all-around player, though the last month has not been his best on offense or defense.
Martin (26pts, plus-10), the 36-year old veteran, is a complementary player. He needs to make sure he keeps inside position near the crease; it has been an issue recently. Look for him to make unspectacular but savvy plays. One can beat Martin with speed or power, but he makes few mental mistakes.
Second Pair on Defense
The second pairing is longtime partners Marc-Edouard Vlasic (44) and Justin Braun (61). Vlasic has been excellent throughout his career and was likely the Sharks' most critical player in last year's playoff run when he led the team in plus-minus. Most importantly, he pretty much neutralized the top threats from other teams. This season, his play has been a bit sketchy compared to his high standards (28 pts, plus-4). He suffered some nasty injuries and wears a long visor for added protection, the result of a puck to the face earlier in the season.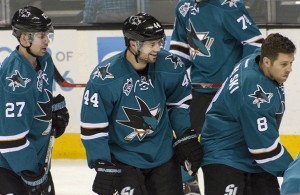 Whether Vlasic can return to form is a very big question for the Sharks. His partner, Justin Braun (13pts, plus-1), is a good player with good speed, but he isn't going to dominate defensively or kick in more than modest offense. Both players have seen a substantial fall this season in scoring and plus-minus. Like Martin, Braun needs to be better defending around the crease.
Third Pair on Defense
The Sharks' third pairing is an area for optimism. Newcomer David Schlemko (5) has proven a nice complement to Brenden Dillon (4), whose game has improved. Last season, Roman Polak was Dillon's partner, and it worked out until the Sharks were up against a team with a quick forecheck. Things went south in a hurry, as neither player was effective at exiting the defensive zone. Schlemko (18pts, plus-4) solved this problem and brought a respectable offensive game with him.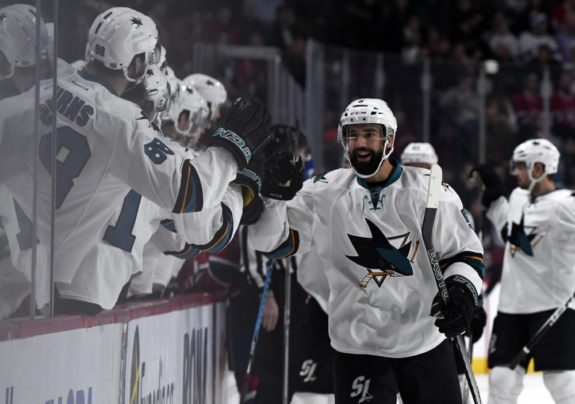 While the top two pairings will get about 75% of the ice time, the third paring is not a liability. Dillon is the only Sharks defenseman who finished the season as a minus player (10pts, minus-2). Should the Sharks need to use another defenseman, Dylan DeMelo (74) will get the call. The small and mobile DeMelo (8pts, plus-2) played 25 games in this, his second NHL season.
Top Line Forwards
I'd love to provide offer up the forward lines but I can't. I don't know who will be available and even if I did, Sharks coach Peter DeBoer is going to mix things up.
With few exceptions, the forward group has been in constant flux during the season. The Joes, Pavelski (8) and Thornton (19), have been together the entire season and will be again in the playoffs, assuming Thornton is healthy. Beyond this duo, though, very little is set.
Thornton (50pts, plus-7) and Pavelski (68pts, plus-11) have been decidedly less productive than last season. Thornton finished with 32 fewer points. His game has not looked as sharp – perhaps father time is making inroads on him. Further, the big center injured his knee against Vancouver just ten days before the start of the playoffs. While he expects to play, it is not clear how healthy he is. Should Thornton be out or off his normal game, the Sharks' task will get much tougher.
Pavelski put in around 40 goals per season over the last few but netted only 29 this season. Over the last two seasons, Pavelski leads all NHL forwards in combined ice time; Thornton is in the top five. The winger joining the Thornton line is, well, not clear. Whoever starts the series with them may not keep the role.
Sharks coach Peter DeBoer has kept the line blender very active, both in games and between games. It is rare to see the same line combinations in back-to-back games and common to see different line changes within games.
Among those who have spent time on the top line are Tomas Hertl (48), Patrick Marleau (12), Kevin Labanc (62) and Jannik Hansen (36). Hansen made his Sharks debut with the Joes but has moved to other lines since.
Second Line Flux
The Sharks' best forward this season is Logan Couture (39). Couture (52pts, plus-11) is the second line center, and the cast of characters on his line during the season included almost everyone the Sharks dressed other than the Joes. But like Thornton, Couture was injured late in the season, and quite seriously.
A puck to the jaw will cost Couture most, if not all of his teeth after the playoffs end. Really rough stuff. Can he play and can he play effectively? Both are unknown. It is hard to imagine he'll be fully ready for the start of the playoffs. If and when he gets into a game, he'll be wearing a full face shield or cage.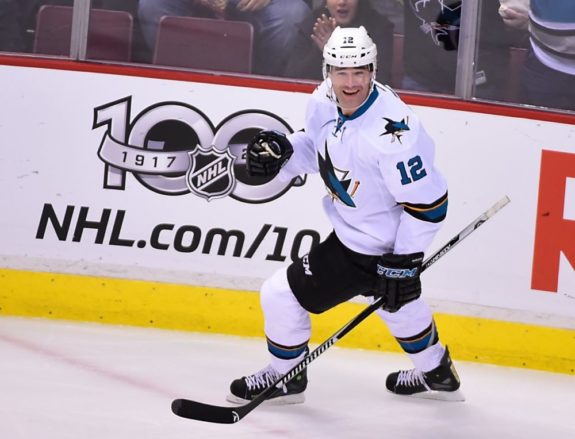 If Couture can not go or struggles, expect Marleau to run the second line. Marleau (46pts, plus-4) had a solid season for the first time in a few years. His modest point totals (compared to his historical output) do not capture the improvement in his game, which has been more energetic this season. The wingers who will play with Marleau are anyone's guess.
Maybe the Third Line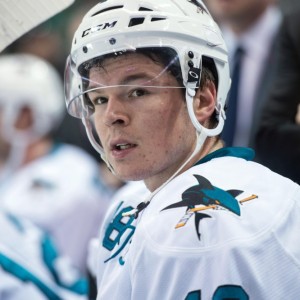 The third line center is likely to be Hertl (22pts, minus-8). Hertl had midseason surgery and missed over two months. It hasn't been a great run since then. He does have a physical presence and a scoring touch. He's also above average in the face-off department (51.7%), including the best short-handed winning percentage among the main Sharks penalty killers (48.3%). March was a rough month for the Sharks, and Hertl may have had it worst of all, finishing the month with no goals, two points and a minus-10 rating.
Fourth Line Questions
A line where the Sharks have shown relative stability is the fourth line. Chris Tierney (50) has held the center job for most of the season, with Melker Karlsson (68) and Micheal Haley (38) as his most frequent line mates. One questions the value of Haley (12pts, plus-6), the Sharks' primary pugilist, in the playoffs. While this has been by far his best season, there are more skilled forwards on the roster. With fighting considered a liability in the playoffs, Haley may be an observer.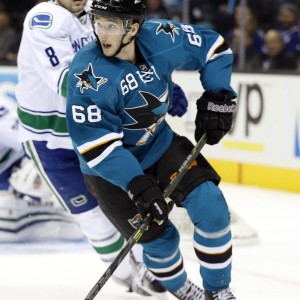 Karlsson (22pts, plus-7) has been moved around the lineup a good bit, playing on every line over the course of the season. Sort of a Swedish Swiss Army knife. He is fourth among forwards in goals and plus-minus. His forechecking and ability to battle for pucks are critical skills. Karlsson may see a large bump in ice time with the injuries to Couture and Thornton, even if he sees time on the fourth line to start the series. When good things happen for San Jose, Karlsson is often involved in a supporting role.
Tierney (23pts, even) was one of the more effective Sharks since the break in late February. He's a crafty puck handler and passer but has trouble against more physical players.
The Forward Jumble
At this point, the only spots I'm pretty certain are locked down are Thornton, assuming he is healthy, and Pavelski on the top line, with Marleau on the second line, and Tierney on the fourth line. Couture is normally a fixture on the second line, but the nature of his injury may result in a different deployment.
This leaves eight spots with about 10 players who can fill them. I'll call those I haven't mentioned yet 'the jumble'. These players can wind up on almost any line at any time.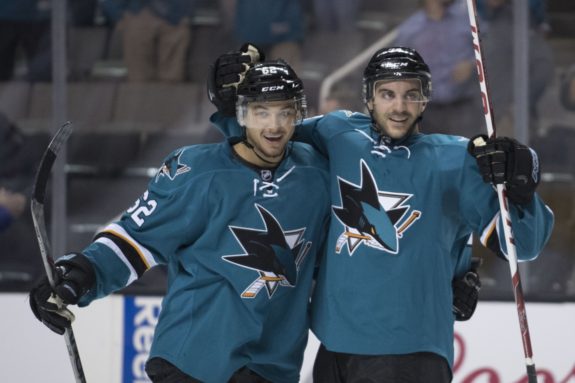 Some of these players are new to the Sharks this season, including speedy winger Mikkel Boedker (89). Boedker (26pts, even) has been a disappointment. His best game, a hat trick against Edmonton, came off a fourth line assignment.
Jannik Hansen (7pts, even in 15 games), the versatile and gritty winger came to the Sharks at the trade deadline. DeBoer likes his aggressive game a lot, so expect him to have a prominent role. Kevin Labanc (20pts, plus-9), a rookie, saw over 50 games of action, much of it on the top line. I have a hard time believing he will be on the top line for the playoffs, though. Labanc is quick and savvy for a young player and his puck retrieval skills make him a solid asset.
Even More Jumble
Three more rookies saw playing time this season and are in the jumble: Ryan Carpenter (40), Marcus Sorenson (20) and Timo Meier (28). Each played in at least 10 games (Meier over 30), but none established themselves into a daily role. I expect DeBoer will use one of these players, and most likely it will be Sorenson; he has playoff experience from his time in Sweden. Sorenson is the smallest player on the Sharks roster.
The Sharks might turn to Barclay Goodrow (23), who has had strong seasons in the AHL the past two years. Goodrow is a bigger player with nearly 80 NHL games of experience. Should DeBoer see a need for size and experience in a fourth line role, Goodrow would be a logical choice.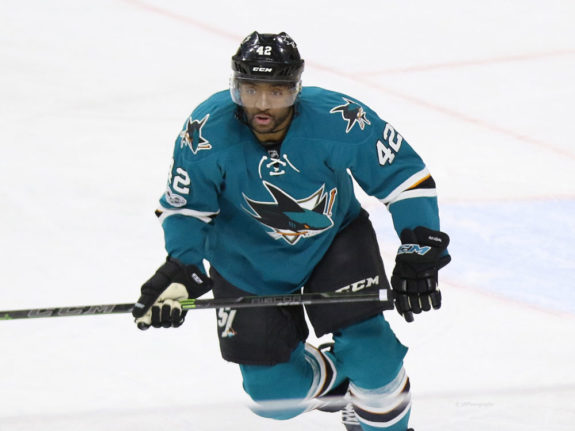 A couple of veterans are also in the jumble. Joel Ward (42) has had an up and down season (29pts, minus-2), but his playoff success over the years leads me to think he'll be on the second or third line. His net front presence is a major attribute.
Joonas Donskoi (27) had a strong rookie season last year but has not been as effective this season. Donskoi (17pts, minus-5) went scoreless in March (13 games), finishing minus-6 for the month. I'd expect to see him start the playoffs, likely on a third line. He is a creative player and a good set-up man, but he hasn't created as much time and space for himself this season as he did last year. As a result, his effectiveness has been limited and DeBoer benched Donskoi on occasion.
Special Teams and Beyond
In recent seasons, the Sharks iced a respectable penalty kill and a lethal power play. The penalty kill started off the season well but cooled off. The power play started the season cool and never warmed up. I expect opponents to be very aggressive defensively and willing to take penalties, unless and until the Sharks can show their power play is genuinely dangerous.
Special teams were the difference in the Edmonton's recent 4-2 win over San Jose. The Oilers were 2-5 on their power play, the Sharks 0-4. Since March 15 (13 games), the Sharks have been outscored, 9-5, on special teams. The Sharks' special teams, historically a positive, are a negative headed into the playoffs.
Another area the Sharks will need to improve is in the face-off circle. This has been an unusual down season for the Sharks in terms of possession. The Sharks will help themselves a lot if they can start with the puck, especially when Edmonton's uber-talented Connor McDavid is on the ice.
Experience and Ice Time
Many Sharks players have had a large amount of ice time over the past two seasons, leading the league among forwards (Pavelski), defenseman (Burns) and goalies (Jones). Another key player, Martin, now 36, has played more NHL games in the past two seasons than any time in his career, even before the playoffs begin.
Fatigue can manifest itself in many ways, and on this front, the Sharks are the most vulnerable team in the playoffs. This issue was acknowledged by Sharks' coaches and management before the season began, but precious little was done to mitigate this risk in the 82-game regular season.
How San Jose Wins
The Sharks are most effective when they play a tight defensive game. They can score, but high scoring games are not their bread and butter. This team is going not going to come back from deficits often. Working in their favor, however, is their playoff experience. Eighteen Sharks have 20 or more playoff games on their resume, nine have over 50 and five are over 100. If poise plays a role in the outcome of the series, it helps San Jose.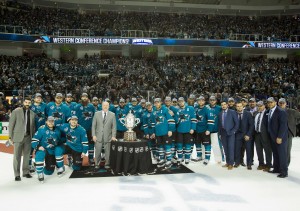 The 'If'
All in all, it is hard to see a beaten-up Sharks team as a favorite in this series. What was already a miserable March took a sharp downturn with the injuries to Couture and Thornton. Even if these two play, their play is likely to be below their high standards.
The 'ifs' continue. The Sharks can win: If Martin Jones steps up and outperforms his regular season; If fatigue doesn't bite this team; and if Brent Burns can dominate again. But the biggest 'if' relates to defending the Oilers' best player.
In last season's playoffs, the opponent's second and third lines had more success against the Sharks than the top lines. For San Jose to win the series, defensive discipline and strong goaltending are essential. The key matchup is going to be Vlasic against McDavid.
Vlasic has not had a great season, but he has been the best defensive defenseman in hockey for an extended period. In last season's Stanley Cup playoffs, Vlasic shut down one big name scorer after another. The battle between the elite defender and the elite player is one to watch. It may decide the series. If Vlasic can repeat his work from last season, San Jose has a good chance to win the series.