The Washington Capitals closed out their season Sunday, dressing Taylor Chorney for the regular season finale. In his first game back with the team since Feb. 25, Chorney skated about 17 minutes, finishing the season with just 18 games under his belt. Over that span, he posted a goal and five points and was a plus-8.
As the playoffs near, Chorney will likely find himself on the outs yet again. Since Kevin Shattenkirk came in, Washington has barely utilized their extra defender in Chorney. In fact, when John Carlson sat out the remainder of the regular season with a non-serious lower-body injury, it was Schmidt who drew in.
Overall, it has become difficult for the 29-year-old blueliner to make his way back into the lineup, but that hasn't stopped him from making the most of his time with the big club.
"You know, it's been tough the whole year in that regard," Chorney said. "It's nothing too new for me. You just kind of go about your business every day and try to bring a good attitude."
The Cutting Edge
Unfortunately, Chorney's return to the lineup is so difficult primarily because he is one of many left-handed defensemen on the Capitals' roster.
With Karl Alzner, Dmitry Orlov and Brooks Orpik filling out the left side on Washington's three pairings, it is easy to see why Chorney is struggling to make the cut. He faces a fierce competition, and each of these defenders brings something extra to the lineup; Karl Alzner is among the NHL leaders in shot blocks, Dmitry Orlov has outstanding offensive prowess and strong possession metrics and Orpik's stay-at-home style and physicality bring a lot to the table.
When it comes to drawing back into the lineup, Chorney makes sure to value where he sits now with the organization and is always prepared to help in any way he can.
"There's still a lot of things to be thankful for, so it could be worse," Chorney said. "I just got to make sure if it gets to the point they need me, I'm ready to go."
Chorney's Style
The 6-foot-1, 190-pound defender is an effective skater at the NHL level. He is able to bring physicality and has the ideal frame for the NHL. While he does have puck-moving ability, which he has showcased in the minors, Chorney elects for a more defense-driven mentality when he draws into the lineup.
Not to mention, he has proven his ability and usefulness for an NHL team and knows his role. Though he is the team's extra defenseman, he is capable of being a stable replacement, who capitalizes on his opportunities and makes the most of his role.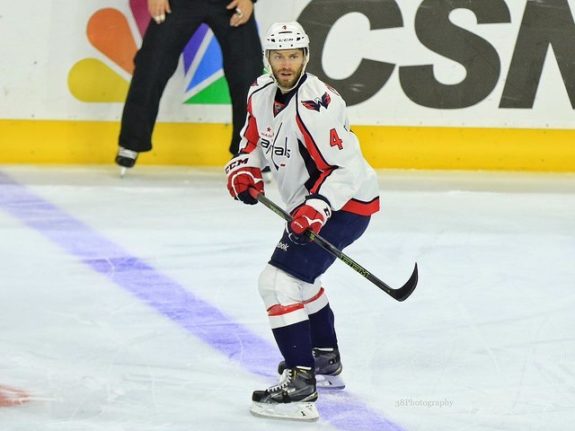 Washington first saw Chorney's potential when he joined Pittsburgh for their 2015 playoff run as an emergency call-up. The Capitals signed him that offseason and went to be a vital player in the 2015-16 campaign when John Carlson and Brooks Orpik were ailing for a combined 65 games. Considering the Capitals could lean on him and fully trust him, they awarded him with a two-year extension in February 2016.
Though he's been a regular scratch for a lot of the year, Chorney hasn't been taking it easy on the ice, and still puts in time, effort and dedication with the team.
"You got to put in actual work," Chorney said. "You got to be the first guy on the ice and the last guy off. It's kind of been the story of my year so far, and I'm just trying to get every opportunity to get ready to go."
Postseason Mentality
Going into the playoffs, Chorney poses a different mentality than that of his teammates. As the team's extra defender, Chorney knows that he won't find himself dressing for every playoff game, but is always prepared for any turn of events.
"I mean, you never know," Chorney said. "Playoffs get physical and guys are going to get dinged up, so you just got to make sure that when that time comes, you're ready."
When asked about the mentality heading into the postseason, Chorney mentioned that though he hasn't played, he can feel that intensity building in the locker room.
"You can kind of even just tell just being around the guys," Chorney said. "The intensity's getting picked up and I think it's good for us that we're in a race this year… every game is huge and you can tell the guys are playing smart and playing playoff hockey right now."
Ultimately, when Chorney does draw back in, he plans to make the most of his ice time but believes the most important part of returning is to avoid stealing the show.
"I think [it's important] just to keep it simple," Chorney said. "You're not going to go out there and necessarily take the game over and dominate anything. Just go out there and do what's asked of me, whether it's blocking shots or making smart plays with the puck. Just go out there and be reliable like I have been when I've been given the opportunity this year."