The Edmonton Oilers continue to reduce their training camp roster. This time the Oilers cut it by 10 and re-assigned those players to their AHL affiliate, the Bakersfield Condors. With the season opener fast approaching the roster is down to 32 players. Among the notable cuts was defense prospect Caleb Jones.
Jones, 20, turns pro this season and along with Ethan Bear, the two are key pieces of Edmonton's promising blueline pipeline. The pair had looks together in pre-season and could be a tantalizing offensive pair, especially on one of the Condors' power play units.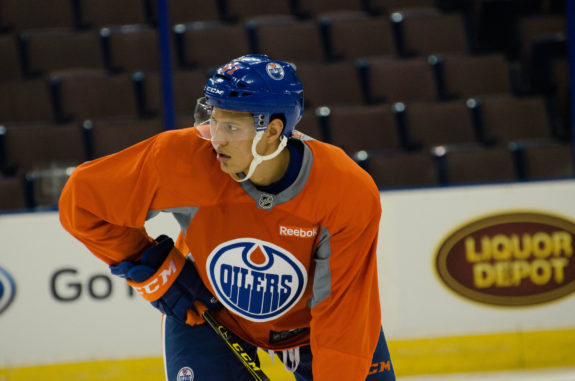 On defense, Ryan Mantha, Keegan Lowe, and Dillon Simpson were also re-assigned to Bakersfield. Simpson, 24, will have to clear waivers first though.
On Forward Grayson Downing, Joey LaLeggia, Mitch Callahan, Ty Rattie and Patrick Russell were sent down to the Condors. Rattie, like Simpson, has to clear waivers. Nick Ellis was the lone goaltender sent down.
Updated Oilers Training Camp Roster
Last year the Oilers carried a 23-man roster that broke down into two goaltenders, eight defensemen and 13 forwards. They did the same thing the year before in 2015-16. Edmonton's probably going to carry another eight to start the year by that logic.
There's not a complicated situation with the waiver wire either, so they don't have to be creative in juggling forwards. Here's the remaining list of players still at training camp.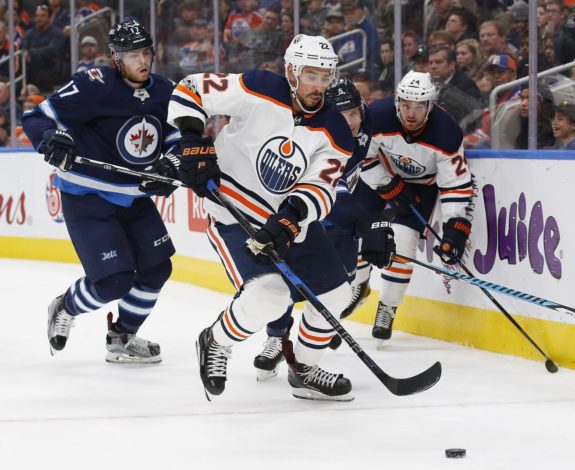 Forwards (19): Tyler Benson, Drake Caggiula, Leon Draisaitl, Jussi Jokinen, Zack Kassian, Chris Kelly, Jujhar Khaira, Mark Letestu, Milan Lucic, Brad Malone, Patrick Maroon, Connor McDavid, Ryan Nugent-Hopkins, Iiro Pakarinen, Jesse Puljujarvi, Ryan Strome and Kailer Yamamoto.
Defensemen (9): Yohann Auvitu, Matthew Benning, Mark Fayne, Eric Gryba, Oscar Klefbom, Adam Larsson, Darnell Nurse, Kris Russell, and Ryan Stanton.
Goaltenders (2): Laurent Brossoit, and Cam Talbot.
Nine Defensemen Remaining With Oilers
There are nine defensemen left with the Oilers in camp right now. Judging by the fact McLellan's shown a tendency to go with eight blueliners, we know that likely three guys are battling for two spots. Keep in mind Oscar Klefbom, Adam Larsson, Kris Russell, Matt Benning, Darnell Nurse and Eric Gryba are all returnees for Edmonton.
Mark Fayne, 30, played four games for the Oilers in 2016-17 but played the rest of the year with the Condors. He's more of a stay at home defenseman with slow foot speed.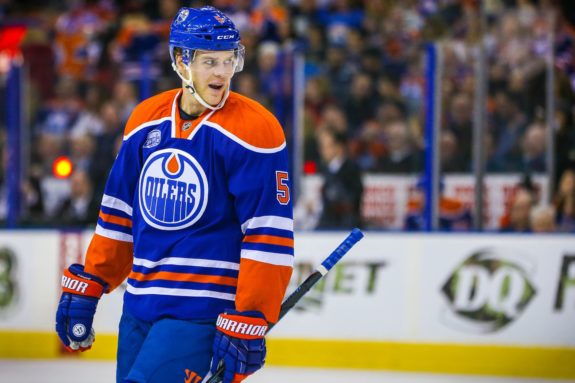 Edmonton also doesn't have a cap crunch so paying him $3.625 million to be your seventh or eighth defenseman isn't the albatross you think it would be. You could also argue the playing time in Bakersfield could be more beneficial for the younger guys coming up in the system like Bear, Jones, Simpson, Mantha and Ziyat Paigin.
Yohann Auvitu, 28, split the season between the New Jersey Devils and their AHL affiliate, the Albany Devils. He's got some puck-moving capabilities, an excellent shot and could help Edmonton's second power-play unit.
That said, Auvitu hasn't impressed defensively in his own zone and doesn't play a physical game. He's been a tweener between the NHL and AHL for that reason.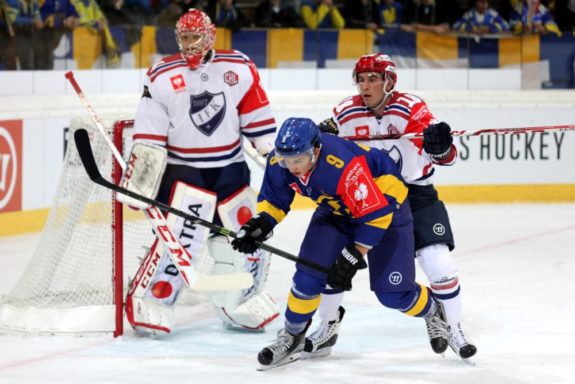 Ryan Stanton, 28, has played just one pre-season game on September 20 versus the Winnipeg Jets. He hasn't played since pairing up with Eric Gryba. He's more of a defensive defenseman. Stanton's been a depth blueliner throughout his NHL career.
So actually when thinking of the final spots, you'll want a guy that has some offensive upside (Auvitu). McLellan will then have to figure out who's got more defensive promise and foot speed between Fayne and Stanton.
19 Forwards Remaining With Oilers
There's still a massive glut of forwards remaining at Oilers training camp, but that will be getting addressed in the coming days. Tyler Benson is skating, but still recovering from injury. Benson will be re-assigned to the WHL's Vancouver Giants once Edmonton's medical staff feel he's 100 percent. Remember Benson's been injury-plagued since being drafted 32nd overall in 2016. Benson, 19, has been limited to just 63 games over the past two seasons in the WHL.
Remember Benson's been injury-plagued since being drafted 32nd overall in 2016. Benson, 19, has been limited to just 63 games over the past two seasons in the WHL.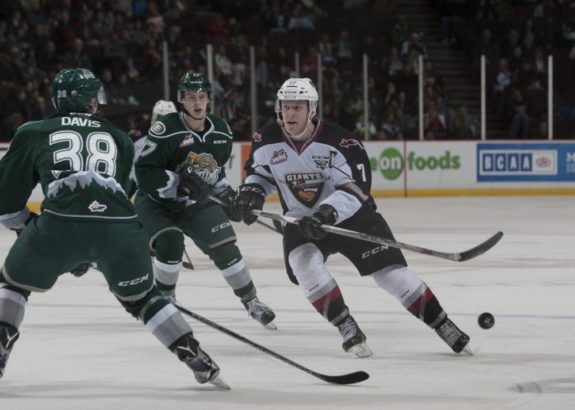 Anton Slepyshev, 23, is back on the ice, but still hasn't played a preseason game. Then there's the discussion about who to keep; Jesse Puljujarvi or Kailer Yamamoto. Both have been impressive in pre-season thus far. Puljujarvi has two goals and three points in three games. Yamamoto leads the Oilers with five goals and six points in four games.
Both have earned looks on Edmonton's top line with Patrick Maroon and McDavid. Part of that also has to do with the early struggles with Ryan Strome who's been inconsistent.
Strome's been great, average, and awful in each of his three games. The biggest gripe was that, through his career, Strome doesn't shoot that much. But he's doing what was asked of him, and that's shooting the puck if he wants to play with McDavid. Strome is tied for the team lead with ten shots through the pre-season.
Predicting Oilers Opening Night Roster
If you're trying to predict how the Oilers roster shakes out this year, you have to ask yourself a few questions. You're going to risk losing one of Auvitu, Fayne or Stanton to the waiver wire, so who do you least want to lose?
Next, do you want the option of an offensive and a defensive player in case you run into injuries? Can you trust any of these options or do you go out and sign a free agent like Dennis Wideman or Cody Franson (on a PTO with Chicago)?
On forward the biggest question is if you keep Kailer Yamamoto who's given you every reason to keep him in Edmonton. There's a glutton of forwards already, and Anton Slepyshev is about to come back.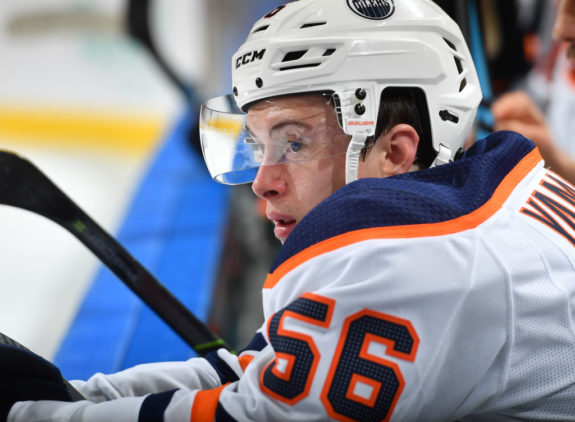 Does it make sense to keep Yamamoto which would force someone like Puljujarvi back to the AHL? Is Yamamoto ready to step right into the NHL or do you not rush him? There are so many questions, but what's best for the franchise?
What the Oilers do with Yamamoto is going to be the hardest decision, and it might not be the popular decision to send him back to junior. The kid has been one of the best Oilers in pre-season and answered every one of the challenges placed before him. In the end, I think McLellan and Peter Chiarelli send Yamamoto back to the WHL's Spokane Chiefs with a focus on his long-term development.
It doesn't make sense for the Oilers to do to Yamamoto what happened to Leon Draisaitl and Puljujarvi in their rookie years. They also have the luxury of not rushing a first round pick to the NHL for the first time in a long time as well. Why not take advantage of that and allow Yamamoto to dominate the WHL. He'll also be a force for Team USA at the World Juniors. This could be a massive year for his development playing premier minutes he may or may not get for the duration of the NHL season if he were to stay.
Regardless here's how I have the Oilers final roster shaking out, with Slepshev (*) possibly on injured reserve to start the year.
Goaltenders
Left Defense
Right Defense

Cam Talbot

Oscar Klefbom

Adam Larsson

Laurent Brossoit

Kris Russell

Matt Benning

Darnell Nurse

Eric Gryba

Yohann Auvitu

Mark Fayne

Left Wing
Center
Right Wing

Patrick Maroon

Connor McDavid

Ryan Strome

Milan Lucic

Leon Draisaitl

Drake Caggiula

Jussi Jokinen

Ryan Nugent-Hopkins

Jesse Puljujarvi

Jujhar Khaira

Mark Letestu

Zack Kassian

Iiro Pakarinen
Anton Slepyshev*
What are your thoughts?