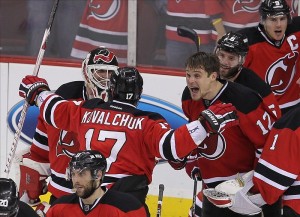 Ilya Kovalchuk is used to the criticism by now, however unfounded it may be. Although he's put up impressive numbers since signing a 15-year, $100 million deal prior to the 2010-11 season, the Russian sniper has been the favorite whipping boy for fans and media alike, particularly after the Devils missed the playoffs last year for the first time in 15 seasons. In his two full regular seasons in Newark, he has scored an impressive 143 points, including 68 goals (he also registered 27 points in 27 games after being acquired from Atlanta late in the 09-10 season).
Somehow those totals, while respectable and star-worthy, never seemed to be enough. Perhaps it was the 185 goals he scored during a five-year stretch for the Thrashers. Maybe it's the alleged anti-European bias that is said to plague the NHL in certain circles. Or maybe it was just all that cash.
Regardless of the reason, the criticism of Kovalchuk, who has grown into a leader on the veteran-dominated Devils, has largely been unwarranted. During this postseason, Kovalchuk has had the chance to silence those critics. So far, he's seized that opportunity.
Kovalchuk is New Jersey's leading scorer in these playoffs, logging nine points in nine games, including a stellar 3-point performance (1 goal 2 assists) in their huge game 3 overtime win against
the Flyers. He was hampered by a back injury that made him less than effective in game 1 and forced him out of game 2 vs. Philadelphia, but came roaring back in game 3, leaving no doubt in head coach Pete DeBoer's mind that the injury is a non-issue.
"I think we're past that," DeBoer said during a conference call with the media following game 3. "My belief is that he got it taken care of, he had the appropriate rest, and he's good to go. It was the first time, for me, in two or two and a half weeks where I really saw his jump back in his legs, so I thought he was good. It was good to see."
Kovalchuk echoed his coach's feeling regarding the injury after game 3:
"I'm feeling good. It's nice to have a couple days rest and then get ready to go again," he said.
Ever the team player, Kovalchuk has credited everyone from his teammates to the fans to the coaching staff for his and the team's success. He was especially complimentary of team captain Zach Parise after the victory over Philadelphia in game 3:
"Zach, he's our leader," he said, "he shows that every day. He's the hardest working guy out there."
Kovalchuk, a pure sniper, is the type of scorer that can carry a team offensively when he gets hot. It appears, with the back injury a thing of the past, that he's heating up. If so, that will present a huge problem for both Philadelphia and his critics.