The first month of play has concluded, and the New Jersey Devils sit at 5-3-1 as November begins. They've gotten strong starts from their top scorers, while Keith Kinkaid stood on his head in the absence of Cory Schneider. Here are the key takeaways from their first month, as they get set for a grueling November schedule.
The Hischier Line Dominates
It's not the only reason for their success, but the line of Taylor Hall, Nico Hischier, and Kyle Palmieri have played a huge part in it. Hall has 12 points in nine games, while Palmieri leads the team with 14 in nine games. Hischier isn't too far behind them, with eight points in nine games.
At five-on-five, this line has been dominant, both on offense and defense. The Devils have out-chanced their opponents 50-37 and have a 25-9 advantage in high-danger chances with them on the ice. The trio has an expected goals for per 60 minutes (xGF/60) of 3.64 to go along with an expected goals against per 60 minutes (xGA/60) of 2.35.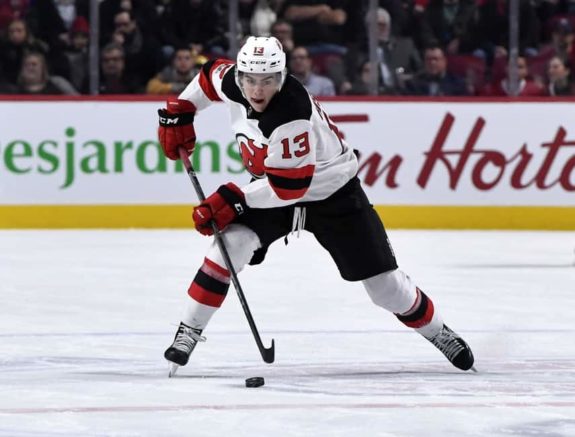 The three of them were also major contributors to the power play. They were on the ice for nine of the team's 10 power play goals. Hall and Palmieri have been particularly dominant on the power play. Eight of Hall's 12 points have come with the man advantage, while Palmieri leads the team with five power-play goals.
I'm not sure where the Devils would be without these three, but it probably wouldn't be pretty. The team's secondary scoring has been suspect, at best, to start the season. Until that comes around, Devils head coach John Hynes will have no choice but to keep the Hischier line intact because it's their best source of offense.
Devils' Second Line Underperforming
As great as the Devils top line has been, the same can't be said for their second line. With Jesper Bratt out with an injury, their most common line has been Marcus Johansson, Pavel Zacha, and Stefan Noesen.
Their shot rates have been surprisingly good at five-on-five. They have a 59.53% expected goals for (xGF%), as well as an xGF/60 of 2.41 and an xGA/60 of 1.64. The problem is they haven't produced any offense, with just one goal when they've been on the ice together, which won't cut it for a scoring line.
At an individual level, none of these three are producing. Johansson has just two points in eight games, while Noesen has totaled the same in nine games. Zacha has produced even less and hasn't recorded a single point in any of the team's nine games. To get things going, Hynes gave Jean-Sebastien Dea a shot with Johansson and Zacha, but with no success, either.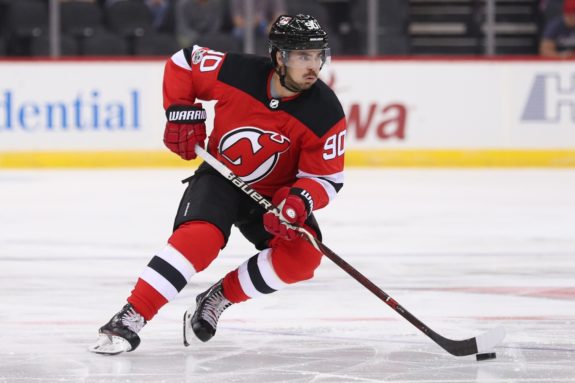 Hynes is going to have to shake things up and has already done so. They closed out Tuesday's 8-3 drubbing at the hands of the Tampa Bay Lightning with a line of Johansson, Travis Zajac, and Miles Wood. Zajac is playing well to start the season, and Wood gives Johansson a shooting threat on his opposite wing. That'll give the Devils best chance for a productive second line until Bratt returns to the lineup.
Devils' Defense Pairs Holding up Well
On paper, the Devils group of defensemen doesn't inspire much confidence. Aside from Tuesday night's 8-3 loss, they've been playing quite well to start the season.
The most surprising defense pair has been that of Mirco Mueller and Sami Vatanen. Mueller had a poor preseason, so I was apprehensive about him getting first pair minutes. But through nine games, he and Vatanen have handled some pretty tough competition fairly well.
Related: Devils' Severson off to a Hot Start
As a pair, they have a 49.12% Corsi For (CF%) and an xGF% of 48.85%, which is not bad considering the minutes they log. They've also done a good job limiting high-danger chances by the opposition. We'll see how they hold up in the long term, but so far, they've been way better than I expected.
The real standouts on defense have been Andy Greene and Damon Severson. They have an xGF% of 61.72% at five-on-five, which is outstanding. The Devils also hold a ridiculous 31-11 advantage in high-danger chances with them on the ice. They don't log the minutes that Mueller and Vatanen do, but it's hard to argue with their results. They've been the Devils best defense pair to start the season.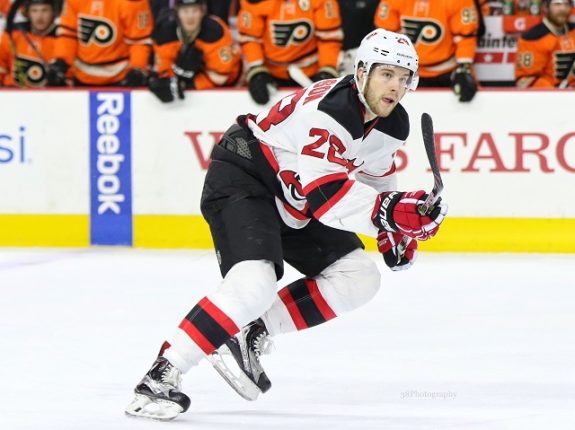 Rounding out the Devils blue line are Will Butcher and Ben Lovejoy. The two were a dominant third pair last season and are playing well to start 2018-19, but their numbers are not what they were a season ago. Part of that is because they haven't been sheltered as much, but so far, they're handling the tougher matchups well. That should continue to give the Devils solid defensive depth if they keep it up.
Kinkaid Has Stood on His Head
The lone goaltender to make a start for the Devils has been Kinkaid. And he's been everything they have asked of him as Schneider returns from offseason surgery.
In nine starts, Kinkaid has a .910 save percentage (SV%), but that's a bit misleading. Before Tuesday night's 8-3 loss to the Lightning, he had a .925 SV% in eight starts and two shutouts. That's a stark turnaround to how he started last season, where he had a .896 SV% and no shutouts in his first nine starts.
Schneider has returned to the lineup and is on the verge of making his first start of the season. He'll provide welcomed relief for Kinkaid, who has put the Devils in a favorable situation after the first month of play. If Schneider is fully healthy and can play as he did at the start of 2017-18, the Devils should have a reliable goaltending tandem moving forward.
Are the Devils Actually Good?
I can't tell you with 100% certainty that the Devils are a good team after just nine games, but they have done some things that are encouraging.
One way to determine to that is to see how they're performing against expectations. Through nine games, the Devils have a goals for percentage (GF%) of 55.88% and an xGF% of 54.17%, so they're just about performing to expectations. This chart from Sean Tierney should help further clear things up.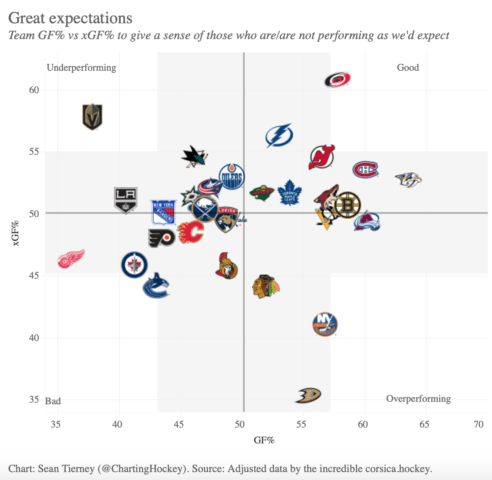 Maybe things will even out at some point, but the Devils have played legitimately well to start the season. They have a difficult schedule in November, with 11 of 15 games coming on the road, so we'll find out a lot about them over the next month. If they're still in the top right quadrant of that visual in a month's time, then we'll know they have a squad worthy of contending for a playoff spot.
*    *    *
Advanced stats from Natural Stat Trick, Corsica Hockey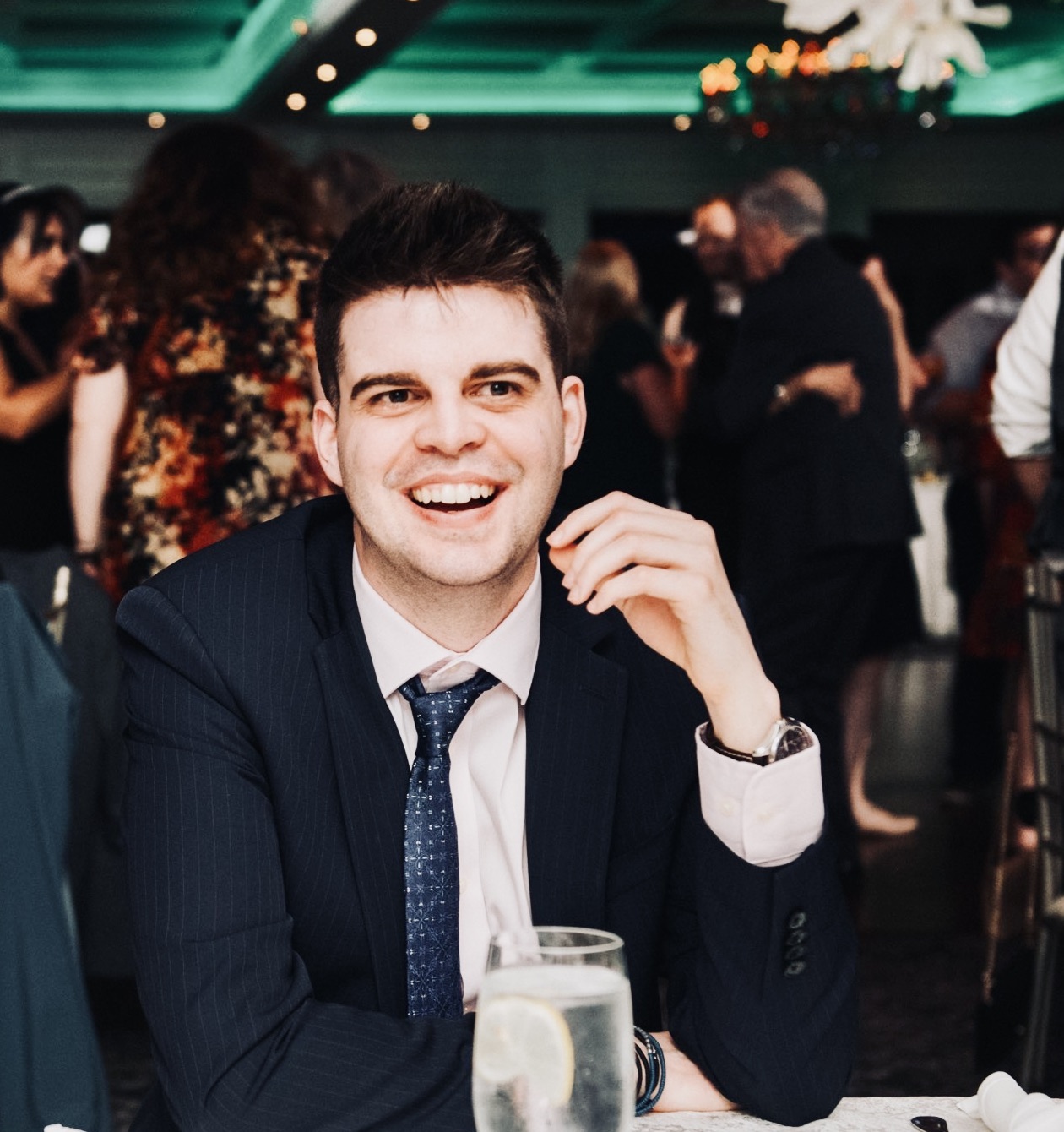 Alex Chauvancy is a New Jersey Devils writer for The Hockey Writers who has a penchant for advanced stats, prospects, signings and trades. He previously wrote for Devils Army Blog, a New Jersey Devils fan blog, from 2015-2017