Jesper Bratt has yet to play in a game for the New Jersey Devils in 2018-19. He's missed the team's first seven games with a fractured jaw, which he suffered while they were in Sweden as a part of the NHL Global Series.
The Devils are 4-2-1 without Bratt, but his presence has certainly been missed. They're still scoring goals, thanks in large part to the trio of Nico Hischier, Kyle Palmieri, and Taylor Hall. When Bratt returns, which should be in the near future, the Devils will benefit from having him back on the ice.
Bratt's Strong Preseason
Bratt had a strong rookie season in 2017-18, where he finished with 35 points in 74 games. He struggled in the second half of the season, but he was still a valuable part of the team's run to the postseason. Bratt's second-half struggles seem to be a thing of the past, at least based on his preseason performance.
In three preseason games, he fired six shots on goal. He also had 12 shot attempts and six individual scoring chances. Shot generation was a bit of a problem for Bratt last season, particularly in his final 31 games, where he had 37 shots on goal.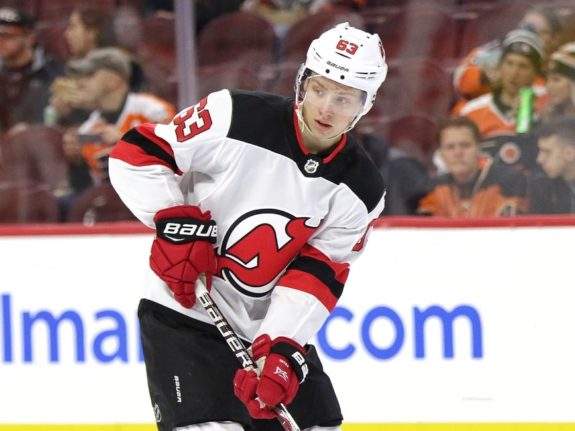 It may only be preseason hockey, but it was encouraging to see Bratt shoot the puck more often. He'll be expected to play a top-six role when he returns, so he needs to continue shooting. He'll also get time on the power play, where he can give the team another scoring option.
The Devils will need Bratt to return and provide some offense. Secondary scoring has been a bit of an issue outside of their first line. He'll help add to that, especially on a second line that has been struggling to start the season.
Devils' Second Line Needs Bratt
Devils head coach John Hynes has used a few different options at right wing, but it's been hard to find a replacement for Bratt on the second line.
Stefan Noesen got the first crack at a top-six role in the team's first couple of games. He had a solid 2017-18, where he finished with 27 points in 72 games. Noesen is a good player and has strong shot rates, but he lacks the skillset Bratt has. That made for a tough fit as a second-line winger.
With the Devils looking for more offense, John Quenneville was given the next opportunity. He had a strong preseason, like Bratt, and has more a suitable skillset to play a top-six role, but the experiment didn't last long. Quenneville was moved down the lineup after one game and is now with the Binghamton Devils (AHL) looking to find his offensive touch.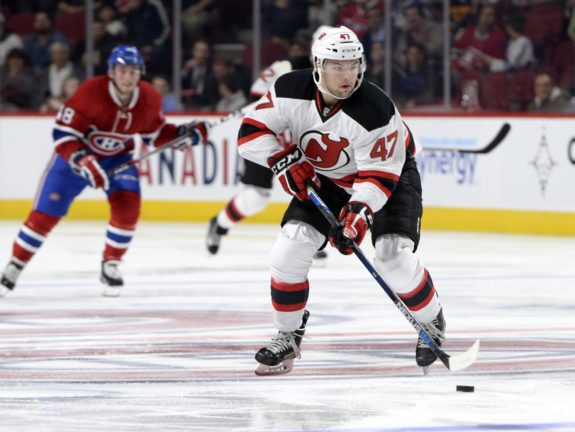 Jean-Sebastien Dea has gotten off to a good start this season. He has three goals in seven games and has an expected goals for (xGF%) of 55.21%. Those are pretty decent numbers for someone who was a waiver pickup prior to the start of the regular season.
Dea has held his own in the couple of games he's been on the second line. He's shown that he's a capable player and has earned his spot on the NHL roster. But the Devils need more than what he can provide in order to have a strong top six, which is part of why they miss Bratt.
Marcus Johansson Needs Some Help
After the Devils first line, Johansson probably has the best offensive ability of any player on the roster. He's a great passer and has a sneaky good shot. Unfortunately, he doesn't have much help around him.
Pavel Zacha looked great in the team's first two games but has gone missing since. He's yet to record a point in seven games and isn't shooting the puck enough. I've said enough about the right-wing situation, so there's no need to go into more detail.
From the THW Archives: Bratt Following Footsteps of Swedish Legend
Johansson is a great player, but he needs support to have more of an effect on the team. He and Bratt showed great chemistry during the preseason, so there's potential between the two of them. If Bratt shoots the puck close to his preseason rates, it could be a great compliment to Johansson's passing ability. That could help give the Devils what they're looking from their second line.
Bratt's Return Will Be Welcomed
The Devils are doing quite well, even in the absence of Bratt, but it doesn't take away from what he means to the team moving forward. They don't need him to be a 60-point scorer, but his offense has been missed.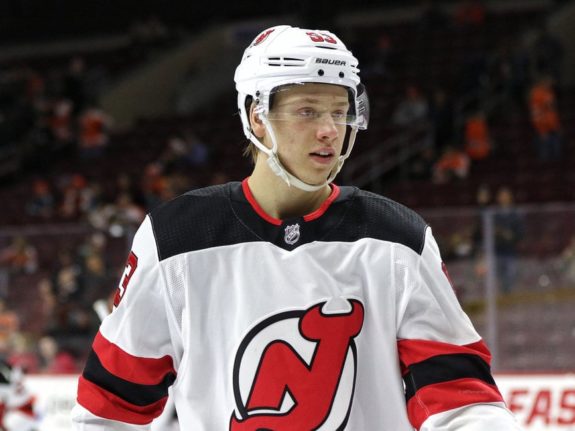 Hall, Hischier, and Palmieri are all great players and are capable of carrying the load for most of the season. As great as each is, they aren't immune to slumps or cool stretches. That's when the Devils will need to have a productive second line. They've been able to get by without one so far, but that won't be the case over the whole season.
This is where Bratt can help be a solution. He can't drive an entire line by himself, but he can help give it a much-needed spark. He played a large part of last season with Hall and Hischier so he can handle top-six minutes. If his preseason is any indication, he should be able to help right away.
Bratt is the best choice the Devils have to round out their top six. They've tried a few options, none of who have what Bratt provides in a scoring role. His return can't come soon enough, and the Devils will benefit from the offense he can provide when he returns in the not too distant future.
*    *    *
Advanced stats from Natural Stat Trick, Corsica Hockey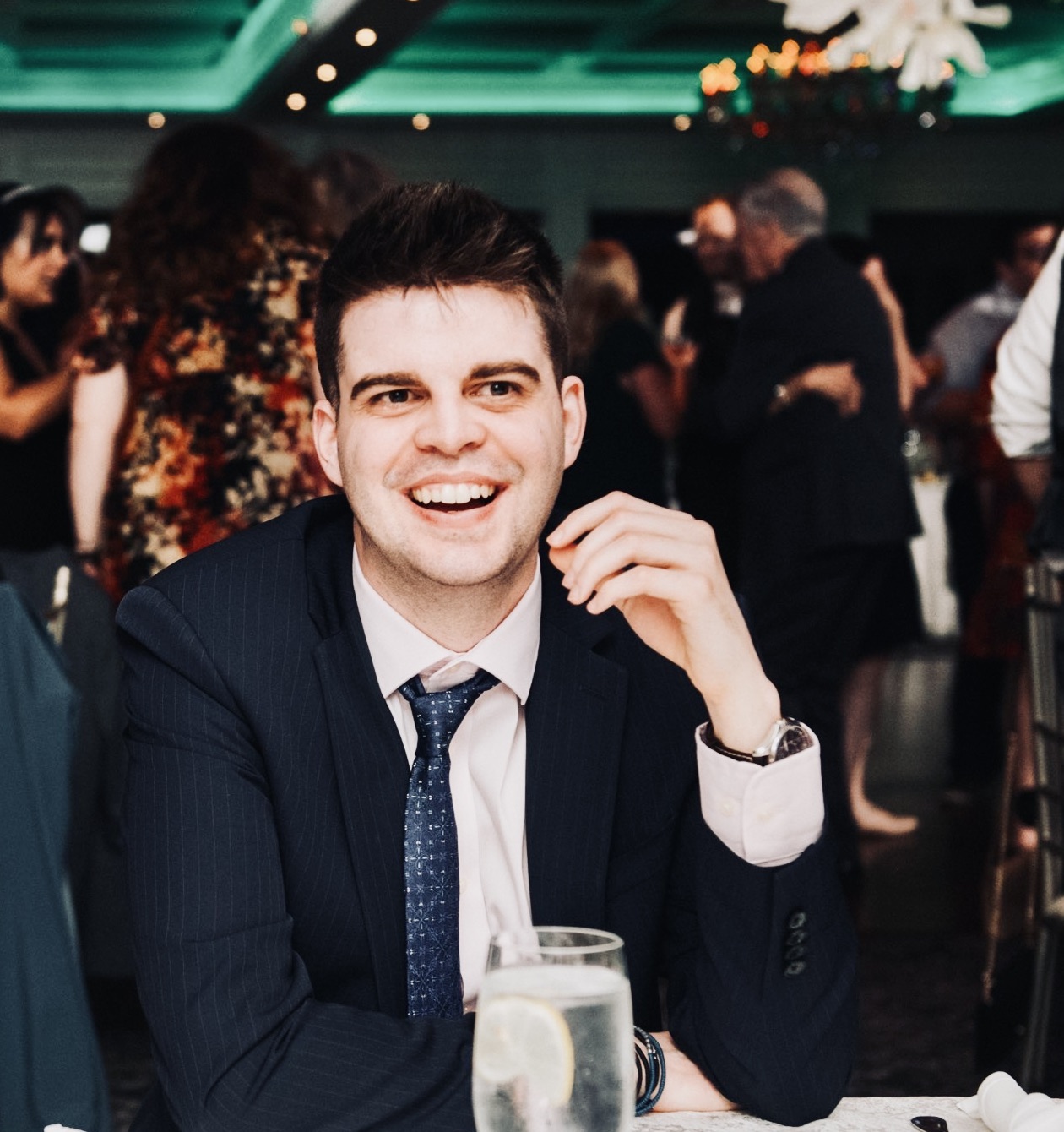 Alex Chauvancy is a New Jersey Devils writer for The Hockey Writers who has a penchant for advanced stats, prospects, signings and trades. He previously wrote for Devils Army Blog, a New Jersey Devils fan blog, from 2015-2017