Brian Boyle is making it a habit of scoring goals during Hockey Fights Cancer Night. No matter the arena. Earlier this month when the New Jersey Devils were the visitors for the Pittsburgh Penguins Hockey Fights Cancer Night (Nov. 5) Boyle, who was given a clean bill of health in September, recorded his first career NHL hat trick. Last season on the night the Devils hosted their own Hockey Fights Cancer Night (Nov. 24, 2017) Boyle scored his second goal with New Jersey, sending the Prudential Center crowd into a frenzy during a 3-2 win over the Vancouver Canucks.
364 days later on Nov. 23, the Devils were hosting Hockey Fights Cancer Night again, and again the 33-year-old Boyle sent the home crowd into a raucous frenzy as he scored a goal against the New York Islanders to tie the game early in the third period. To add a little more to the storyline, Boyle had just been activated from the injured reserve list after missing five games.
"Brian has gone through some personal things obviously with cancer and for him to come back off of an injury and play tonight, score a goal – it's big for him and big for our team," said New Jersey's head coach John Hynes.
#NJDevils Brian Boyle @BriBrows22 after his 1st career hat trick on #HockeyFightsCancer Awareness Night in PIT. Oct 24th was when he confirmed his cancer was in remission. Nov 1st his wife, Lauren was named @NHL 2018/19 Hockey Fights Cancer Ambassador. pic.twitter.com/wCRTBhgtCr

— SiriusXM NHL Network Radio (@SiriusXMNHL) November 6, 2018
BoyleStrong
"It's fun scoring (whenever you do), but this is a little more emotional," Boyle told The Hockey Writers after the overtime loss to the Islanders. "It's special. I might have been pressing it in the beginning, trying to play a perfect game. Those are the ways I'm going to get goals, and it's great when the opportunity presents itself. I want to be able to finish. I had a couple in the second period, on the power play, that didn't go in; to be able to put one in to tie the game it's big. It's an important day, it's an important game that's really special to me. An initiative that we're certainly behind – the Hockey Fights Cancer initiative."
"You always want to play your best game, but there are always certain ones that are a little bit…you get a little bit more motivated for," added Boyle. "This is one of them."
"@BriBrows22 continues to score big goals on nights like this!" – @KenDaneykoMSG #BoyleStrong #NJDevils #HockeyFightsCancer pic.twitter.com/wY8nWe5MzH

— MSG Networks (@MSGNetworks) November 23, 2018
It was Blake Coleman who took the shot that Boyle deflected past the Islanders goalie and all he could do was grin when we asked him about his teammate's uncanny heroics. "It's meant to be, man. It's his day and I'm happy for him. I'm sure that one felt really good," said Coleman, "and obviously it was his first game back from injury. It just seems like it's one of those things that was written in the stars."
"I was shooting for a tip," he said describing the scoring play. "I picked my head up and there was a lot of traffic in front (of the net). I just tried to shoot to the side with two lefties there, I just tried to put it on their forehand side and Boyler made a nice play on it."
Hockey Fights Cancer
Captain Andy Greene is one of the longest-tenured Devils and he has seen a lot over his 13-year career with the franchise, but this is something different. "It's obviously very ironic," Greene told THW with a chuckle. "But he goes to those hard areas and gets rewarded. Some nights he doesn't and some nights he does. Obviously, it's huge for our team when he does that and it brings a smile to all of our faces seeing him score a goal, a big goal at the time, on a night like that."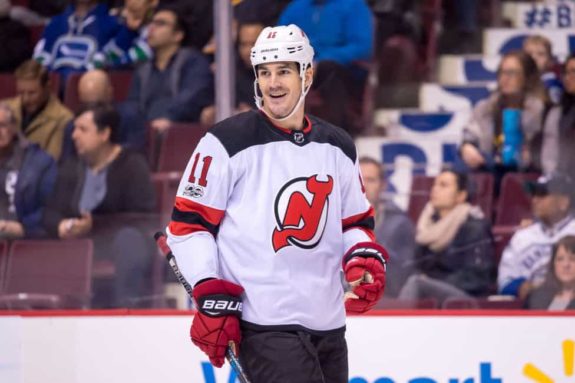 In the history of the Devils' franchise its hard to imagine that there has been a more universally and immediately loved player other than Boyle, who was diagnosed with chronic myeloid leukemia before he even played a game with the team. His diagnosis came during training camp in 2017 and after his amazing comeback last season he was named New Jersey's representative at the 2018 NHL All-Star Game and won the Masterton Trophy (perseverance, sportsmanship, and dedication to hockey) following the season. 
Although he is a monstrous 6-foot-7 on the ice (before he puts skates on), off the ice he is a gentle giant and one of the nicest people you could ever meet. His easy-going personality makes him extremely likable and as part of the hockey family, he is certainly someone that all fans can put their allegiances aside and root for. To see him score in New Jersey two seasons in a row, and 363 days apart on Hockey Fights Cancer Night is something that any of us in attendance or anyone watching will never forget.