It's not often a team wins a lottery to pick first overall in the NHL Draft and then wins another lottery when they sign a Hobey Baker winner out of college, but that's exactly what happened this summer for the New Jersey Devils with the additions of forward Nico Hischier and defenseman Will Butcher, respectively, to their roster.
Butcher was drafted by the Colorado Avalanche in 2013 (5th round) and after four years at the University of Denver, he elected to not sign with them, exercising his rights to become an unrestricted free agent. In late August the 22-year-old chose to sign with the Devils which gave them a much-needed boost to their blue line corps.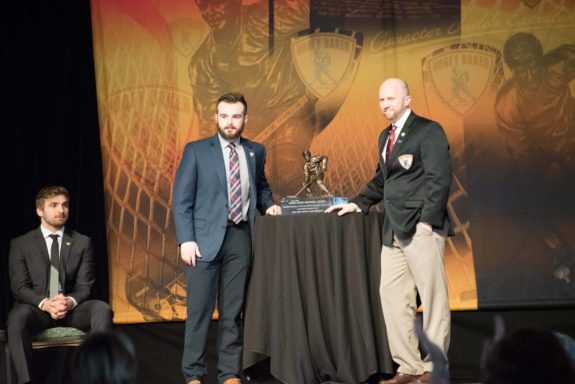 Billy the Kid
He was expected to slide right into the New Jersey lineup and the coaches gave him plenty of opportunities to prove himself during the preseason games and training camp as well. Once they submitted their roster to begin the 2017-18 season, Butcher's name was on it, along with seven other defenders.
"They want to see me and see what I can do," Butcher said following a preseason game. "They've given me plenty of chances and I think they want to get more comfortable with me as a player, so it's nice to go out there and show them what I can do."
What Butcher did in college was guide his team to the NCAA title last season as the team's captain and power play quarterback, turning him from a fifth-round talent to one of the most sought-after defensemen on the free agent market. When he signed, one of the determining factors he mentioned was the fact that he hit it off with the Devils head coach John Hynes and he preferred the style of play that New Jersey would like to implement.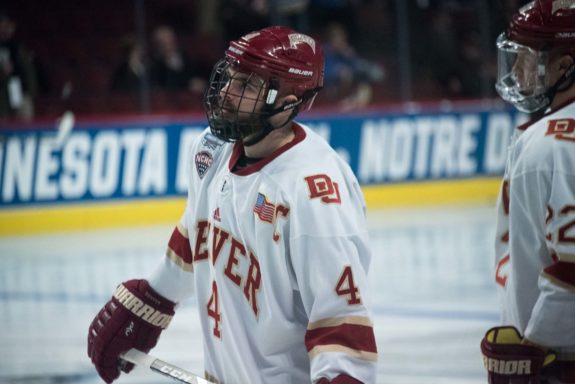 The Next Level
"The thing he works with me well is just the defensive game; angling guys, being a smaller guy," Butcher said of Hynes working with him throughout camp. "The bigger guys in the corner —maybe I have to outsmart them rather than physically engage them. He and Nas (assistant coach Alain Nasreddine) have done tremendous work with me so far and I'm looking forward to continuing to work with them."
There are plenty of resources on the team (not just defensemen or coaches) for Butcher to lean on as he goes through the rigors of an NHL season for the first time, so that's one area where things won't be — for at least the start — overwhelming as the 5'10" Wisconsin native makes the jump from playing against college kids to playing against bigger and stronger men. Many players have said there is an adjustment making the jump to the pros; whether it's college or juniors to the pro game in either the NHL or AHL. Unless of course, their last name is McDavid, Crosby, or Matthews.
"I loved what I saw out of them."@KylePalmieri shared high praise for @NicoHischier and @WillButcher4. 👍https://t.co/ONRszr0usK pic.twitter.com/PvKcC4y4Ja

— New Jersey Devils (@NJDevils) September 19, 2017
"Since the lockout season, this has sort of been my job. I've been paired with young, talented defensemen and I have made it a point of pride to do my best to make their lives easy," Devils veteran defenseman Ben Lovejoy told THW. "To give them confidence, to play the game that they need to play to be successful in the NHL. When they're doing that it makes our team so much better. I think that we've had some defensemen come in and play really well — you see what Butcher has done."
New Jersey's roster is definitely trending towards younger players these days, as is the entire NHL, but Lovejoy isn't the only vet in the room that Butcher can rely on for help. "Yeah, both Lovejoy and Andy Greene, as well as John Moore; they speak up when they see things," he admitted. "It's great to get advice from those guys because they've been here for a while and they know how it goes."
Where There's a Will…
Butcher has shown a lot of poise on the ice in his preseason appearances, as well as the rookie tournament in Buffalo that preceded the exhibition games, and has definitely been impressive over his first full month with the franchise. He comes as advertised – and the Devils are hoping he can replicate his 103 points (28g-75a) in 158 NCAA games.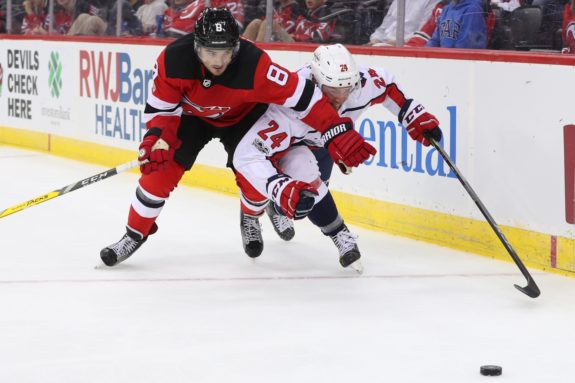 "The more games I play the more comfortable I feel and I think they've given me plenty of chances to be comfortable here with our system and things like that. I feel good out there," Butcher said, but knows there is still work to be done. "Just keep jumping up in the play, just keep making plays. Keep playing with confidence, that's my main thing. I have to keep doing what got me here. That's what I need to keep working on."
Whether or not Butcher plays opening night or doesn't, he will play this season. He'll likely play a lot. He'll see time on the power play. He'll be on the ice a lot this season, and the hope is that he eventually becomes a minutes muncher for New Jersey's backend. It should be fun for fans to watch his career unfold and his game to develop over the next few seasons.
Dan Rice is in his 9th year of reporting for THW & has covered NJ Devils home games for 15+ years at various websites. He began his journey working for legendary broadcaster/writer Stan Fischler from 2002-04 & completed an internship at the ECHL; he also has been writing features for the NWHL (nwhl.zone) website since 2016.