The Toronto Maple Leafs scored 250 goals during the 2016-17 National Hockey League season – a sum which amounted to the fifth-highest total in the entire league.
Paced by a 3.05 goals for per game played rate, the Leafs' electrifying offence played a major factor in the team's shocking regular season success and their resulting postseason presence. Although Toronto would ultimately stumble in the first-round of the Stanley Cup Playoffs, the Leafs' loss to the dominating Washington Capitals generated a wealth of optimism ahead of the team's coming campaign.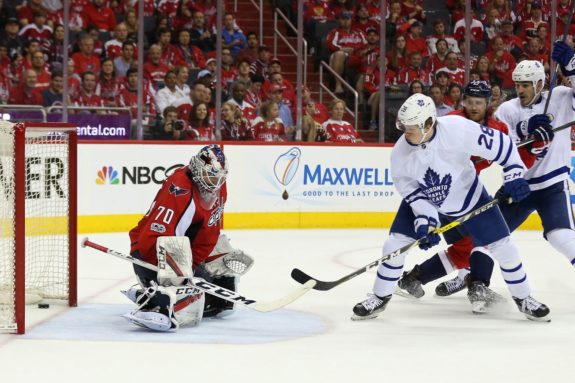 Now, with the 2017-18 regular season set to begin, expectations are higher than ever for Toronto and their increasingly potent offensive attack. Led by their lethal young talent, namely Auston Matthews, William Nylander, and Mitch Marner, the Leafs' new-found scoring depth and added experience should combine to form a legitimate Atlantic Division contender.
So, with this being said and the expectations surrounding Toronto at an all-time high, what better time than the present to forecast each Leafs player's individual point totals? With offence of such immense importance to the team's on-ice success, let's take a moment to project the offensive production of each and every player on Toronto's roster and, in doing so, attempt to assess how particular players will be able to improve upon their previous campaigns.
Projected Point Totals: The Forwards
The Leafs' current group of forwards is as strong and deep as any rival organization within the NHL today.
With immense young skill already comprising the majority of their lineup, Toronto's addition of depth players, as well as the presence of veteran skaters, has combined to create an extremely intimidating offensive unit. Further, the Leafs' young talent will only continue to improve, as the likes of Matthews, Nylander, and Marner all boast tremendous skill and the potential to become elite players at the NHL-level.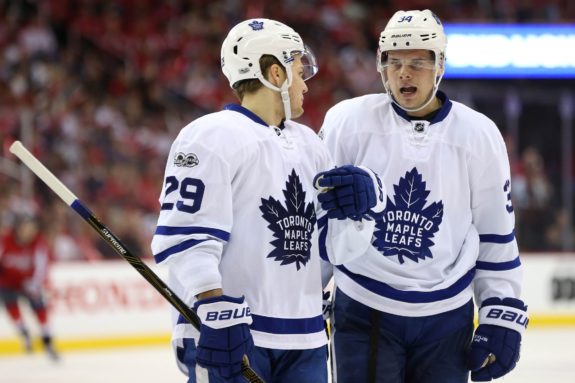 One aspect of the Toronto's attack which could singlehandedly push them deep into the postseason is the team's impressive depth. While those mentioned above will certainly play a critical role in the Leafs' success, the production of long-time forwards such as James van Riemsdyk, Tyler Bozak, Nazem Kadri, and the newly acquired Patrick Marleau will be of equal, if not greater importance.
Now, let's take a look at my projected point totals for the Leafs' forwards in the 2017-18 regular season.
| | | | | |
| --- | --- | --- | --- | --- |
| Forward | GP | Goals | Assists | Points |
| Auston Matthews | 80 | 39 | 41 | 80 |
| William Nylander | 76 | 31 | 40 | 71 |
| Mitch Marner | 82 | 21 | 45 | 66 |
| James van Riemsdyk | 76 | 27 | 34 | 61 |
| Nazem Kadri | 80 | 23 | 32 | 55 |
| Patrick Marleau | 82 | 26 | 26 | 52 |
| Tyler Bozak | 75 | 19 | 32 | 51 |
| Connor Brown | 82 | 14 | 23 | 37 |
| Zach Hyman | 80 | 16 | 21 | 37 |
| Kasperi Kapanen | 47 | 11 | 16 | 27 |
| Leo Komarov | 62 | 11 | 15 | 26 |
| Matt Martin | 80 | 6 | 10 | 16 |
| Miro Aaltonen | 31 | 5 | 8 | 13 |
| Eric Fehr | 25 | 3 | 3 | 6 |
| Dominic Moore | 26 | 3 | 2 | 5 |
As you may have noticed, I have included a few players in my projection who did not initially secure a place within Toronto's opening night roster.
Miro Aaltonen – an experienced forward of tremendous skill – is one forward who I believe will see time with the Leafs in 2017-18. With four years of professional hockey already under his belt, Aaltonen is NHL-ready and should be able to provide crucial depth scoring for the Leafs when an injury, unfortunately yet surely, arises.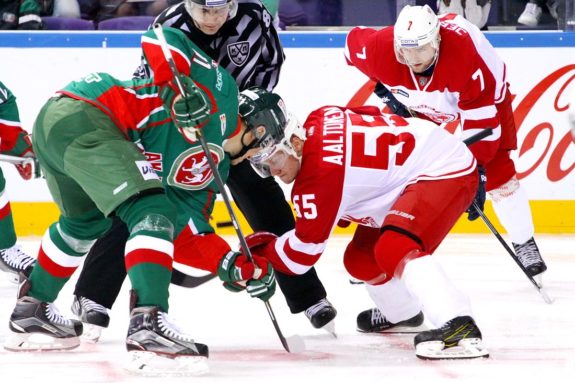 A second player who will likely enjoy time with Toronto this coming season is Kasperi Kapanen. Undoubtedly ready for considerable playing time at the NHL-level yet lacking a current opportunity, Kapanen's demotion to the Toronto Marlies of the American Hockey League had much to do with the Leafs' crowded roster – an indication of its depth – and very little to do with his on-ice ability. Capable of developing into a solid top-six forward, Kapanen will be the go-to replacement in the case of an injury to one of Toronto's top-six forwards.
While it will require a comprehensive team effort if the Leafs wish to embark upon a long postseason run, the contributions of the following five forwards will be critical to team's success in 2017-18.
A four-goal game in his debut announced Matthews' NHL arrival with authority in 2016-17, however, it would prove to be only the beginning. Come to the end of the regular season, Matthews had accumulated an incredible 40 goals and 69 points in 82 games played – two totals which were the greatest of any rookie to grace NHL ice this past season.
Now, with the 2017-18 campaign set to begin, Matthews must set out to prove himself as a true franchise player – all the while avoiding a potential sophomore slump.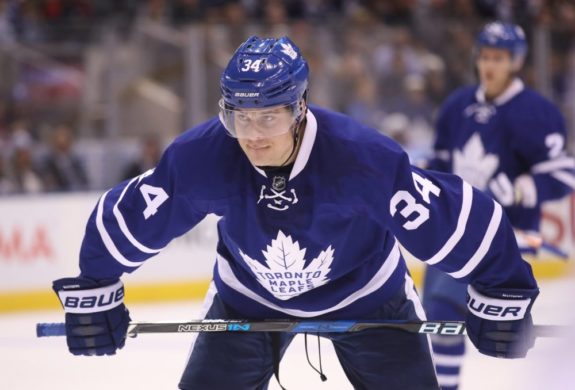 However, Matthews is not like most, as his confident and composed nature will surely act as a form of protection from the career-threatening debilitation. An immensely gifted centre of tremendous size, Matthews' puck control and on-ice intelligence combine to make him a consistent threat despite his tremendously young age. A natural playmaker and goal-scorer who can generate offence from broken plays with ease, Matthews is an elite talent whose production should continue to increase as he leads the Leafs to considerable success.
In short, don't expect Matthews to slow down in 2017-18. If he can generate offence on a more consistent basis in his second NHL season alongside progressing linemates, Matthews should be able to finish within the top-10 in league scoring.
Speed, skill, and a wicked shot – these three traits have come to define Nylander's rapidly developing game.
A first-round pick of the Leafs in the 2014 NHL Draft, Nylander has quickly established himself as a premier goal-scorer at the NHL-level. While many have questioned his size and strength, Nylander shrugged aside his doubters in 2016-17 with consistent and lethal play. In all, Nylander netted 22 goals and 61 points in 81 games played last season – a total which tied him with Marner for the third-most in rookie scoring.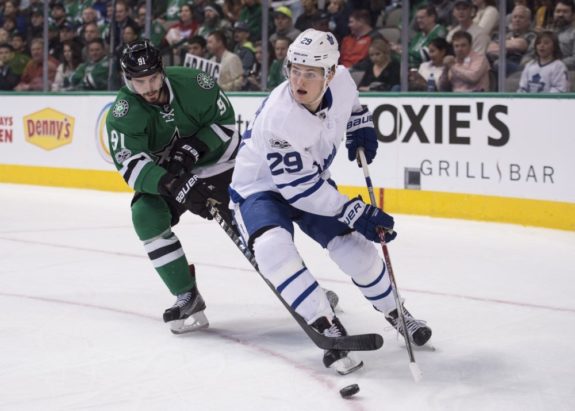 While Nylander boasts an impressive and wide-ranging skill set, perhaps no ability is more impressive than his incredible shot. Of immense velocity and pinpoint accuracy, Nylander's blistering shot has the ability to overpower as well as stun opposing netminders. Capable of ringing the puck off of the post and in or firing a well-placed shot on goal, Nylander's lightning-quick release is arguably second to none in the NHL.
Now, as we head into the 2017-18 campaign, Nylander must work tirelessly to raise his shooting percentage. Last season, Nylander fired 205 shots on goal – one more than the Winnipeg Jets' phenom Patrik Laine. However, Laine scored 36 goals in 2016-17 in comparison to Nylander's 22, a total which owed greatly to Laine's 17.6% shooting percentage – Nylander, on the other hand, finished with a 10.7% mark.
What exactly should Toronto expect from Marleau? Well, that remains incredibly unclear.
Signed to a three-year contract by the Leafs this past offseason, Marleau's massive price tag has resulted in immense expectations for the 38-year-old. A 14-time 20-goal scorer with one season of 44 tallies under his belt, Marleau is a vastly experienced winger who, at the end of the day, knows how to score goals as well as what it takes to win.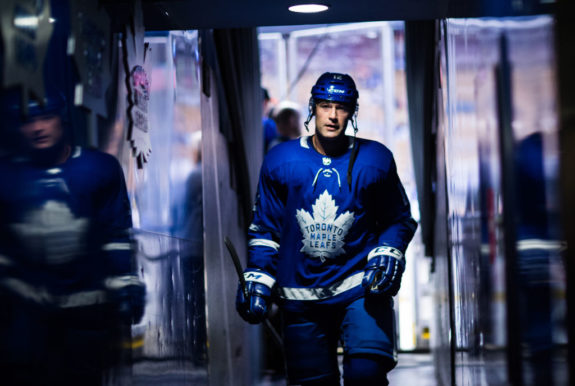 While his leadership both on and off of the ice will be of incredible value to the Leafs, his ability to fulfill a top-six role within an incredibly deep and competitive Toronto roster has yet to be justified. Sure to be provided with ample playing time, Marleau also stands poised to become a focal point on a Toronto power play which already operated at a tantalizing 23.8% in 2016-17.
So, with this being said, Marleau has an incredibly important role to play for the Leafs in 2017-18. If he can score upwards of 20 goals – a feat he is familiar with accomplishing – Marleau will provide highly valuable depth scoring to an already potent Toronto lineup. Further, if his leadership and experience can stabilize a team which was inconsistent at times last season, Marleau's presence will allow for more sustainable success for the Leafs this coming season.
Fresh off of a career-best season, Nazem Kadri is out to prove that his stellar play in 2016-17 was simply an indication of greater success to come.
Nabbed by Toronto with the seventh-overall selection in the 2009 NHL Draft, the Leafs had been waiting patiently for Kadri to break out into a major offensive star. Having only scored 20 goals once in his career prior to the 2016-17 season, it came as a pleasant surprise to see Kadri post new career-highs across the board last year. In all, Kadri wound up scoring 32 goals and 61 points – two totals which stood as significant improvements over his previous highs.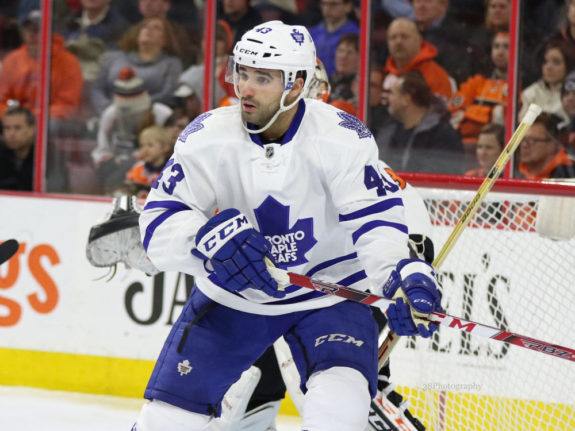 Heading into the 2017-18 campaign, the Leafs' success will hinge significantly on the play of Kadri. While Matthews, Nylander, and Marner will surely lead the way offensively, the depth contributions which Kadri is capable of producing will play a major role in Toronto's run to the postseason. If Kadri can produce similar totals to that of his 2016-17 campaign, the Leafs will stand as an even stronger contender given the depth of their potent attack.
Connor Brown burst onto the NHL scene in 2016-17, as despite being a 156th overall selection in the 2012 NHL Draft, the native of Etobicoke, Ontario, cracked the Leafs' roster to begin the season and never looked back.
While little was expected from Brown in his rookie season, the competitive rookie expected greatness from himself – a perspective he displayed whenever he graced the ice. Relentless in his pursuit of the puck and more than willing to drive hard to the net in search of rebounds, Brown quickly became a fan favourite due to his fearless play.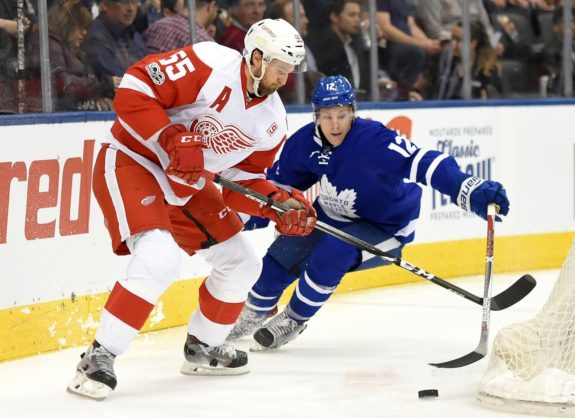 Once the 2016-17 campaign had come to an end, Brown's impressive 20-goal season had played a major role in the Leafs' success. Known for his timely goal-scoring and determined penalty killing, Brown then parlayed his sensational season into a three-year contract extension with Toronto.
While the extent of Brown's potential offensive opportunities in 2017-18 remains unclear, he will surely remain as a fixture on the Leafs' penalty kill. However, given the competitive nature of Toronto's roster and the ongoing battle for playing time, Brown will have to stand out now more than ever if he wishes to develop into a reliable contributor at the NHL-level.
Projected Point Totals: The Defencemen
Defence was an area of concern for the Leafs in 2016-17, as the team's lack of blue line depth jeopardized their ability to play a consistently strong two-way game. Sure, the Leafs' offence was spectacular, however, the fact that Toronto allowed a whopping 234 goals against was simply unacceptable, and especially so for a team of such immense expectations.
Much like their core of forwards, Toronto's back-end is comprised largely of young defenders who are in the process of attaining substantial experience at the NHL-level. While Jake Gardiner and Morgan Rielly have long been fixtures on the Leafs' blue line, Nikita Zaitsev just recently completed his rookie season and Andreas Borgman stands poised to embark upon his initial campaign in 2017-18.
Yes, Ron Hainsey's experience will be a welcome addition to the team's blue line, however, the fact remains that Toronto's improving defence-core is very much a work in progress.
| | | | | |
| --- | --- | --- | --- | --- |
| Defenceman | GP | Goals | Assists | Points |
| Nikita Zaitsev | 78 | 9 | 35 | 44 |
| Jake Gardiner | 80 | 11 | 29 | 40 |
| Morgan Rielly | 81 | 7 | 28 | 35 |
| Andreas Borgman | 67 | 3 | 16 | 19 |
| Ron Hainsey | 78 | 2 | 13 | 15 |
| Connor Carrick | 74 | 2 | 11 | 13 |
| Calle Rosén | 25 | 2 | 3 | 5 |
| Travis Dermott | 9 | 0 | 3 | 3 |
Injuries will surely play a role with the Leafs this coming season, and in the wake of such setbacks, I expect the recently demoted Calle Rosén and Travis Dermott to make their NHL debuts. Although I don't foresee either assuming a large role, the development of both would be aided greatly through playing time at hockey's highest level.
Nikita Zaitsev enjoyed a smooth transition to the NHL in 2016-17, as his seven years of Kontinental Hockey League experience allowed him to adjust to the north american game with little friction.
A tremendous puck-mover who makes a crisp first pass, Zaitsev is intelligent in his decision making and rarely makes mistakes under pressure. Given his reliability in his rookie season, it came as little surprise to see Zaitsev ink a seven-year deal with the Leafs this past offseason. With an annual cap hit of $4.5 million, his new deal indicated that both Zaitsev and Toronto believe he has a great amount of room to grow before he can reach his immense potential.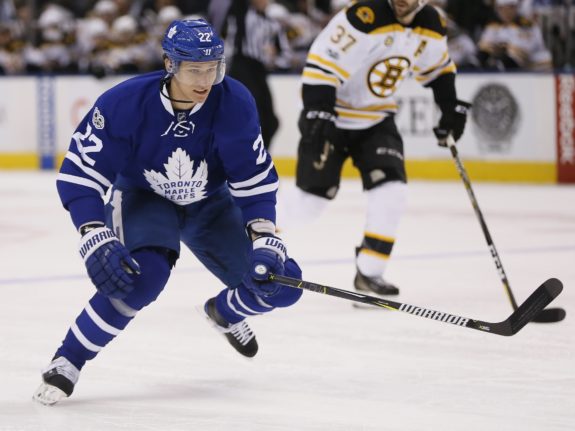 While Zaitsev's play was excellent in 2016-17, the Moskva, Russia, native will need to address a few particular aspects of his game during the 2017-18 season.
Firstly, there is Zaitsev's defensive play. Skating to a team-worst -22 plus/minus rating this past season, Zaitsev's play within his own zone remains in need of improvement if he wishes to become an elite and consistent two-way defender. Further, there is Zaitsev's offensive game. Yes, he did record an impressive 36 points last season, however, Zaitsev's 3.8% shooting percentage was an abysmal total given he fired 106 shots on goal.
If Zaitsev can improve these two particular areas of his game this coming season, not only will his point-totals rise but so too will his value in the eyes of the Leafs' coaching staff.
At just 23 years-of-age, it is hard to believe that Morgan Rielly has already enjoyed four seasons in Toronto. The fifth-overall selection in the 2012 NHL Draft, Rielly has slowly yet steadily developed into one of the Leafs' most reliable – and valuable – defencemen.
Capable of logging major minutes in high-leverage situations, Rielly's 22:10 per game played in 2016-17 was the highest average of any Toronto player, while his 2:22 per contest on the penalty kill emphasized his natural defensive abilities.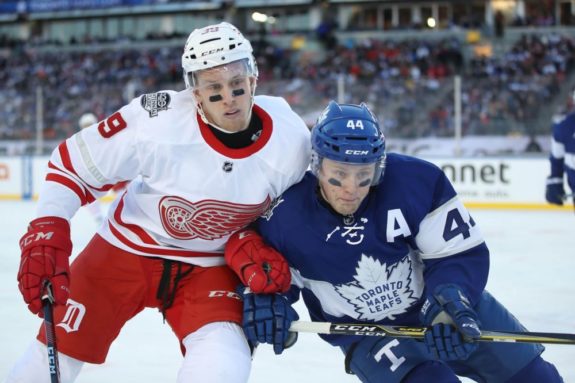 Now, in 2017-18, Rielly must work to become a greater threat in the offensive zone. While he has shown flashes of brilliance throughout his career to date, such as his end to end goal against the Edmonton Oilers in 2015, Rielly has yet to establish himself as a consistent threat from the blue line. With all of the speed, skill, and deception necessary to contribute from the back end, Rielly will come to be viewed as an elite defender if he can act as a greater threat at both ends of the ice.
Coming into training camp, the Leafs boasted a glaring opening on defence. While competition for the role was stiff, Andreas Borgman was able to seize the opportunity from a number of other highly skilled and experienced defenders.
With the likes of Calle Rosén, Martin Marincin, and Roman Polak all vying for the final opening on Toronto's blue line, Borgman's stability and physical ability caught the eye of the Leafs' coaching staff, who clearly valued his ability to play a two-way game founded upon defensive reliability.
The @MapleLeafs released their final roster before opening day, and Andreas Borgman has made the final cut: https://t.co/3kN5006DQm pic.twitter.com/YNnLPHhez5

— Sporting News Canada (@sportingnewsca) October 3, 2017
Yet, what should we expect from Borgman in his rookie NHL season?
Well, given he will start the season on the team's third pairing, look for Borgman to play a shutdown defensive role at both full-strength and on the penalty kill. Sure to average roughly 14:00 of ice time per game, Borgman's gradual introduction to the NHL should bode well for his long-term development, as Toronto surely views him as a key piece of their future rather than simply a temporary solution.
Projected Statistics: The Goaltenders
Goaltending was a bright spot for the Leafs last season, as Frederik Andersen's consistent efforts allowed Toronto to capture a number of contests which they surely would have lost otherwise.
Fortunately, Andersen remains under contract with the Leafs for the next four seasons, a luxury which should allow Toronto to thrive in the offensive zone even more so than in 2016-17. However, if the Leafs wish to excel and use Andersen's strong play as their foundation to do so, they will need to do their best to ensure his health in the long-term.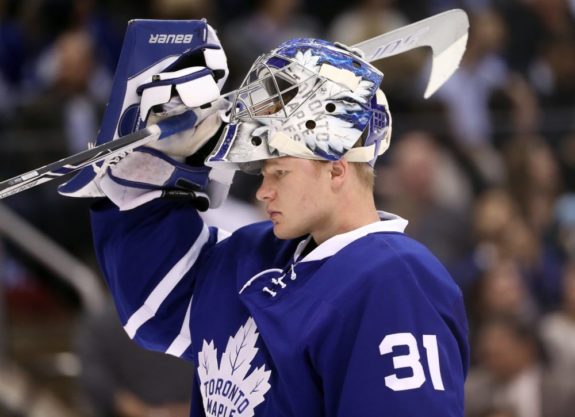 Last season, Andersen played in 66 games and won 33 of them, while his 3799:20 of total ice time was the third-greatest amount in the entire NHL. As such, Andersen began to break down as the campaign came to a close, as he suffered a number of injuries which were almost fatal to the Leafs' playoff hopes.
As such, Toronto must lean more heavily on their meager goaltending depth in 2017-18. While Andersen will surely produce tremendous results, the Leafs must receive greater contributions from Curtis McElhinney, as he will likely be played in a far greater number of games.
| | | | | |
| --- | --- | --- | --- | --- |
| Goaltender | GP | Wins | SVP% | G.A.A. |
| Frederik Andersen | 63 | 39 | .920% | 2.40 |
| Curtis McElhinney | 20 | 7 | .908% | 2.75 |
| Garret Sparks | 4 | 1 | .907% | 2.90 |
The 2016-17 campaign saw Andersen log the greatest workload of his career.
Having never skated in more than 54 games, Andersen appeared in 66 last season and was nothing short of brilliant. In short, Andersen's 33 wins marked a new career-high, while his 1883 saves made and resulting .918% save percentage were amongst the most impressive totals of his NHL tenure.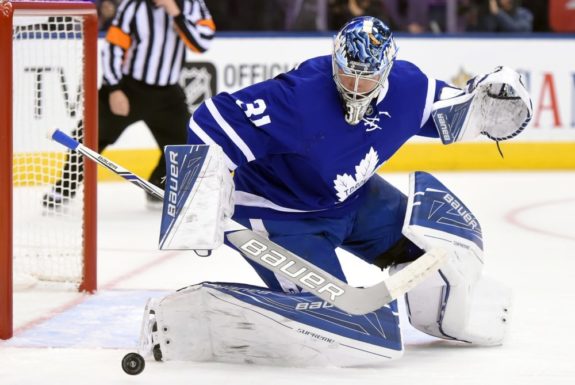 Heading into the 2017-18 season, I expect Andersen to be even more impressive. Given the fact that the Leafs will be a stronger team in front of him, I have no doubt that Andersen is capable of recording 40 wins. Now, this is no easy achievement, as only four goaltenders managed the feat last season – the leader being Cam Talbot with 42.
Further, I believe that Andersen can post new career-highs in both save percentage and goals-against average, as an improved team defence and more responsible offence should allow the Leafs to prioritize their own zone – and Andersen – before going on the attack.
Brett Slawson is a four-year veteran of The Hockey Writers who covers the Toronto Maple Leafs, NHL prospects, and the OHL's Mississauga Steelheads.
Contact Brett on Twitter @brettslawson92, or by email at brett_slawson@hotmail.com.