The Toronto Maple Leafs shocked the NHL last season, as the team who began their season with minuscule expectations blazed their way into the 2016-17 Stanley Cup Playoffs.
Although the Leafs would fall in the first-round of the postseason to the President's Trophy-winning Washington Capitals, Toronto's incendiary success stood as a clear indication of the team's immediate and long-term future. Boasting lethal skill and lightning speed, the Leafs' potent style of play – mixed with defensive responsibility – combined to defeat a number of the NHL's strongest teams on a relatively consistent basis.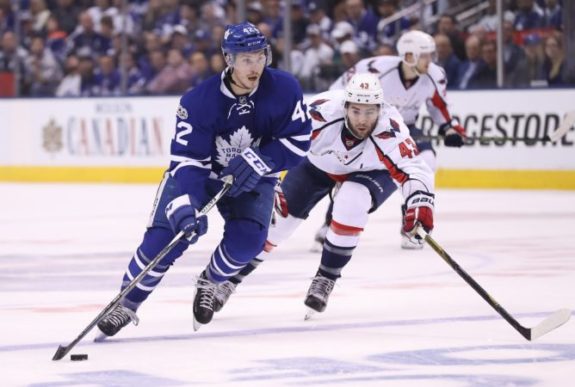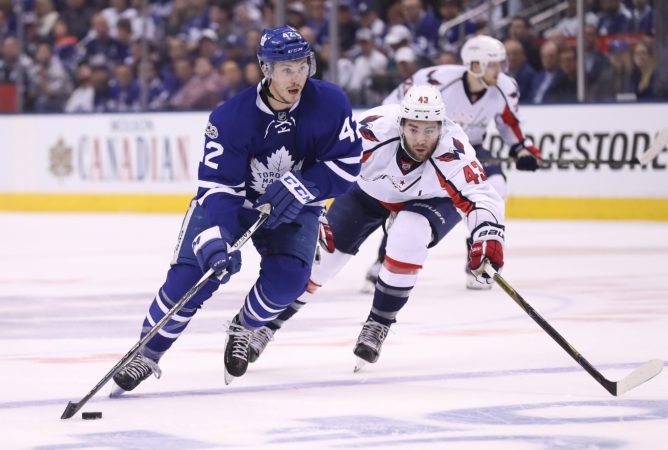 Now, with the 2017-18 NHL campaign set to unfold, Toronto is set to do even greater damage. With a full season under their belts, the Leafs' young talent will enter the coming year more driven – and confident – than ever before. Further, with a number of veteran additions having been made to the existing roster, Toronto now boasts a deep team from which substantial success can and should be expected.
So, prior to the beginning of the Leafs' regular season and as a result of the incredible promise surrounding the team, why not take a moment to make three realistic predictions?
Auston Matthews Will Score 40 Goals
The first-overall selection in the 2016 NHL Draft, Auston Matthews was quick to prove himself as a franchise talent in his rookie season.
With one previous professional campaign in-hand dating back to the 2015-16 season in which he skated for the ZSC Lions of the National League, Matthews exploded out of the gate with the Leafs and wound up claiming the NHL's Calder Trophy in 2016-17. As if his debut four-goal performance was not enough, Matthews would charge on and finish the season with an incredibly impressive 40 goals and 69 points.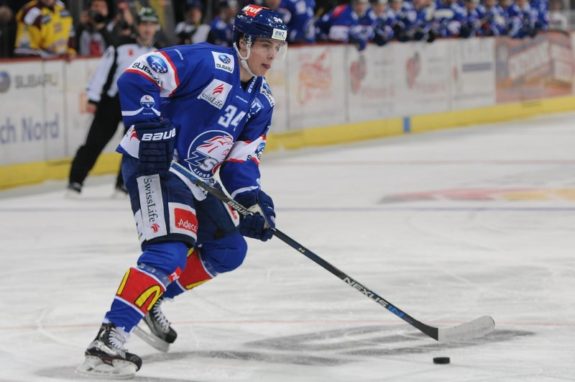 Boasting tremendous puck skills, hockey sense, and composure, Matthews did not look out of place in his inaugural NHL campaign and, as such, he should continue to develop steadily as an individual player. Of great stature standing 6'3″ and 215 pounds, Matthews has the size to physically dominate his opposition as well the intelligence necessary to complete immensely challenging offensive plays with ease.
So, as Matthews heads into the 2017-18 season, nothing other than an increased level of production should be expected from the San Ramon, California, native. Undoubtedly stronger than in his rookie campaign, Matthews has learned the tendencies of his opposition and will surely work tirelessly to exploit them. Further, with equally talented, competent, and progressing linemates in William Nylander and Zach Hyman, the chemistry present between the three should lead to strictly explosive results.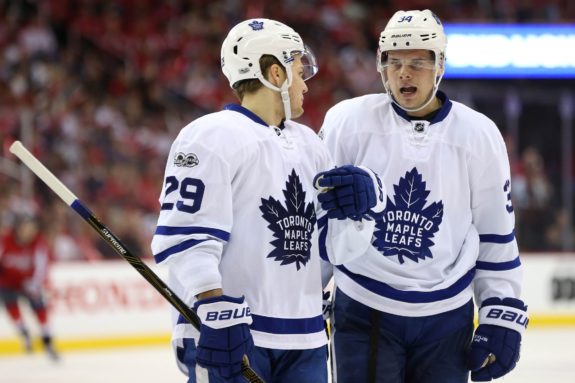 As such, a 40-goal season from Matthews should be all but expected. Yes, he did endure bouts of inconsistency last year, however, if Matthews can iron-out this meager issue and become an even more persistent threat for Toronto, odds are he will finish amongst the top-10 scorers in the NHL this coming season.
Frederik Andersen Will Win 40 Games
This prophecy could be the most outlandish of my three realistic predictions.
Only four goaltenders won 40 games in the NHL last season, the leaders being Cam Talbot and Braden Holtby who tied for the league-lead with 42 a-piece. In other words, accomplishing this feat isn't exactly simple, as doing so depends a great deal on the play of the team in front of a given netminder.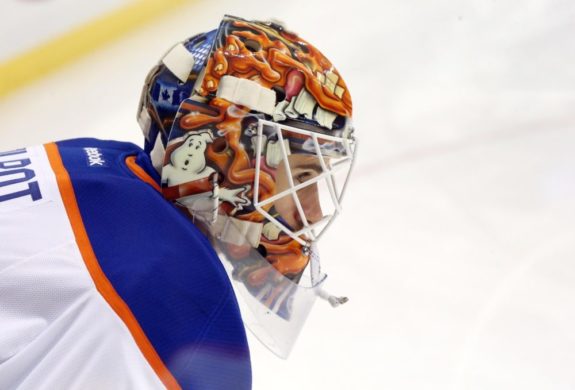 Fortunately for Andersen, the Leafs are trending upwards at a significant rate and stand poised to improve upon their shocking playoff berth last season. What's more is that Andersen is more than capable of winning 40 games, as his athleticism, determination, and composed nature combine to make him a highly effective and successful goaltender. During the 2016-17 campaign, Andersen nabbed 33 wins in his 66 total starts – the most games Andersen had played in his career to date.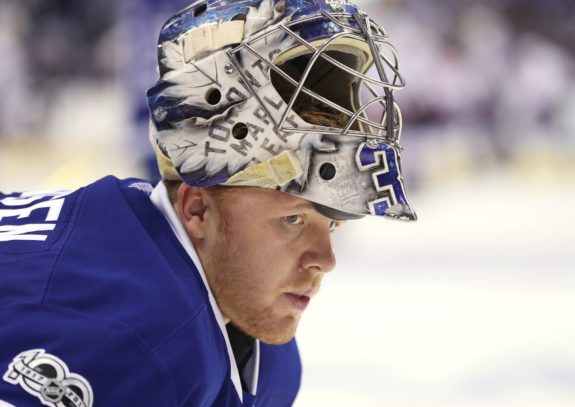 So, if Andersen is aiming to claim 40 victories, he will surely have to play a similar number of games in 2017-18, yet with a greater level of success. If Toronto can improve their game as a whole alongside Andersen, he will surely have a legitimate shot at doing so. Now, injuries did become a factor late last season for Andersen – an issue which makes his health of the utmost importance if he wishes to smash the 40-win plateau.
Patrick Marleau Will Score 25 Goals
The definition of consistency throughout his illustrious 19-year career to date, Patrick Marleau is a lethal goal-scorer whose ability to bulge the twine is incredibly natural.
Boasting an excellent shot of impressive accuracy, Marleau can pick corners with ease and is immensely effective in the goal-mouth when in search of loose pucks. A 14-time 20+ goal-scorer with one 44-goal campaign under his belt, Marleau has been a potent forward throughout his career and is showing no signs of slowing down. In fact, in the 2016-17 season, Marleau netted 27 goals at the age of 37 – a glaring indication of his ability to produce despite the growing concern surrounding his age.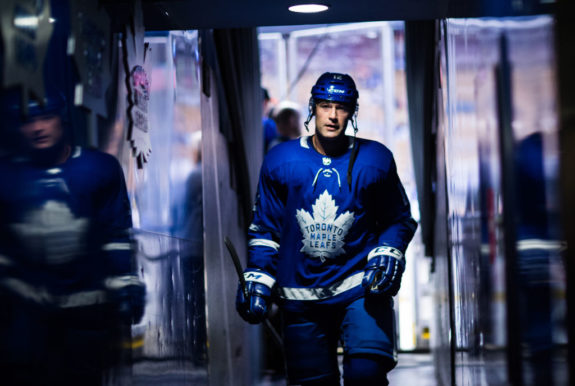 What's more is that Marleau has not only been consistent on the ice but he has also seemingly failed to depart it. Over the past eight NHL seasons, Marleau has not missed a single regular season contest – a fact which has contributed greatly to his nearly 1500 career games played to date.
Sure to play within the Leafs' top-six, Marleau will see ample playing time and will undoubtedly be a fixture on the team's top power-play unit. Although his mobility has decreased slightly, Marleau remains an excellent skater and offensive producer who should provide Toronto with exceptional depth scoring. So, is a 25-goal campaign from Marleau too much to ask? I think not, and especially so considering the wealth of talent which the Aneroid, Saskatchewan, native will skate alongside this coming season.
Brett Slawson is a four-year veteran of The Hockey Writers who covers the Toronto Maple Leafs, NHL prospects, and the OHL's Mississauga Steelheads.
Contact Brett on Twitter @brettslawson92, or by email at brett_slawson@hotmail.com.