Last season was an absolute nightmare for Jared Cowen as the 23-year old defenseman struggled with all aspects of the game. His physical presence was lacking, his skating was subpar to say the least, and his positioning was, for lack of a better word, questionable. We all felt badly for Jared Cowen last year, as something was clearly wrong, but sometimes it was just plain hard to watch.
Don't believe me? Well, here are a few examples:
 1. Physical Presence
2. Positioning
3. Skating/Terrible Luck
https://www.youtube.com/watch?v=wPtF_yORCWI
By The Numbers
Offensively, Jared Cowen wasn't declining in production whatsoever. He recorded 15 (6,9) points in 68 games last season, similar numbers he put up in his last full season in 2011 when he had 17 (5,12) in 82 games. But putting the puck in the net isn't Cowen's game. He's a stay-at-home defenseman who usually has a solid first pass and good possession numbers, but that wasn't the case last season.
Cowen's confidence with the puck was definitely shaky and he struggled because of it. The 6'5 defenseman had a terrible -34 turnover plus/minus (takeaway – giveaway), by far the worst of his young career. Possession wise, he could have someone fooled, but not when you look a little deeper. Cowen had a 50.4 Corsi%, which is a good number, but not for a player who is paired alongside Erik Karlsson, the Corsi king. With Karlsson, Cowen's Corsi% rises to 53.5, but without him, Cowen's Corsi% drops to 47.6. Cowen was also 6th on the team's defense squad with a -3.7 relative Corsi, while Karlsson was 1st with a 10.4.
Not even Erik Karlsson could fix Jared Cowen.
A Good Excuse
On November 17th, 2012, doctors performed surgery on Jared Cowen's torn labrum in his left hip. The recovery time was expected to be at least 6-8 months, but exactly 5 months later, Cowen played his first game since going under the knife.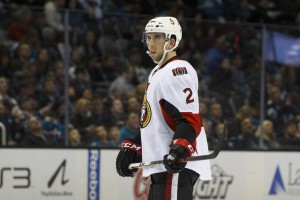 At the time, Jared Cowen had accomplished an impressive feat. Returning to play after only 5 months of rehab was miraculous and what was even more admirable was his play in the final games of the regular season and the Senators' playoff campaign. You couldn't say a bad word about Cowen as he was exceeding all the expectations the Senators had after drafting him 9th overall in 2009.
As the 2013-14 season got started, it seemed that maybe Cowen had returned from hip surgery too quickly, earlier in the year. He seemed to be missing a stride or two and his confidence was dwindling as he was caught in poor position multiple times each and every game. Contract negotiations also took a hit on Cowen as he was not able to get in a full training camp which further contributed to his diminishing play.
Whether if it was coming back too early from injury or missing out on training camp, Cowen certainly was never ready when the season started.
New Season, New Opportunity, No Excuses
The upcoming season is a fresh start for Cowen. Last season, his surgery may have been in the back of his mind and the fact that he didn't get a full training camp also probably hurt his play, but this time around there's no reason for excuses. Cowen has now fully recovered from his hip injury and he will also be at training camp on September 11th to start the 2014-15 season more prepared than ever.
It's not to say that anyone has lost hope in Cowen, because it seems Bryan Murray is still very confident in his abilities.
"…He wants to be good. He's going to be good. I can envision him in a couple of years from being a real important player for the organization. He is now, we just need him to take another small step over the balance of the year to help us." Bryan Murray. Ottawa Sun. Published: Mar. 03, 2014.
Jared Cowen needs to return to the player the Senators want him to be: a strong, well-positioned, hard-to-play-against guy who can be relied on in pressure situations. Last season, he strayed away from his game. He pinched too often, got caught jumping into the play and made poor decisions with the puck. All this can be fixed if Cowen gets his confidence back. No need for him to think about contract negotiations or rehabbing, just play his game.
There's no doubt that Jared Cowen can be a dominant defensive force as a Senator for years to come. But if he can't rebound from last year, there's plenty of young defensemen ready and waiting for their turn.
No excuses.