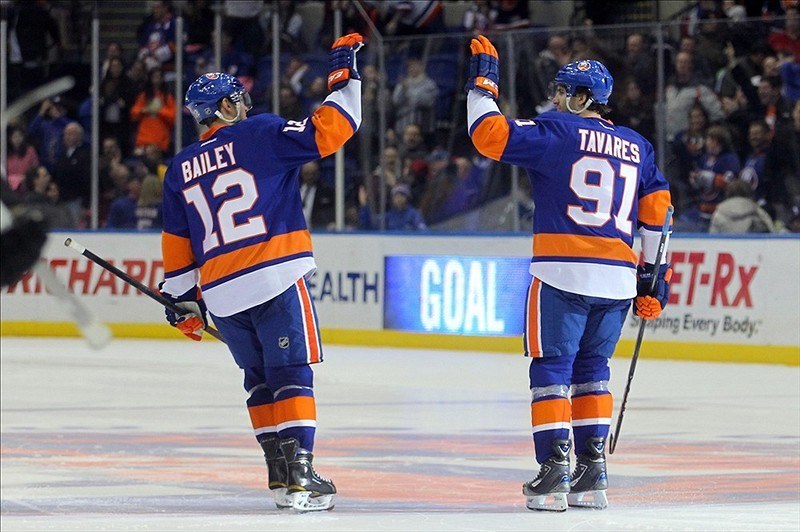 Red-hot. Scorching. Sizzling. Torrid.
If you were looking for the adjectives that come closest to describing the New York Islanders over their last several games, those would be 'em. The Isles have taken their fans on some kind of wild ride lately and everyone seems to be jumping on the bandwagon. As I tweeted the other day, they should feel more than welcome to come aboard.
With another statement win over the Boston Bruins, the Islanders found themselves tied for sixth place in the Eastern Conference. Better yet, there are only six games remaining, the best of which took place on Saturday night, when the Isles took on the Rangers in what was certainly the most intense contest between those two teams in years. The Islanders now trail sixth-seeded Ottawa by a single point, picking up a crucial one by taking the Blueshirts to overtime before falling to their crosstown rivals, 1-0.
I give a lot of credit to head coach Jack Capuano for making me swallow my words.
The guys in that locker room have bought into him and it shows on the ice. He still has what to work on; for example, his use (or misuse) of timeouts and his failure to hold certain players accountable when the situation requires that. But he is a smarter coach than he was last year and his system really suits this team well. He's getting the very best out these boys.
As far as identifying the key contributors to their recent success, their are plenty of names to talk about. Evgeni Nabokov is one, John Tavares is another.
Or how about Travis Hamonic, who essentially resurrected himself during the Boston game after we were all convinced we wouldn't see him again this year. Had we been playing charades, I would have probably guessed "torn ACL." Boy am I glad that turned out to be wrong, and I think everyone is, considering how hard that young man works night-in-and-night-out.
Even Kyle Okposo has done a tremendous job over the last little while, after having an abysmal season until this point.
Everyone on this team deserves credit; from the scorers and playmakers to the muckers and grinders. Everyone has played a role and been a factor at some point or another during this stretch.
I'm going to discuss two players here, one of which has six points in as many games and another who's become the latest Garth Snow waiver-wire steal. I am of course talking about Josh Bailey and Thomas Hickey.
Bailey had a slow start to the year but he was also coming back from an injury, which is a tough task for any athlete. He has since been unstoppable. Case in point: He scored both Islander goals against the Bruins, in a game where his team probably would have scored at least three or four others, if not for the goaltender Tuuka Rask who was phenomenal between the pipes for Boston.
He's always shown glimpses, always shown that he has the talent to be an impact player. It was always just a matter of putting it all together on a consistent basis. Josh Bailey is doing that now, and it's a significant reason why, like himself, the Isles have been on an absolute tear. Oh, and by the way, have you seen this guy's slap shot? My goodness, that thing has a vapor trail. It's not the first time we've seen it; he just doesn't utilize it as often as he perhaps could be.
The Islanders' play in their own end of the ice has improved dramatically, and part of that has been the steadiness of one Thomas Hickey.
Originally a fourth-overall pick of the Los Angeles Kings in 2007, Hickey struggled to get into the lineup on a team chock full o'prospects. And by "struggled to get into the lineup," I really mean "never played an NHL regular season game in his career."
That is, until he was put on waivers and snapped up by Isles' GM Garth Snow, who's had somewhat of a knack for finding the hidden gems in that department.
Hickey's stats won't exactly show it (three points in 33 games), but he really does do a good job moving the puck and joining the rush offensively. I think if given some power play time, Hickey could rack up more points, because the offensive skills are there. made smart decisions with the puck and yes, some mistakes, but he's a rookie; mistakes are part of the learning process. He's also an excellent skater and I love the fluidity and grace in his strides up and down the ice.
I vouched for this kid all year long and people told me I was insane for doing so. I don't want to say "I told you so," but I kinda did. Now he's playing nearly 19 minutes a night and has been rock-solid, sporting a plus-six rating and tied with Lubomir Visnovsky for second on the team in that category (Bailey is in first with a plus-seven).
This is an exciting time to be an Islander fan, no doubt. The on-ice product has been fun to watch and the team has been winning hockey games. The playoffs are very much within reach. Everything that previously appeared to be impossible has now become just the opposite.
I always maintained that the Islanders had enough talent to be a playoff contender. As I'd told many of you, there's a difference between a lack of talent and a lack of execution and that it was just a matter of time before the Isles finally got their act together. That's precisely what we're witnessing here.
And the best part? Ryan Strome, Nino Niederreiter and Griffin Reinhart aren't even on the team yet.
Get ready and get excited, because the moment you've all been waiting for is rapidly approaching. This team IS good enough to be a playoff contender, and as long as they take care of business, they'll make it.
Comments are welcome.
Follow me on Twitter