From a sheer numbers point of view, on the first day of free agency, the New York Islanders came up short in their quest to move on from the losses of Kyle Okposo, Frans Nielsen and Matt Martin.
Last season, Nielsen, Okposo and Martin combined for 52 goals, 83 assists, 135 points and 490 hits, while new acquisitions Andrew Ladd and Jason Chimera had 45 goals, 41 assists, 86 points and 258 hits in 2015-16. It doesn't take a mathematician to see that the Isles lost a ton of playmaking ability and grit and need someone to step up from within or bring in someone who can. Without counting the shootout and defensive responsibilities that Nielsen took on that have not been addressed yet, the Islanders simply need more.
It's not that Ladd and Chimera won't help add character and leadership in an Islanders locker room that lost three incredibly important players. Ladd has two championships under his belt and Chimera, at 37, will be a type of elder statesman this Isles team hasn't had. It's that in order to simply get up to the same amount of goals, assists, points and hits that got them to the second round of the NHL playoff for the first time since 1993, they'll need more. Whether it's from Ladd and Chimera, or a young, untested core is the question.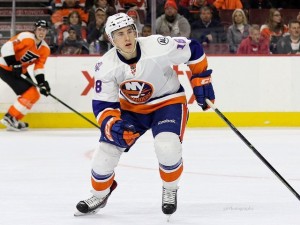 The Isles can replace what's left in goals and assists in-house from Shane Price and Ryan Pulock, who should be regulars next season and should be counted on for 60 points combined. They should also expect more from the inconsistent Ryan Strome and Anders Lee. A pair of bounce-back seasons from Nikolay Kulemin and a healthy Mikhail Grabovski could help as well. Also considering the fact that John Tavares' 70-point campaign was a weak one for him and it's not wishful thinking. If they stay reasonably healthy and get the type of production these players are expected to provide, the Isles offense should be just as multifaceted and dangerous as it was last year.
The scary number is the hits. Down 232 hits without Martin, the Islanders need another banger. That's not going to be found in-house. While Ladd and Chimera will hit, they won't replace the special intangible that Martin brought. Asking players who don't provide toughness to turn on the button isn't an easy feat, either. It's got to be a part of their game. Without Martin, the Isles lose snarl. Make no mistake, the physicality was something that made the Islanders a difficult team to play against last season and prolonged their playoff experience. While it's far from a sexy stat, it may be the key to ensuring the Islanders get to the 100-point mark for the third consecutive season.