With the 2014 Olympics in Sochi approaching fast, hockey fans are probably anxious to see players from different continents and countries competing on one stage for a chance at hockey glory. NHL, KHL, SHL, Elitserien, and a whole assortment of fans of other leagues will undoubtedly be cheering on their respective country's on-ice product.
For fans of the NHL, watching players from their individual teams will likely be an activity that many partake in, even if their favorites are matched up against one another. Fans of the New York Islanders likely won't be any different as the team could have a number of its players vying for Olympic roster spots.
While Islanders fans might not have had many players to monitor at the Olympics during the previous two tournaments, the team's young talent is finally starting to come into its own, and it has been that much harder for fans and pundits to keep treating the Islanders players as simple afterthoughts. Despite the fact that the Isles' on-ice product might need some more time to develop together, a number of the team's players are making serious cases for Olympic inclusion this season. Most fans might automatically look at John Tavares when thinking of New York Islanders at the 2014 Olympics in Sochi, but there is certainly reason enough to expect a few more Islanders to make the journey to Sochi in early February.
Team Austria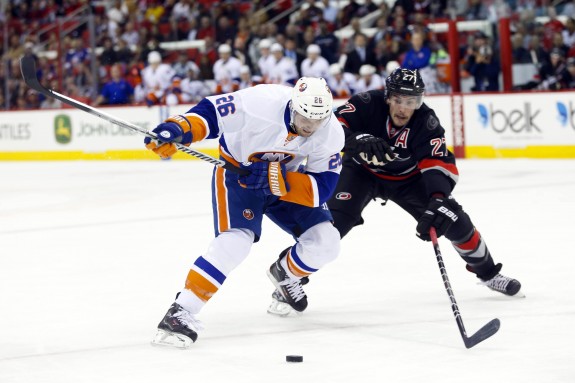 Michael Grabner and Thomas Vanek might have two completely different styles of play, but there is no doubting the element that the two players could bring to team Austria at this year's tournament. Seeing as how Austria has not qualified for play between the top twelve teams since 2002, having Grabner and Vanek on the national team will likely be a benefit for the Austrian national team.
Since Vanek and Grabner are now more familiar with each other after an early season trade united the two natives on one team, the two players could develop a chemistry that carries over to Sochi. Neither Vanek nor Grabner have been on Olympic hockey rosters, but their production over the last several years speaks for itself. Vanek has been the most prolific Austrian scorer in the NHL since breaking into the league during the 2005-2006 regular season as he has amassed 503 points (257 Goals, 246 Assists) in 606 games played.
On the other hand, Grabner didn't find his niche in the NHL until the 2010-2011 regular season when he played 76 games for the Islanders and recorded 52 points (34 Goals, 18 Assists). There is no questioning the fact that Team Austria could use Grabner's blinding speed and acceleration, especially since teams will be playing on a bigger ice surface. Not only could Vanek and Grabner provide Team Austria with an element they have previously lacked, the two players will certainly be hungry to elevate their nation's standing in a tournament that Austria hasn't fared well in for quite some time.
Team Slovakia
While Zdeno Chara will likely be the most popular NHL defenseman to represent Team Slovakia during the 2014 Olympics, Lubomir Visnovsky might also get a chance to play on the international stage. After Mark Streit chose to sign a lengthy contract with the Philadelphia Flyers, Visnovsky became the primary puck-moving defenseman that would quarterback the Islanders' primary power-play unit.
Not only was Visnovsky instrumental to the Isles' postseason run during the abbreviated '12-'13 NHL season, he also imparted quite a bit of knowledge on younger players such as Thomas Hickey. Despite the fact that Visnovsky is currently recovering from a concussion that he sustained last month, the offensive defenseman should be ready to play sooner rather than later.
Although Zdeno Chara might be one of Slovakia's most decorated defensemen, one must also consider the fact that Chara has played in 265 more NHL games than Visnovsky but only has 20 more career points than his fellow countryman. Chara is a solid all around defender, but the Slovakian national team could certainly use another veteran leader such as Visnovsky that can move the puck around as well as any other defender in the NHL or overseas. Islanders fans should certainly expect Visnovsky to receive strong consideration from Team Slovakia for this years Olympics, especially since Slovakian hockey has been making quite a noticeable impact both internationally and in the United States.

Team Russia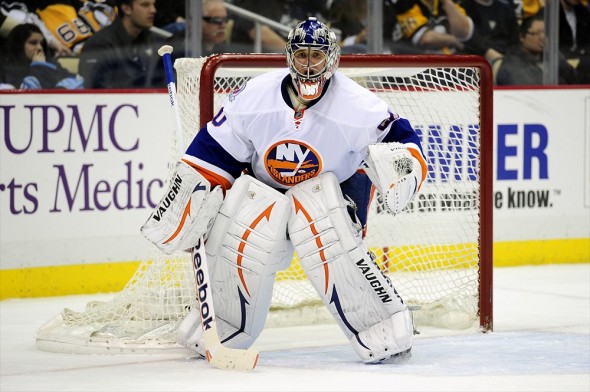 Evgeni Nabokov might be shelved due to a groin injury at the moment, but he could be a long-shot option to make Team Russia. While Semyon Varlamov and Sergei Bobrovsky might be the front-runners to be Team Russia's starting duo, nothing has been made final yet, so Nabokov's veteran experience could definitely be useful to his national team in some capacity.
Given the fact that Nabokov didn't have the most sterling of performances during his Olympic game played against Team Canada during the 2010 Olympics in Vancouver, it is safe to say that the goalie would certainly want to redeem himself this year. The 2014 Olympics in Sochi will most likely be Nabokov's last trip to the Olympic stage, and being the warrior that he is one should not expect the goalie to simply roll over and hand the starting job to Bobrovsky or Varlamov. Nabokov's experience on the international stage is second to none (10 Games Played, 6-3 W-L Record, 18 Goals Against) for Team Russia, but his spot on the national team all depends on how he recovers from a groin injury – something that could be quite tricky for an older netminder.
Team USA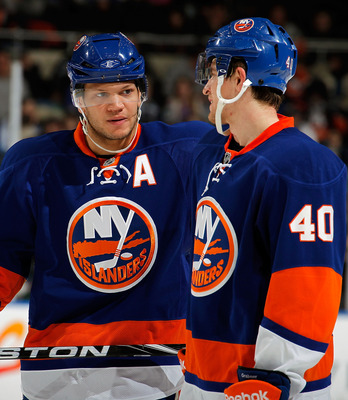 Fans from North America, and across the world, will have quite a number of U.S players to cheer on in Sochi, and Kyle Okposo is making a case to be one of those individuals. As reported by Newsday's Arthur Staple, Okposo is among a group of several players that Dan Bylsma and David Poile will be keeping a very close eye on for inclusion to Team USA's roster.
While Okposo might be going through a tough stretch at the moment, the right winger has registered 22 points (6 Goals, 16 Assists) this season and has continued his confident play since putting forth an outstanding postseason performance against the Pittsburgh Penguins during the 2013 Stanley Cup Playoffs. Okposo is a player that embodies hard work and gritty effort, so his attitude toward the game of hockey does not require any questioning. Whether or not Okposo will make Team USA's roster will be up in the air for a little while, but if the forward has shown Islanders fans anything over the last several years, then it is the fact that he has earned his merits through resilience and dedication rather than feeling entitled to them.
Team Canada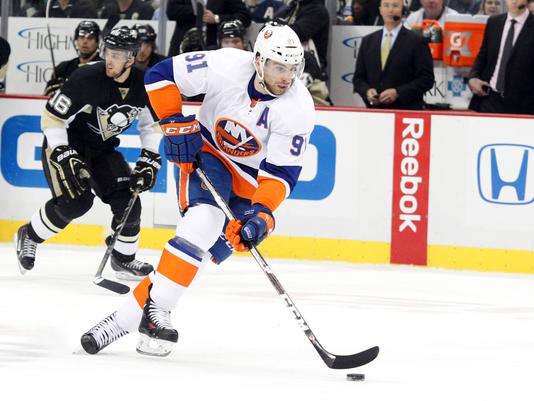 Does a case even need to be made for John Tavares' inclusion onto Team Canada's Olympic roster? Should this even be a dedicated section in this article seeing as how Tavares' addition to the roster is a no-brainer?
Aside from the fact that Tavares obviously belongs on Team Canada's roster and has diligently paid his dues to have such an honor bestowed upon him, hockey fans must consider how Steven Stamkos' injury will affect Tavares' playing time on the team. While Sidney Crosby will likely have the top center spot for Team Canada, one must ask themselves if Stamkos will be able to take on a huge workload after recovering from a broken leg.
Stamkos is currently walking without crutches and firmly entrenched in his desire to play for Team Canada, but if there are any missteps along the way, then one should expect Tavares to get the call to step in and fill the role of another No. 91. Over the last five years, Tavares has shown the hockey world that he is for real by amassing 276 points (122 Goals, 154 Assists) in 315 games played. Without Tavares, the New York Islanders would not have made a return to the Stanley Cup Playoffs last year, and there is little doubt that the center's talents wouldn't help Team Canada in its efforts toward a repeat Gold Medal performance.
What Is To Be Done?
Only time will tell which New York Islanders players will be going to the 2014 Men's Ice Hockey Olympics in Sochi, but it is certainly nice to know that so many of the team's players are even up for consideration in terms of roster inclusion. As of now, one can certainly make strong cases for John Tavares, Lubomir Visnovsky, Thomas Vanek, and Michael Grabner being included on their respective country's rosters.
On the other hand, Kyle Okposo and Evgeni Nabokov will have to battle for a chance to secure a spot for the 2014 Olympics. Okposo will be tasked with keeping up his hard-working style of play that made him such a dangerous forward during the Isles' second-half and postseason run in 2013, and Nabokov will have to return to form after a groin injury that he sustained a couple of weeks ago heals up completely.
For the meantime, it is encouraging to know that the New York Islanders have a number of Olympic hopeful candidates on their current roster. Regardless of who does and does not make their national team's roster for the 2014 Sochi Olympics, Islanders fans can take solace in the fact that their team has a number of budding players that are finally being recognized properly for their on-ice efforts.
In his third year with The Hockey Writers, Toli covers all things related to the New York Islanders. Focusing on the Islanders, the NHL Draft & draft-eligible prospect goalies, and hockey history, Toli can be contacted on Facebook by searching/messaging Toli Metter and on twitter by searching @ToliMetterTHW.