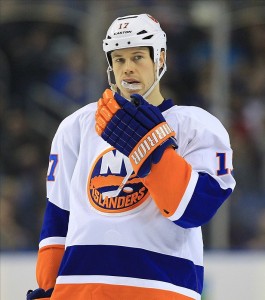 As Iron Man 3 tears up the world-wide box office, the movie industry continues to be impressed by producer Kevin Feige's Marvel Studio's plan to create a comic book styled cinematic universe.  Feige rolled out a series of stand alone super hero movies all building towards the ultimate crossover film, The Avengers, last summer.  He called this Phase One.  Now Iron Man 3 begins Phase Two.  Sequels to Thor, Captain America, a Guardians of The Galaxy film and finally, Avengers 2.  Then there will be Phase Three.  Phase Three will turn obscure comic book character Ant-Man into a household name.  It's a feat that takes patience, drive, and vision.   All the traits that the New York Islanders have also had over the last five years, leading to the 2013 season.  The Islanders may have lost in the first round,  they may have lost at home in overtime, but for the hockey minded onlooker, they must have seen that this was only Phase One of the bigger vision.  This team will be hungrier, better, and true believers that they can fight for the Stanley's Cup next year and beyond.
Roots
I currently live in Los Angeles, but follow the Islanders as closely as any season ticket holder on Long Island.  Due to some fortuitous scheduling thanks to a good friend's (a Ranger fan of all things) wedding, I found myself on Long Island for the this week of playoffs.  I got to watch the games with my family, as well as attend games 3 and 6 at the old barn, the Nassau Coliseum.  I'm thrilled to see the team upgrade to the Barclay's Center in 2015, but I sure hope it can replicate the volume of the crowd at the Coliseum.  To hear, nay feel the explosiveness of that insatiable Islander adoring crowd alone made my 3000 mile trip worth it.  To know for players like Mark Streit, Kyle Okposo, John Tavares, Matt Moulson,  Matt Martin, Frans Nielsen and Josh Bailey, who've been here for a few years, and only now finally get to hear what it's like to have 1600 strong screaming and roaring at ear drum crunching decibels for them, I know they will do whatever it takes to keep it going in the coming seasons.  The jumbo tron screen requested we fans "Rock This Barn" and rock it we did.
The End… For Now
Game 6 was as exciting as the other three at Nassau Coliseum.  Sadly, it ended in defeat. The moment was bittersweet, as after a few moments of seeing the Penguins rush from their bench to celebrate, the crowd realized they too must be as resilient as their upstart Islanders had been all series.  We began the most powerful and important "Let's Go Islanders" chant of all.  The one that said "thank you."   The players shook hands with their victorious opponents, and turned to us.  Led by John "MVP" Tavares, he raised his stick up to the crowd.  The boys in blue and orange saluted us as we saluted them.  We all understood that this was a necessary step towards the bigger goal.  A young team needs to experience the playoffs,  they need to learn what it takes to compete, to win.
A week and half a go, this Islanders team was projected to be swept or out in 5.  After game 1, it looked like they were out of their league.  Instead, they dug down deep, they fought hard, they learned from their mistakes, and they made a dangerous, star-stacked, first-place team look beatable.  Once the emotional clouds fade away, we'll point out how they lost in six, but hey, two of those games were in overtime.  Those are the two games that could have gone the other way.  Or the two rough losses in game 1 and 5 in Pittsburgh, hey, those were games the team learned from, a little more experience and those would have looked very different.   GM Garth Snow can now assess what this team needs to make it to Phase Two.  There will be some decisions in the offseason about free agents to be, goaltending options will be explored, and we'll await the NHL Awards night, to see if John Tavares goes from Hart Trophy Candidate, to Hart Trophy winner for the 2013 season.  As he led the team off the ice for the last time, the salute to the team turned into the "MVP" chant for him.  It's no secret that everything this team accomplishes from now on will be on his shoulders.  Thankfully, he looks strong enough to carry the responsiblity.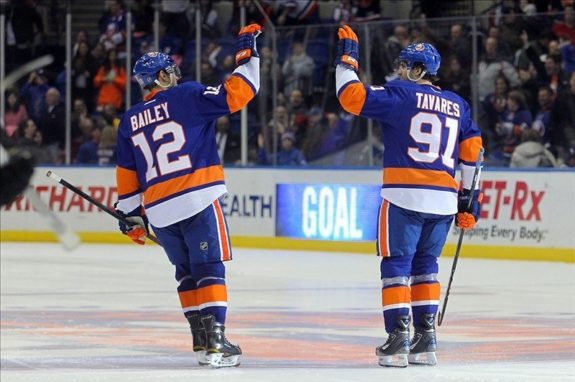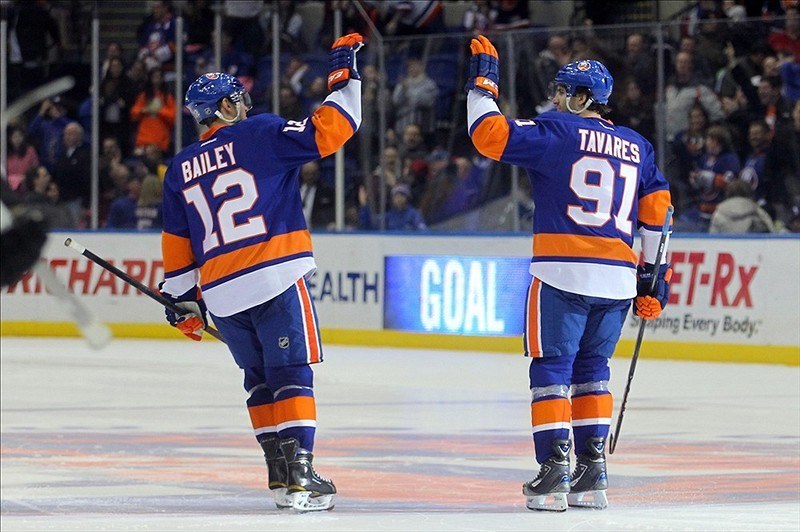 Is It October Yet?
For me, I head back to Los Angeles.  Last year I saw the excitement of a Stanley Cup first hand, and though I was happy for my adoptive city team, I never felt it pulsate through my entire being like I did this week with the Isles.  Every win made me believe they could win it all, every loss clouded the next day with infinite sadness and anxiety for the next game.  But for one week I was reunited with old friends and family at the old barn.  I got to see my mom cheer as Kyle Okposo dropped the gloves for a momentum changing fight in game 2.  And I'm sure if things had gone differently in overtime in game 6, it would have been the most exciting Mother's Day of all time had we watched game 7 together… next year, mom!
Phase One was for GM Snow to rebuild this shambled franchise.  Put together an exciting, explosive young team.  Beyond Tavares, we marveled at the hard work of the grinders, heavy hitters and heart and soul players like Colin McDonald, Travis Hamonic, Casey Cizikas, and Matt Martin, just to name a few.  The thing is the core of this team is dynamic and full of personality; the kind of team we'll enjoy rooting on for years to come.  Phase One was make it to the playoffs and show we belong.
Phase Two begins this offseason.  It means other teams will not take the Islanders lightly.  It will be a bigger stage.  It means becoming contenders.  Because for the first time in decades, the New York Islanders will be a team that could win it all…  but that's Phase Three.
Jeff is a writer of short stories, screenplays, comics, and plays. He's also a filmmaker, and a mens division 4 ice hockey goalie in Los Angeles, California. Originally from New York, he is a life long Islanders fan and excited to see them move to Brooklyn in 2015!