The Traverse City Prospects Tournament in Michigan is right around the corner and the New York Rangers have announced their 2016 roster, featuring 25 prospects.
The annual tournament is the first pro-level action for a few prospects and it will be interesting to see how the young talent in the organization performs. The tournament also includes prospects from the Red Wings, Hurricanes, Blackhawks, Blue Jackets, Stars, Wild, and Blues.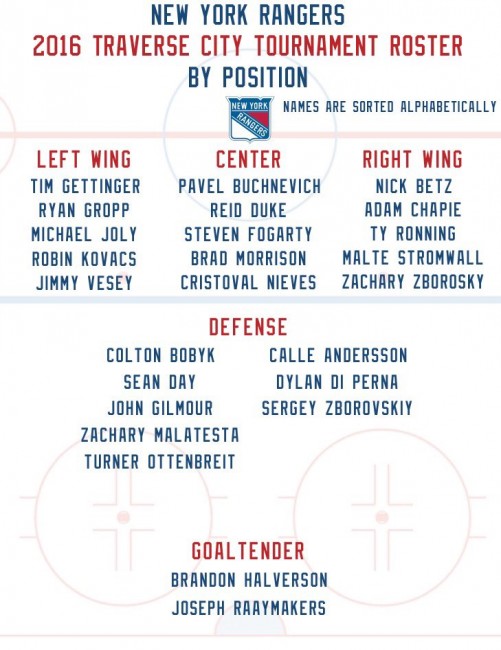 Forwards
This is an extremely talented group of forwards, including a few players who plan to make the NHL roster in the upcoming season. One of those players is Pavel Buchnevich. He is listed as a center on this list, which is interesting to see, as most have forecasted him slotting in on the left wing in the upcoming season.
The left wing of this roster is likely going to be one of the strongest at the eight-team tournament. With Jimmy Vesey a virtual lock to make the final roster and Ryan Gropp and Robin Kovacs both future roster guys, it will be interesting to see how they play against some of the better prospects in the NHL.
Defense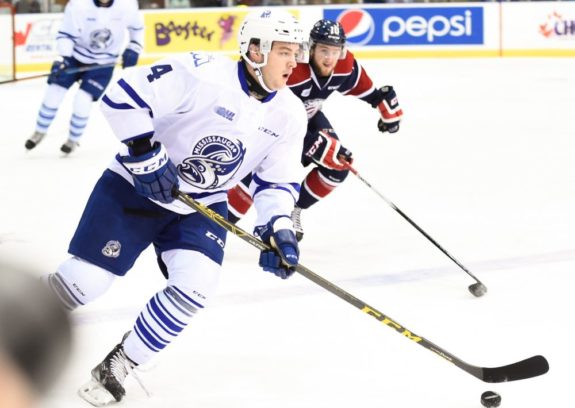 The Rangers defensive core of the tournament will be the biggest point to watch when attempting to determine the future of the prospect pool. There are multiple lesser-known players on the roster and it will be interesting to see how they play. With multiple defensemen on the team who weren't drafted, a few of these guys could be searching for a spot.
Two defensemen to watch are Sergey Zborovskiy and Sean Day. Both are third round picks with a lot to prove, searching to make themselves household names to Rangers fans everywhere.
Sean Day, in particular, has been doubted by many people along the way. He was only the fourth player to ever be allowed to start his major junior hockey career at the age of 15 with Exceptional Player Status. The three others include Connor McDavid, Aaron Ekblad, and John Tavares — three names that must be difficult to constantly be compared to.
Goaltending
The Sault Ste. Marie Greyhounds goalie tandem in 2015-16 gets another get-together in this tournament. Joseph Raaymakers will be on the bench behind one of the Rangers best goalie prospects in Brandon Halverson.
Halverson brings many important tools to the table, including great reflexes and movement. He was picked 59th overall back in 2014 and has made three appearances on the World Juniors U-20 team for the United States. Halverson is looking to win the starting job with the Hartford Wolf Pack of the AHL.