One man's trash (or in this case, organization's) is another man's treasure.
Could that adage prove to be true for the New York Rangers and Matt Beleskey?
File the concept of the big, agitating winger regaining the form of his 2014-15 and 2015-16 seasons under 'unlikely'. but the track record might at least give the Blueshirts reason to ponder whether he might be able to surprise as a productive fourth-line contributor in 2018-19.
For it wasn't that long ago when Beleskey scored 22 goals with 10 assists in just 65 games for the Anaheim Ducks, in 2014-15, along with eight goals in 16 playoff games as the Ducks reached the Western Conference Finals. Parlaying that season into a five-year, $19.8-million contract with the Boston Bruins, Beleskey totaled 15 goals and 22 assists in 80 games in 2015-16. Physicality and a jagged style that irritated opponents complemented his scoring touch, and he looked to be a solid signing for the Bruins after that first season wearing the spoked B.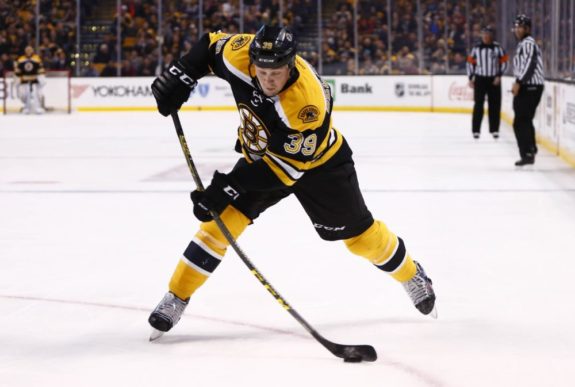 And then, even more quickly than his sudden and timely rise earned him big money, Beleskey's effectiveness almost completely disappeared. He suffered a knee injury in December 2016 that cost him more than six weeks and limited him to 49 games that season, but that setback wasn't the only issue. He struggled when healthy that season, and after 14 games with zero points and a minus-9 rating to start 2017-18, the Bruins had seen enough, waiving him and burying him the minors in mid-December.
He found himself reduced to a salary dump Feb. 25, when Boston demanded his inclusion in the trade-deadline deal for Rick Nash that also brought a 2018 first-round draft pick, center Ryan Spooner, defense prospect Ryan Lindgren and a 2019 seventh-round pick to the Rangers. The Bruins weren't even able to pass off the entire remaining salary on what had morphed into a very bad contract, with Boston taking on the maximum 50 percent retainer on Beleskey's annual $3.8 million cap hit for the next two seasons — though the Rangers did assume the 50 percent retainer on Nash's $7.8 million hit for the rest of 2017-18.
Are Rangers Last Hope For Beleskey's Career?
It's hardly a news flash to say that Beleskey's career is at a crossroads. He has nowhere to go but up. The question is, can he now seize what might be a decent opportunity to re-establish himself as an NHL player?
Endearing himself to the fans at Madison Square Garden won't be easy. Beleskey, of course, is currently known by the faithful only as the guy who broke Derek Stepan's ribs with a very questionable hit Nov. 27, 2015 (and then was immediately pummeled by former Ranger Dylan McIlrath). The hit cost Stepan three weeks, though Beleskey was not disciplined.
Assuming the fans can get past that (hardly a certainty at MSG – see Denis Potvin), there's an opening for Beleskey to put the past three seasons behind him and actually win a spot on this rebuilding roster. The Rangers re-signed forward Cody McLeod to a one-year contract in July to provide toughness, but McLeod is little more than an enforcer who didn't always distinguish himself in that role in 25 games with the Rangers last season (his failure to retaliate against his former Nashville Predators teammates after Jimmy Vesey and Marc Staal were knocked out of a 5-2 loss on dangerous hits Feb. 3 being the most glaring example).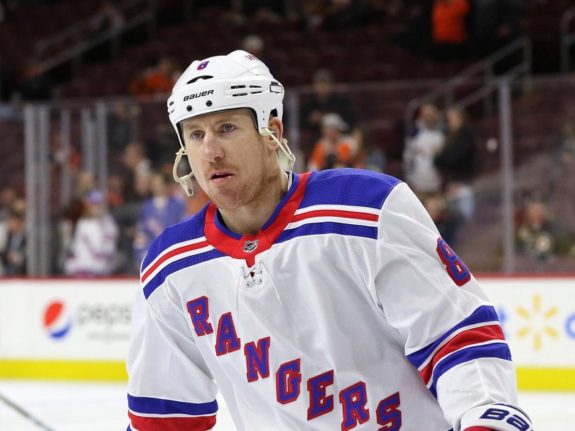 It's probably unrealistic for anyone to expect Beleskey to score 37 goals over two seasons again, but again, the track record suggests the skills to be an effective player are there. High-scoring seasons in the minors — he totaled 41 goals and 49 assists in the OHL in 2007-08 — show that he's always been more than just an agitator and fighter.
Beleskey's Style Might Fit What Quinn Seeks
Could he rebuild his game to the point that he could provide some occasional scoring to go with physical play? New coach David Quinn, not to mention the front office, is looking for a more 'in-your-face' approach for the Rangers after the Alain Vigneault years, and Beleskey could fit that philosophy perfectly as a badly needed fourth-line energy guy. If he and defenseman Brendan Smith — another formerly successful player looking to resurrect his career after fading following the signing of a big contract — can bounce back, Quinn would have a couple of physical, edgy players to plug into his lineup.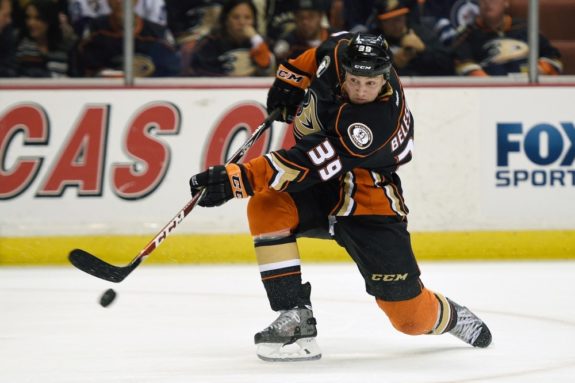 Frankly, Beleskey beating out McLeod for the left wing spot on that fourth line shouldn't be a tall order. If he can't, the Rangers will likely send him back to the minors with little faith he can provide any sort of meaningful contribution over the next two seasons. If Beleskey shows up for training camp motivated and eager to revitalize his NHL career, though, the Blueshirts might find out that they received yet another asset in the Nash trade — one that had been almost completely overlooked.