Bogdan Kiselevich makes the journey to the Florida Panthers this season after spending nine years in the KHL. As a lock down, stay-at-home defenseman, he is a great compliment to potential defensive partner Mike Matheson. I believe that the combination of these two could allow Matheson to have a breakout season while also providing much needed blue line help for the Panthers.
Related: Florida Panthers 2018-19 Defense Preview
Who Is Bogdan Kiselevich?
Over the better half of the last decade, Kiselevich has had a successful professional hockey career in Russia. In just under 400 games, the KHL All-Star racked up 123 points and won an Olympic gold this year. Although he averaged just over a point every three games, his reputation is that of a strong, defensive-minded player who uses his skating mobility and hockey IQ to take away scoring chances.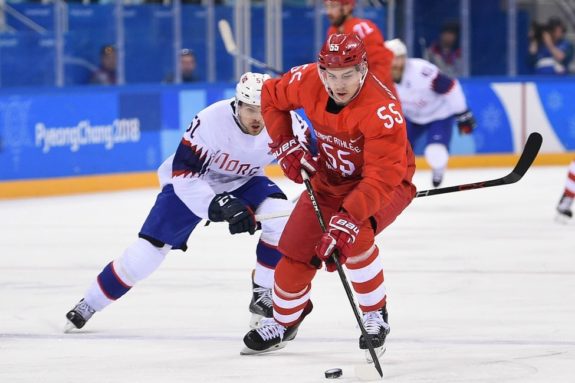 General manager Dale Tallon has had success in the past signing players from international leagues. Last season, for example, he signed KHL forward Evgeni Dadonov. Dadonov was quietly the best offseason signing of 2017. He scored 65 points in 74 games last season and showed chemistry with linemate Aleksander Barkov. Tallon believes that Kiselevich can have a similar impact on the club, saying
"Bogdan is a solid, shutdown defenseman who adds depth to our blue line and possesses a strong work ethic. He's proven himself to be a reliable defensive presence on the international stage and in the KHL and has ability to be a steady influence on the back end of our young defensemen." Florida GM Dale Tallon on the signing of Kiselevich.
The Panthers went into the offseason looking to add depth at many positions. At just 28 years old, Kiselevich is the second-oldest player on the Panthers blue line, behind only 31-year-old Keith Yandle. Kiselevich also comes on a bargain deal for Florida, signing a one-year, $925,000 contract, making him a low-risk, high reward player. If everything goes the way Tallon hopes, this could be yet another jackpot for the Panthers.
Defensive Standout: Mike Matheson
During the 2017-2018 season, fans watched Matheson make significant progress on the offensive side of the game as he accumualted 27 points in 81 games. This is a 10-point increase from the previous season and at only 24 years old, he is expected by many to continue to improve.
Matheson is no slouch on defense either. Although not his forte, he is able to use his six-foot-two frame to separate players from the puck or defend against powerful forwards. However, he prefers to use his excellent speed and skating ability to explore all ends of the ice and cover speedy, agile scorers, making him a uniquely versatile player.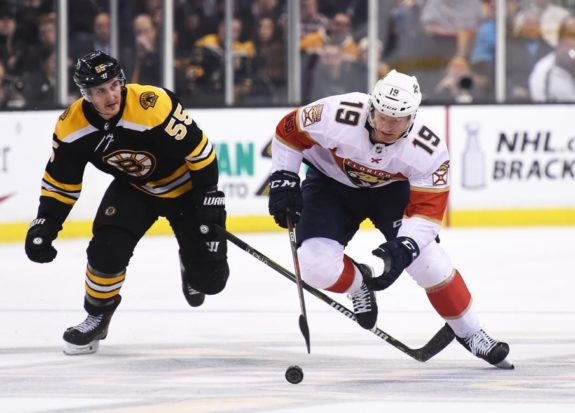 However, Matheson does tend to rely on his speed to gain an advantage on offense and can find himself out of position when he cheats in the offensive zone. Because of this, he struggled for a time last season and floated between the second and third pairs for a few games. Despite being on a team with Aaron Ekblad, Matheson could still have the highest ceiling of Panthers' defensemen and many, including myself, expect him to have breakout season this year.
What To Expect This Seaon
A defensive pairing of Matheson-Kiselevich looks to be a happy marriage. Their skills and styles of play are almost perfectly complimentary of one another. Kiselevich's tendency to hang back on defense will grant Matheson the freedom to roam free with the security blanket of knowing there is a lock down defenseman covering his tracks.
With this in mind, I'm all-in for a Matheson breakout season. I expect him to continue to develop offensively and believe he could score as many as 40 points. Adding Kiselevich is only going to help Matheson's game and look for him to be a big time player for the Cats this year.
Adjusting to the NHL does take time for international players and we should expect a transitional period for Kiselevich. However, with what he can add to the team, expect some big minutes from the newcomer and quality play on the penalty kill. Overall, his addition to Florida can only help.
If Kiselevich is unable to perform at second pairing standards, he is a much more skilled player than Alex Petrovich and could strengthen the third pair. Maybe I'm an optimist, but I expect Kiselevich to shine this season and heavily influence the Panthers defensive presence while boosting Matheson's game.
South Florida native and avid Florida Panthers fan. From 2016-2017, Mike interned as a content promoter covering the Florida Panthers for SPORTalk.com.