The 2017-18 Florida Panthers defense remained remarkably healthy, as they were the only team in the league to dress just seven defensemen throughout the season. The 2018-19 defense hopes to replicate that success. They are bringing back all seven mainstays in addition to one offseason signing from the KHL. This article will explore the individual roles each are expected to play and how they will perform as a unit.
Aaron Ekblad: The Man-Child
Entering his fifth NHL season at 22 years old, Aaron Ekblad is mature beyond his years. There is not one glaring weakness in his game. He does not possess Connor McDavid speed, but he always seems to put himself in the right place to make a play on both offense and defense. Down low, he has the frame and strength to separate most players, including those bigger than him, from the puck.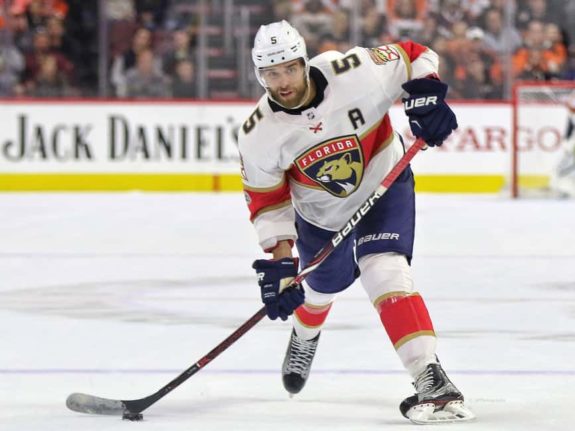 Ekblad loves releasing a good wrist shot from the point and has shown glimpses of greatness when jumping into the rush. He scored 16 goals last year and has the ability to score at least another 15 to 20 this season. He has grown to be one of Florida's most vocal and important leaders since being drafted, and the Panthers hope for another healthy season from him full of heavy minutes in all situations.
Keith Yandle: The Productive Veteran
On the top pair with Ekblad, Keith Yandle plays a crucial role within the Panthers defense corps. At 31, he is the oldest defenseman of an otherwise young group. He has a knack for passing the puck to the tape of his teammates', and also occasionally his opponents', but it was accurate enough for him to accumulate 48 assists and 56 points in 82 games last season.
Another 50-point season is not out of the question this season as he can quarterback a power play like few others and led the team overall in time on ice with 24 minutes and 29 seconds per game last season. The Panthers will rely on his offense and durability once again this season.
Mike Matheson: Your Breakout Candidate
Mike Matheson will likely play out this season on the second pair behind Ekblad and Yandle. But with some more experience, Matheson has the potential to become one of, if not the best, Panther defenseman. He possesses all the tools of a modern-day defenseman: he skates fast, thinks fast, and does not hesitate to join the rush to produce offense.
This got him into a bit of trouble last year by getting caught making a risky play and costing his team a goal for it on more than one occasion. If his partner can play a little more conservatively, perhaps he will have the opportunity to take more risks and use his speed.
Mark Pysyk: Ol' Reliable
Mark Pysyk was productive playing with Matheson on the second pair last season. He is a well-rounded player that is very effective on the penalty kill. He can be relied upon to keep risky plays and mistakes to a minimum. He is a safe option for Coach Bob Boughner and would slot in wonderfully in a third pairing role this season.
He has played in all 82 games each of the last two seasons since signing with Florida and finished seventh among Panthers skaters in ice-time last season with 18 minutes and 46 seconds. Look for Pysyk to provide much of the same stability to the lineup this season.
Bogdan Kiselevich: Stay-At-Home Mom
The hope and expectation is that Bogdan Kiselevich will play with Matheson. The Panthers signed him to a low-risk, one-year, $925,000 contract on June 1. This season will be Kiselevich's first in the NHL after playing in the KHL for nine years. And, while it may take some time to adjust, his individual playing style is one that should translate smoothly. His reputation overseas is that of a stay-at-home defenseman, enjoying success as both a KHL All-Star and gold medalist at the 2018 Olympics.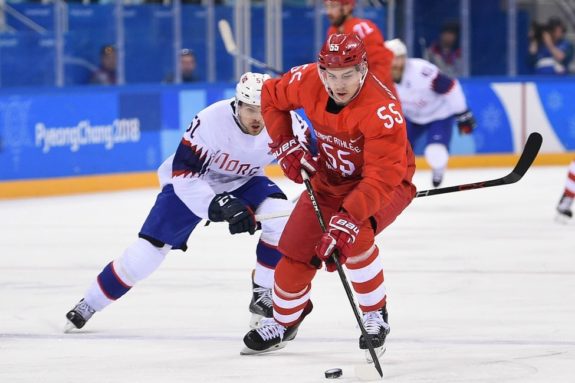 He's not overly skilled offensively, but he thinks the game well and is good enough on his skates to keep up and keep opponents' shot totals down. Though it remains to be seen, this could be just the partner that allows Matheson to roam the ice and join the offensive attack more often.
Mackenzie Weegar: The Underdog
This will be Mackenzie Weegar's first contract following his entry level deal. He consistently proved himself in the minors long enough to earn himself a spot in the regular rotation of three defensemen on Florida's bottom pair last year. He should play a similar role to begin this season while splitting time with Alex Petrovic. Weegar won't rack up big offensive totals, but he has good speed and is a stable presence toward the bottom of Florida's lineup, even as his game continues to develop.
He and Petrovic should spend training camp and likely the season fighting over the sixth and final spot on the blue line, but long-term, my money is on Weegar. He is younger and has less experience than Petrovic, but their playing styles differ and the NHL appears to be trending in Weegar's direction. For this season, it'll be good to have them both.
Alex Petrovic: The Man with the Most to Prove
The Panthers seem to enjoy having Petrovic around since drafting him 36th overall in 2010. He's well-liked in the locker room, and he should be able to provide added depth and stability at the bottom of Florida's back end. Boughner was cautious with Petrovic's usage last season, especially early on when he was listed as a healthy scratch for nine of their first 20 games. His mobility issues are no secret—he's slow.
He's prone to consistent turnovers but he has experience and provides useful depth and injury protection. He also has no problem dropping the gloves, a trait Boughner seems to value within his lineup. The Panthers signed Petrovic to a one-year contract this summer at the conclusion of which he will be an unrestricted free agent for the first time.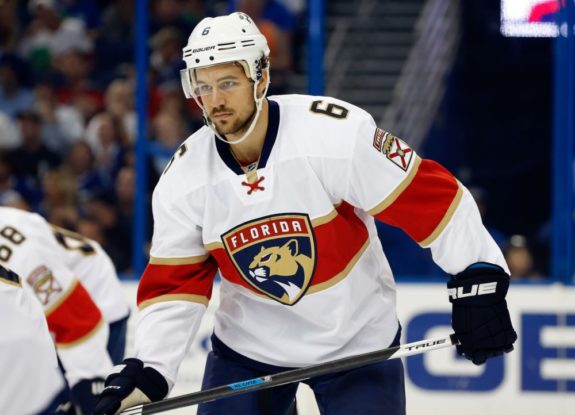 That can add some motivation to one's season, but as the speed of the game increases, it is tough to be hopeful for Petrovic's future based on what he has demonstrated in his career thus far. Expect him to split playing time with Weegar on the bottom pair alongside Pysyk until either Petrovic or Weegar outperform the other or one goes down with injury. If the Panthers are lucky enough to stay healthy, they will be able to limit Petrovic's minutes as much as possible.
Ian McCoshen: I.C.E. (In Case of Emergency)
Ian McCoshen could end up being a Kiselevich in the making. He gained valuable experience last season and averaged 15 minutes and five seconds over 38 games. At 23, he is entering the final year of his entry-level contract which exempts him from having to clear waivers if he is sent between Florida and their AHL affiliate, the Springfield Thunderbirds.
With a log-jam toward the bottom of the lineup, the Panthers may consider using this to their advantage and allow McCoshen to develop his game in Springfield where he will have the opportunity to play big minutes every game. Barring any major setbacks, McCoshen will remain on speed dial and can step into the Panthers lineup at the first sign of injury to any of the seven other defensemen.
Final Thoughts
As a unit last season, the Panthers conceded the fourth most shots in the league with 2,838, but made up for it by recording the second most shots on goal with 2,822. Although the first statistic is not encouraging, they dramatically improved over the latter half of the season, as they allowed the seventh fewest goals in the league following the All-Star break.
Look for the likes of Matheson and Weegar to take steps forward, expect Ekblad and Yandle to continue logging minutes and providing offense, and bank on the rest of the defense to slot into each of their respective roles effectively under Boughner's high-pace system.
I enjoy traveling, new food, but most of all, hockey. I grew up in South Florida where I followed the Panthers. While the Panthers remain my primary focus, my love for hockey has expanded through the entire game. My background is in English and Communications, and I look forward to providing in-depth Panthers coverage.