The Anaheim Ducks have announced the re-signing of restricted free-agent (RFA) winger Ondrej Kase to a new three-year contract. The average annual value (AAV) of the contract is $2.6 million.
Ducks announce signing of RFA right wing Ondrej Kase to three-year contract. Hearing it's worth $7.8 million total. $2.6M AAV.

— Eric Stephens (@icemancometh) August 15, 2018
Kase, who erupted for 20 goals last season, gets a nice raise from his entry-level salary while the Ducks are set up to receive good value with the AAV being under $3 million. The 22-year-old Czech forward should continue to build upon his breakout campaign, though even just a repeat of last year's performance would represent a great return on Anaheim's investment.
Kase an Integral Player for Ducks
Originally a seventh-round draft pick (205th overall) by the Ducks in 2014, Kase has already blown the associated expectations with that draft position out of the water. He thrived last season in an energy-producing role for the Ducks, picking up 20 goals and 18 assists in 66 regular-season games after totaling just five goals and 10 helpers in 53 contests the year prior. His underlying numbers were also excellent, as he had the best raw possession mark (denoted by Corsi-for percentage) at 5-on-5 play of anyone on the team. Kase also created goals with eye-popping efficiency.
On an aging team that needs to rely more on strong youth in order to remain a contender, Kase represents someone of critical importance. Beyond just his depth scoring, which could soon start to creep up towards a "primary scoring" label, Kase provides speed, tenacity, and an overall energy boost on a Ducks squad that is otherwise a bit too bereft of that.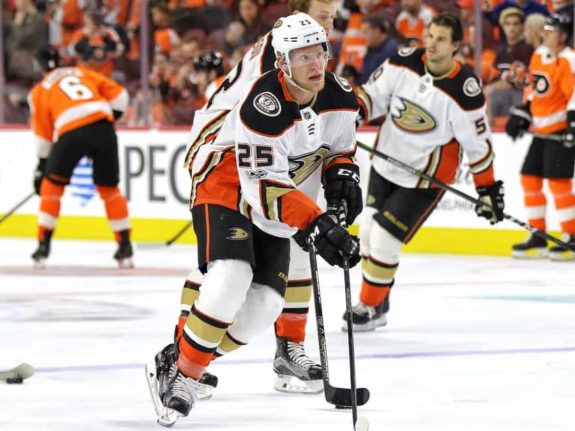 When those attributes complement an ever-improving scoring touch, the results are often special, and that is something that's not lost on general manager Bob Murray.
"Ondrej is a skilled player that has a bright future in this league," said Murray following the announcement of Kase's new contract. "He can skate and score, and will continue to improve as a player as he gains more experience."
Kase's Contract the Perfect Balance
Taking into consideration the salary projection model created by Hockey Graphs' Matt Cane, as well as Brandon Montour's new contract and Kase's meteoric ascension in 2017-18, I previously wrote that the Ducks might pay Kase closer to $3 million per season on a short-term deal (i.e., two years). That wasn't far off, but the Ducks did even better in locking up the youngster for an additional year at less than $3 million per.
Anaheim gets a rising young forward with offensive abilities for three years instead of just two, and for a fraction of the cost of most 20-goal scorers who are past their entry-level contracts (ELCs). From a value standpoint, the Ducks should get quite a lot. For Kase, he still gets to experience a nice raise of almost $2 million per season, with the prospect of an even bigger payday waiting three years down the road if he continues to improve. He's set to become an RFA again in 2021.
With respect to Anaheim's salary cap situation, they now have about $6.1 million in cap space with three roster spots needing to be filled. ELCs—perhaps including that of Troy Terry—figure to make up two of those spots, with the last spot being for Nick Ritchie's new contract. He is the Ducks' only remaining RFA.
The Ducks will likely still face some tough roster decisions a year from now because of the salary cap, but Kase's contract gives them a bit more flexibility three seasons from now, which—perhaps by design or not—is the last year for Corey Perry and Ryan Getzlaf in each of their mega-contracts. While Getzlaf's standing on the club is safe at this point, Perry could be on the way out, or at the very least back on a major discount after 2020-21. That opens up more possibilities for the Ducks down the road, but until then, Kase's contract should benefit them significantly.
Tom has been with The Hockey Writers for almost four years. After previously covering the LA Kings and the New York Rangers, Tom now covers the Anaheim Ducks.
While in college at Clemson University, the 2016 college football national champions, Tom wrote game summaries and feature articles for the official team website of the Greenville Drive, a Class-A minor-league baseball team and affiliate of the Boston Red Sox. Tom is happy to be able to continue to fulfill his passions for sports and writing with THW.