Remarkable. Astonishing. Flat-out unexpected. Those are some of the terms that could justifiably be used to describe the Vegas Golden Knights inaugural NHL season. A Pacific Division title that was followed by a marvelous run to the Stanley Cup Final symbolized the magical season, even though they fell short in the fFnal to the Washington Capitals. Prior to the playoffs, the Golden Knights posted a 51-win, 109-point regular season that saw them handle almost every team with ease.
But now that the  Golden Knights have a full year under their belt, the other 30 NHL teams have a whole season of film to study, which will stiffen the competition for Vegas. So who will be their sturdiest competitors this coming season? Here are their three toughest matchups this season.
Toronto Maple Leafs – Nov. 6, 2018 (Road)
Whether it is Marc-Andre Fleury or Malcolm Subban in net, one of them will have to play their best game of the season when the Golden Knights take on this offensive juggernaut. The Toronto Maple Leafs were already looking like a legitimate Stanley Cup contender before July 1, 2018. This Mike Babcock-coached squad was coming off a 105-point regular season, their highest regular-season point total in franchise history.
Toronto finished third in the Atlantic Division and met the division-rival Boston Bruins in the opening round of the playoffs. Although the Leafs lost in seven games, their ability to fight back from a 3-1 series deficit against a more experienced playoff team was admirable.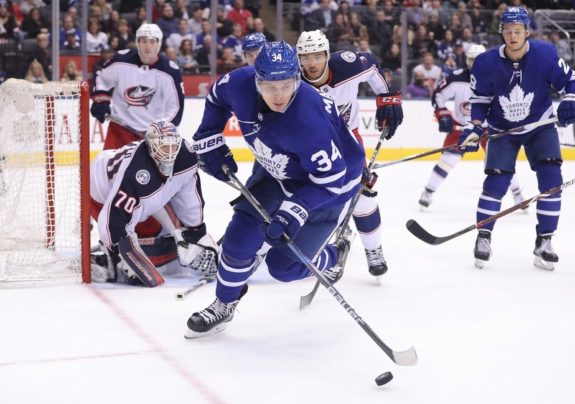 Furthermore, the Maple Leafs' stable of talent was loaded and deep before the 2018 free agency period began. Toronto's electric young trio of Auston Matthews, Mitchell Marner, and William Nylander spearheaded an offense that registered 270 goals, third-most in the NHL. All three players recorded at least 60 points, with Marner's 69-point mark a team-high. Matthews racked up 34 goals and 63 points in 62 games, but he most likely would have recorded his second consecutive 40-goal season had he played closer to a full 82 games. The most important aspect to note about this trio is that they are all under 23 years old.
And then July 1 hit.
The Maple Leafs inked former New York Islanders superstar John Tavares to a seven-year, $77-million contract hours into free agency, a move automatically making Toronto the odds-on favorite to win the Stanley Cup. The native of Mississauga, Ontario. is coming off an 84-point season where he recorded 37 goals and 47 assists. Toronto is adding one of the league's premier centres who can be both a goal-scoring and assist-making threat.
Add the aforementioned four players to a roster with weapons such as Nazem Kadri, Morgan Reilly, Jake Gardiner, and Zach Hyman, and the Golden Knights will have their hands full when they head to the East Coast in early November.
Winnipeg Jets – Jan. 15, 2019 (Road)
There is a handful of thunderous environments in the NHL that are difficult on visiting teams. Teams such as the Nashville Predators, Montreal Canadiens, Minnesota Wild, and Chicago Blackhawks are some of the teams with that home luxury.
The MTS Centre in Winnipeg, Manitoba is a completely different beast.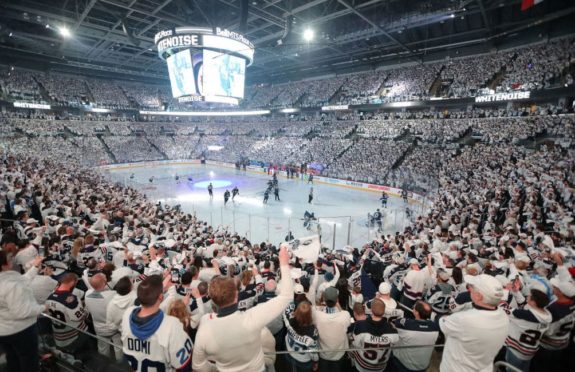 It is deafening. Rambunctious. Ear-ringing. Any synonym of the word 'loud' or 'noisy' can perfectly describe the atmosphere inside the MTS Centre. Jets head coach Paul Maurice may have articulated the environment best in a May 9, 2018 article discussing Winnipeg's postseason run.
"I don't know if they can yell any louder," Maurice said to the Associated Press when talking about the Jets' passionate fan base.
Needless to say, the Golden Knights' lone visit to Winnipeg this coming season could be extremely daunting because the Jets make full use of their incredible home-ice advantage. Winnipeg finished the 2017-18 regular season with the league's top home record of 32-7-2, with many of those wins coming in dominant fashion. One of their most notable home blowouts came against the Golden Knights on Dec. 1, 2017 when the Jets rolled through Vegas 7-4. In total, the Jets had 14 five-goal games at home last season.
Vegas was able to find success at the MTS Centre in the playoffs, as they won Games 2 and 5 of their Western Conference Final series in Winnipeg. The Golden Knights wrapped up the series in the fifth game, but there is no doubt Jets fans will remember Vegas preventing their beloved Jets from appearing in the Final.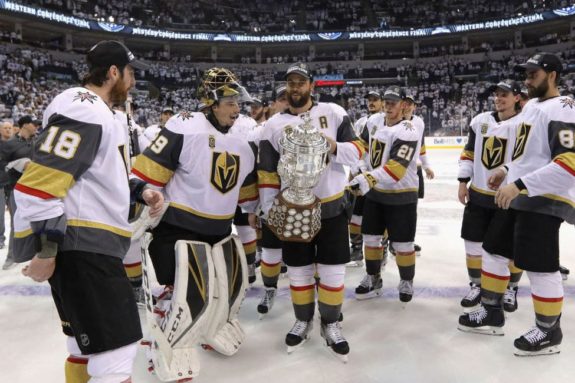 Lost in all the hoopla surrounding the MTS Centre environment is the fact that Winnipeg was the second-best overall team in the NHL last season. With a record of 52-20-10 and 114 points, the Jets were right behind the Nashville Predators in the league-wide standings. Putting up goals was not a challenge for Winnipeg, as they were second in NHL with 3.3 goals per game and had the league's second-leading goal scorer in Patrick Laine with 44.
A 91-point season came from forward Blake Wheeler, who was tied for a league-high 68 assists with Philadelphia Flyers captain Claude Giroux. Forwards Mark Scheifele and Nikolaj Ehlers recorded 60 points apiece. The mix of a roaring atmosphere and high-octane offense will make this a vigorous match for Vegas.
Washington Capitals – Dec. 4, 2018 (Home)
If they could beat Vegas twice on the road in the playoffs, then the Capitals can do it one more time when the two squads meet in early December.
Washington will clearly be one of the most talked about teams in the 2018-19 season. The Capitals will be coming off their first Stanley Cup championship after they defeated the Golden Knights in five games this past June, so their confidence going into this matchup will be through the roof.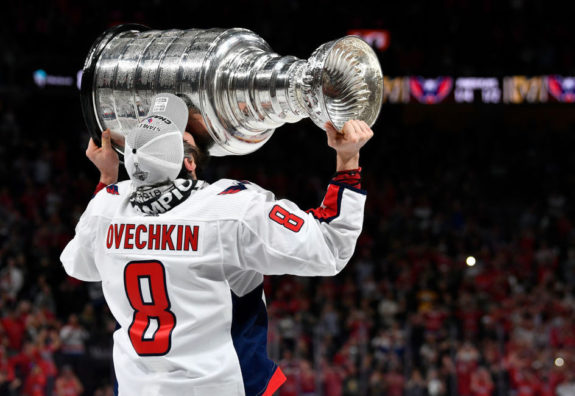 But more importantly, the Capitals will be returning their core group of players that led the team to hockey's pinnacle. Spearheading the Washington attack is superstar forward Alex Ovechkin, who rattled off 49 goals and 87 points last regular season. The Russian-born sniper was awarded his seventh career Maurice "Rocket" Richard Trophy for leading the NHL in goals scored, which is astonishing given that he is 32 years of age.
Ovechkin also eclipsed the 600-goal mark for his career. Moreover, he captured his first career Stanley Cup title and took home the Conn Smythe Trophy as the most valuable player in the postseason. Now that he got his first taste of ultimate NHL glory, do not be surprised if the 32-year-old forward plays his best season yet, as an eighth 50-goal season would not be stunning.
The supporting cast around Ovechkin is one of the most well-rounded in the NHL, a major reason why Washington was able to defeat the Golden Knights in five games. Evgeny Kuznetsov and Niklas Backstrom are both coming off productive seasons offensively in 2017-18, as the pair recorded 83 and 71 points respectively. After their top-three scorers, the Capitals' lineup includes forwards T.J. Oshie, Tom Wilson, and Lars Eller, as well as defensemen John Carlson, Dmitry Orlov, and Matt Niskanen.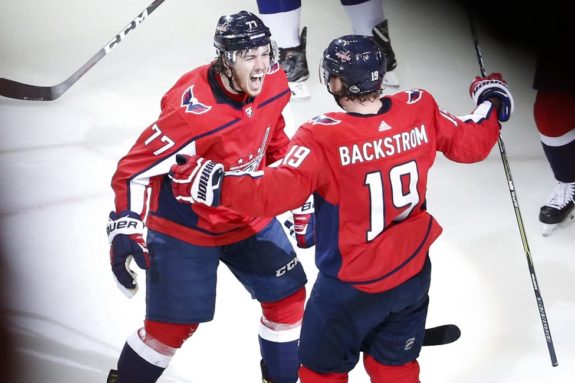 Not only can all those skaters contribute offensively, but they are also extremely valuable in the physicality department and have a knack for laying out bone-crunching hits when necessary. One forward to keep an eye on is Devante Smith-Pelley, a well-known agitator who recorded seven goals in Washington's postseason run.
What's most imperative about this matchup is Washington's confidence about winning in a hostile environment such as the T-Mobile. The Capitals twice defeated the Golden Knights on the road after Vegas established themselves as one of the most dominant home teams in the NHL. Up until Game 2 of the championship series, the Golden Knights were virtually unstoppable in front of their booming fan base. Washington changed that, and that will carry over into their second meeting of the season, making this a very stiff test for Vegas.
Expectations will be high for the Golden Knights as they enter their second season of NHL existence, but these three matchups will be their most daunting in the 2018-19 campaign. And because the hype machine surrounding Vegas will be rampant this coming season, do not be shocked if the first game in question is billed as a potential preview of the 2019 Stanley Cup Final.
A 2018 graduate of the Langara College Journalism program in Vancouver, B.C. I used to contribute to both the British Columbia Hockey League and Florida Hockey Life Magazine (with the latter being a burden on the phone bill). My experience with those publications is being carried over to THW, as I will be covering the Vegas Golden Knights. Currently living in Richmond, B.C.