Brendan Lemieux had his ups and downs in his first two seasons as a pro. His rookie season was a lot more down than up, but his sophomore year was the polar opposite. So much so that it's time to consider him for a permanent Winnipeg Jets roster spot.
The son of former NHL super-pest Claude, Lemieux will likely spend his entire career earning comparisons to his father. At least until he's carved out enough of an impression of his own.
He's got big skates to fill on that front, but Lemieux the younger seems determined to fill them. Like his father, he's chippy, nasty, yappy, at times scrappy, and always physical. He even has an underrated scorer's touch like Claude did.
Claude, however, could likely never play in the NHL today. The things he got away with in the mid-90s would never fly in this day and age. His son can, with a little bit of work. In fact, he's already primed to be a prototypical bottom six forward.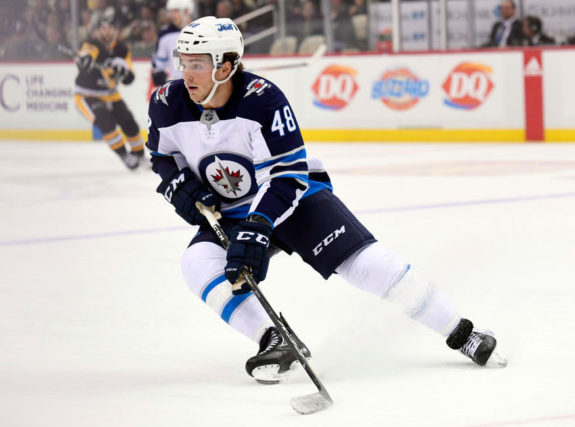 Right now, the Winnipeg Jets have a lot of skill up front. They've managed to mix some sandpaper in, but are lacking players with both attributes. Lemieux has both in spades. If his footspeed is up to snuff, he could be just what Winnipeg needs in their bottom six.
Lemieux has his detractors and not just those who say he's a dirtbag like his dad. Those kinds of complaints Lemieux would likely laugh off. Some say his skating and quickness aren't NHL ready, or that his hot-headedness can get the best of him.
Every year, however, Lemieux seems more mature than before. At this rate, he'll be ready to drive NHL opponents up the wall quickly.
Lemieux is Paul Maurice's Kind of Guy
One thing that really seems to work in Lemieux's favor is he doesn't need to be a top-six player to be used in the Jets lineup. His style is just as well suited to fourth-line work.
Some would say this is an outdated notion. Why have dedicated checking lines at all anymore? It's a fair question, but in his time in Winnipeg, Paul Maurice has shown he likes having players with defined roles. It's one reason Nic Petan hasn't stuck with the Jets permanently yet.
Lemieux can play that bottom-six sandpaper role Maurice loves having available to him. He's physical (something no coach will ever hold against a player) works hard in the trenches, and generally makes a nuisance of himself. If the points aren't there, he can still be effective.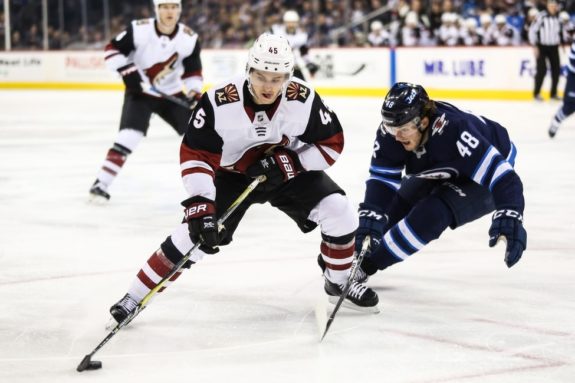 The Jets have holes in their roster that need filling from within. Paul Stastny isn't the only player who moved on this offseason. You can add Joel Armia, Shawn Matthias, and Matt Hendricks to that list too. Combined they played 166 games last year.
Most if not all of those minutes were bottom-six. Sure, the Jets have other options to replace those players. Kristian Vesalainen leaps to mind. Marko Dano deserves more ice time than he's gotten. But Lemieux has an opening.
Lemieux isn't all shoulders and fists, either. His offensive totals, from his junior days through his most recent AHL campaign, speak to a player more ready for an offensive role than you might think. He might even be a useful secondary power play guy.
Lemieux Brings the Offense
Last year, Lemieux saw action in nine NHL games. He scored his first NHL goal exactly how you'd expect with a redirection against Pittsburgh. He scored no other points, but it's worth noting his possession metrics were well above average.
What a moment:

Brendan Lemieux scores his first NHL goal 👏 pic.twitter.com/JbJkRh2nMp

— Sportsnet (@Sportsnet) October 30, 2017
Now it's true this is the definition of small sample size. Nine games hardly paints a bigger picture, and one goal in a 7-1 win does not an offensive dynamo make. Go back in Lemieux's past, however, and you'll find offense has always been part of his game.
Lemieux's first AHL campaign, a down year by his standards, still saw him pot 12 goals. This last year, he upped that total to 19 and threw in 24 assists for 43 points in 51 games. Not too shabby for a guy who also pitched in 170 PIMs.
Lemieux was a 40-goal scorer just one year after his draft year. The year after that, he put up 32 goals in just 45 games split between Barrie and Windsor of the OHL. Between his net-front presence and a highly underrated shot, Lemieux is no stranger to scoring.
These attributes on their own make Lemieux worthy of consideration for a roster spot in September. Add them on to his agitating, physical game and you've got a budding power forward on your hands.
We're talking about Lemieux for a fourth line spot right now with room to move him up to the third. At this rate, he might not stop there. The tools are almost all there.
There are no guarantees with young players and Lemieux, at just 22 years old, is still young. His skating is still a question mark, and even if he gets his speed up his quickness will need work. Training camp will be very telling.
But you can bet with the losses the Jets sustained this offseason, Lemieux will be on their radar all camp long. He's being given an opportunity, and it would be unwise to bet against him.