What a team may want isn't always what the team will get. The New York Rangers lost out on forward Zach Parise, defenseman Ryan Suter and are now waiting to make the next move. Jaromir Jagr left the Tri-State area off to the Lone Star State, which caught every hockey fan and pundit by surprise. What's the next big surprise? The New York Rangers are on the clock as fans eagerly wait it out in this sizzling summer free agent frenzy.
Cases have been made for remaining contestants Rick Nash and Bobby Ryan. While Ryan seems the best bang for the buck, Nash has been on the radar of Rangers GM Glen Sather for some time. The waiting could squelch the progress New York has been diligently working towards.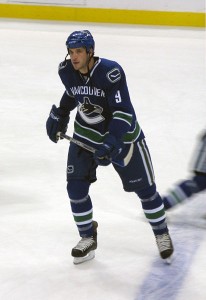 What the Rangers have done to rejuvenate without bludgeoning the team, was to sign two new enforcers in lieu of the exiting Brandon Prust and John Mitchell. Taylor Pyatt signed a two-year $3.1 million deal, and Arron Asham signed up for a two-year $2 million deal. Pyatt, 30, skated in 73 games with the Phoenix Coyotes last season and had nine goals, 10 assists, 23 penalty minutes and 137 hits. This will be Asham's fifth Atlantic Division team having played with the New York Islanders, Philadelphia Flyers, New Jersey Devils, and most recently, the Pittsburgh Penguins. The duo are expected to contribute to the penalty kill replacing Prust and Ruslan Fedotenko (who just signed with Philadelphia).
As the free agency agenda continues, the Rangers remain in search of their big catch. Twitter feeds have fluttered supposed solutions, rumors and such. The most recent information coming out of Phoenix has  Coyotes captain Shane Doan considering leaving the desert to play on Broadway. With a high-profile performance this past season, Doan could offer some offensive power and at a reasonable cost for Sather. Veteran leadership in both Doan and Pyatt could be a productive consideration for Coach John Tortorella's lines.
Other possible scenarios involve Alexander Semin, who has struggled for at least two years posing concern of his future with any team. Semin's stock has dropped this past year, so his status as a bargain could be a boost for a Buffalo or Columbus team where he would shine. He's been a strong forward in the past and will surge again, but not likely with the Rangers. Chemistry is essential to the Rangers organization now and Semin isn't a popular choice for fans or the New York media.
Shea Weber's course has been quiet. He's the type of leader that would work in New York. Though Weber isn't a free agent until next summer, trade options may send him packing. Weber hoped to play his career with Ryan Suter, but now Weber and the Nashville Predators face a dilemma. If Weber is looking for a way out, Sather may be the one to deliver.
But wait, there's more. The latest catch of the day involves Colorado Avalanche forward Paul Stastny, who would make a splash on the market. Calls have been coming into Denver looking for a bite. Stastny has grown stale in Denver and this is not the first time such reports have surfaced. The Avalanche are not actively seeking to trade their captain, but are listening to offers.
Furthermore, a lot of buzz around #Avs. Looks like teams are calling about Stastny. Finding out more details and relasing info after.

— Hockeyy Insiderr (@HockeyyInsiderr) July 5, 2012
Speculation in sport and the outcome is always an upheaval. No one expected Parise and Suter to sign in Minnesota. Roadblocks were put up in Pittsburgh awaiting the motorcade with Parise and Suter hitting Pens territory, and while Penguins GM Ray Shero was miffed by the verbal agreement not being honored it is still ultimately up to the player.
Keep your Rangers Twitter feed on alert this summer. Pass the sunblock and enjoy the ride.