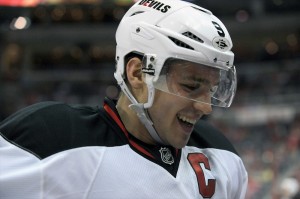 "We're not making money and that's one reason we need to fix our system. We need to fix how much we are spending." – NHL owner, April 11, 2012
Those words could have been spoken by any number of NHL owners. As a lifetime resident of Massachusetts, it sounds like typical Jeremy Jacobs speak, but it just as easily could have come out of the mouths of owners in Miami, Tampa, Carolina, Columbus, any Canadian city, or just about anywhere but Detroit, New York, and maybe Pittsburgh.
However, those words were spoken, ironically, by Minnesota Wild owner Craig Leipold. Ironic because 84 days after saying his team was losing money and the league had to get a handle on spending, Leipold shocked the NHL by handing out a pair of 13-year, $98-million contracts to top free agents Ryan Suter and Zach Parise.
Now, I have no problem with the Wild going out and improving their team, and by signing Suter and Parise, they did that. Just with those two players, the Wild went from a non-playoff team to a top contender in the West. In reality, the signing is good for the NHL, as a small market team was able to snatch away the top two free agents from the big market teams like Philadelphia, New York, Chicago, and Detroit.
The issue I have with these signings is the hypocrisy of many of the owners in this league – Leipold specifically in this case. How can he go from crying poor and asking for owners to fix a spending problem to overpaying (and he did overpay, for Parise specifically) for two free agents 84 days later? Did the Wild suddenly start making money? Did he win the lottery? Was there a rush in season ticket sales? No, no, and no. The answer is quite simple …
Leipold lied.
He lied about his team losing money and he lied about feeling the NHL had a spending problem. He lied because the CBA was up and he was looking to get everything he could from the players. He may have even lied to make the big boys think the Wild would not be players for a hometown hero (Parise) and perhaps one of the top 5 defensemen in the NHL.
The lesson? Do not believe a word any NHL owner says while the CBA is being negotiated. The Suter and Parise signings were not just a win for those two players, but the entire NHL players association. It will give the union leadership something to point to every time an owner "claims" they are losing money and/or the league to needs to curb spending.