With Zach Parise taking his talents to the Twin Cities, the New Jersey Devils now find themselves asking, 'How do we replace Parise's offense and his presence on the team?' Despite the bleak outlook amongst the team's fans, GM Lou Lamoriello still has a myriad of options to improve the reigning Eastern Conference Champions. First and foremost, as of press time there are only three players from the Stanley Cup Finals roster that are missing: Parise, Alexei Ponikarovsky (Winnipeg) and Petr Sykora (free agent, word is he will only play in NJ).
Next season New Jersey could have a full season out of Travis Zajac, and will hope to have Adam Henrique and David Clarkson continue to develop into top-6 forwards. That is, if Lamoriello doesn't trade anyone off the current roster in an attempt to replace Parise's production. In most NHL trades, you have to give up something of value to get something of value in return; and it will be no different for the Devils as they move into the post-Parise era.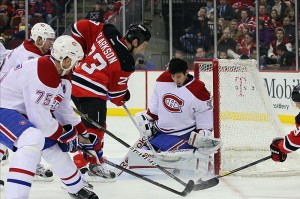 Here are a few scenarios of what could unfold in the coming days, weeks and months:
1) Trade Jacob Josefson/Henrik Tallinder OR Zajac/Mattias Tedenby to Anaheim for Bobby Ryan: The Ducks constantly dangle Ryan's name in trade talks/rumors and the New Jersey-native is fed up with it. He would fit nicely in NJ's top-6, and Lamoriello might even assign him no. 9 — a move he has pulled after previous, similar departures (see: Scott Niedermayer's 27, Scott Gomez's 23, Bobby Holik's 16, Jamie Langenbrunner's 15, etc.). Ryan is an All-Star caliber player, and Anaheim won't just give him away for peanuts, but his contract is affordable ($5.652 million for each of next three seasons), even for New Jersey. Trading Zajac would be tough, but not sure if a Josefson + Tallinder package would be accepted.
2) Trade Zajac/Tallinder to Winnipeg for Evander Kane/Alexander Burmistrov: Kane is a RFA, and Burmistrov could benefit from having fellow countrymen around (Ilya Kovalchuk, Anton Volchenkov) and a little less pressure. This could be a preemptive move in case Zajac wants to go home to Winnipeg ala Parise to Minnesota — fool me once, shame on me. Winnipeg would probably want a prospect or two thrown in, but the Devils don't have any untouchable prospects that haven't made the NHL yet so Lamoriello would be wise to make this trade happen if the opportunity presented itself. Kane could also wear no. 9, and he is a kid that could be marketed very well with Henrique as the rising young guns of the franchise.
3) Sign Alexander Semin and Mike Knuble OR Peter Mueller: Semin might jump at the opportunity to play alongside Kovalchuk, but his price tag could be too rich for Lamoriello's blood. Knuble could fill a third line role and be a presence in front of the net on the PP — something that not many Devils not named Clarkson know how to do consistently. Mueller is only 24 and would be worth a two-to-three year contract to see if he can develop into the talent that saw him getting drafted 8th overall in the 2006 NHL Draft. He's a big kid that could play wing or center and fill a spot on either of the Devils top three lines.
4) Stand pat and make a trade in-season: Sometimes the best move/trade you make is the move/trade you don't make. It'll be hard not to overreact to losing such a key piece of your team, franchise and identity; but Lamoriello has been down this road before and lessons are learned every day. Chances are he makes some kind of move (no, Krys Barch's signing doesn't count), maybe adding a Wojtek Wolski or Shane Doan or Jochen Hecht.
5) Trade Zajac/Clarkson/Jon Merrill and a 2nd round pick to Columbus for Rick Nash/Nick Foligno: Okay I know likelihood of this happening is .000001%, but it's summer and there's time to pass. This might be the best deal GM Scott Howson will be offered, because it seems that no team is willing to give up any players of significant value to acquire Nash, who was a no. 1 overall pick and is a perennial All-Star (See: NY Rangers, Carolina, Toronto). A trade of this magnitude would certainly send another round of shock-waves through the NHL community just as the Parise + Ryan Suter signings did on July 4.
Dan Rice can be reached via Twitter: @DRdiablo321 or via email: drdiablo321@yahoo.com