Minnesota has suffered. It has for a while. Zach Parise, Ryan Suter, and 196 million dollars changes it all.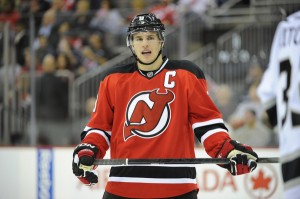 The Minnesota Vikings are 0-4 in Super Bowls and their best two teams in franchise history never made the Super Bowl; 1998 and 2009. Gary Anderson missed wide left after being perfect the entire season in 1998 after a 15-1 season and then Brett Favre broke his leg and threw an overtime interception during the New Orleans Saints Bounty Gate's highlighted game in 2009.
Kevin Garnett left the Timberwolves and won a title with the Boston Celtics, because apparently they didn't have enough banners yet. The Timberwolves have the worst winning percentage in the past five seasons, .264.
Kirby Puckett's career was cut short; David Ortiz and Doug Mientkiewicz left for the Boston Red Sox and won a few rings; Johan Santana was traded to the Mets, and Torii Hunter, Michael Cuddyer, Jason Kubel, and Joe Nathan all left for free agency, just to name a few.
Marian Gaborik suffered groin injuries and then left for the Big Apple.
The Minnesota North Stars left in 1993, when I was just 3 years old. They were 0-2 in Stanley Cups and lost 8-0 in the last Cup game they ever played in 1991 against Super Mario Lemieux's Pittsburgh Penguins.
Minnesota sports has suffered, other than the 1987 and 1991 World Series, this town was dying. They made it into a joke. Timberwolves tickets are free, Twins can't beat the Yankees, the Vikings will never win a Super Bowl, and the Wild are an AHL team. It became comical. They began to expect nothing. The North Stars left, the Twins were supposed to be contracted, and the Vikings were moving to LA.
This isn't New York, this isn't the Miami Heat, and this isn't the Dallas Cowboys. This town never gets the big free agent. This town's trades never work out. When you walk into a kid's bedroom in Minnesota, you see Sidney Crosby, Alex Ovechkin, Kobe Bryant, LeBron James, Derek Jeter, Peyton Manning, and Tom Brady on the walls. Minnesota knows what New Jersey and Nashville are going through, they've done it forever. It's time to start seeing some Wild players on the walls.
In the last year the Vikings went 3-13, the Twins lost 99 games, and the Wild missed the playoffs after a 20-7-3 start.
That's not enough? Adrian Peterson and Ricky Rubio tore their ACL's, Scott Baker had arm surgery, and three of the four teams have changed coaches in the last two years. Mike Yeo, Rick Adelman, and Leslie Frazier are coming off their first years as head coaches for their respective teams.
Unless you know that the Minnesota Lynx are the best WNBA team in the league, defending champions, and possibly a dynasty, Minnesota sports was "Loserville USA" as the local media likes to call it.
Joe Mauer is making 23 million dollars a year and is under the ultimate scrutiny even though he is their lone all-star. Their one knock on Mauer, their hometown kid, is that he can't hit home runs and designate hits from time to time. That's it. Mauer is probably going to win another batting title this year, he will lead the league in on base percentage, but because Carl Pavano, Jason Marquis, Nick Blackburn and Scott Baker can't win baseball games, the fans at their beautiful Target Field want to boo Mauer.
They were asked to cheer on in their beautiful multi billion dollar stadium: Rene Tosoni, Rene Rivera, Brian Dinkleman, Joe Benson, Jason Repko, the list goes on and on.
Last year Minnesota fans were asked to cheer on Christian Ponder, Michael Jenkins, and Devin Aromashodu, the Vikings almighty passing attack in a passing league. Percy Harvin wants a trade and isn't happy.
They were asked to cheer on Darroll Powe, Chad Rau, Warren Peters, David McIntyre, Jed Ortmeyer, Brad Staubitz, Greg Zanon, Cody Almond, Carson McMillan, and Steven Kampfer. You don't want to know how many games they all played.
The Minnesota Wild have swung and missed on their first round draft picks over and over again. AJ Thelen was their 2004 first round pick, 12th overall. They drafted Benoit Pouliot in 2005, 4th overall; James Sheppard in 2006, 9th overall; Colton Gillies in 2007, 16th overall; Tyler Cuma in 2008, 23rd overall; Nick Leddy in 2009, 16 overall, traded. It could make you cry if you're a Wild fan.
I was 10 years old when the Wild began their inaugural season and I gave up being a Philadelphia Flyers and Colorado Avalanche fan that year. I can list you the entire Wild roster off the top of my head. I used to get excited about Stacy Roest, Antii Laaksonen, Aaron Gavey, Branko Radivojevic, Wes Walz, Jim Dowd, Scott Pellerin, Andrew Brunette, and Darby Hendrickson, just to name a few of the players that have been apart of Minnesota Wild hockey. It was cool, I was 10, and professional hockey was back in Minnesota.
In 2003 they were in the Western Conference Finals with Cliff Ronning, Richard Park, Willie Mitchell, Pascal Dupuis, Filip Kuba, Walz, Dowd, Brunette, Gaborik etc. Then they ran into the oversize padded goalie J.S. Giguere and were swept in four games by the Mighty Ducks of Anaheim before the world even knew Minnesota had a hockey team again.
Mikko Koivu's been given nothing to work with after Gaborik left.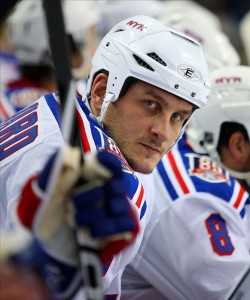 They've only been around for 12 years and the State of Hockey has had to mourn three unbelievably tragic deaths to Sergei Zholtok, Pavol Demitra, and Derek Boogaard. My heart aches still, right now, that'll definitely bring a tear to your eye.
The Wild have had more funerals than playoff appearances. Season tickets started dying down, the consecutive sellout streak ended, and the games were no longer a must see. The buzz was gone, the Xcel had no Energy Center, and Jacques Lemaire and his post game press conferences were ousted. The Doug Risebrough team was no more.
Finally, on the 4th of July, when it was over 100 degrees and humid outside, Minnesota finally hit the sports jackpot.  Wild fans don't have to listen about the future and prospects anymore. Wild fans don't have to pray Pierre-Marc Bouchard, Koivu, and Guillame Latendresse won't get injured anymore, although, please Lord, let Koivu and Bouchard stay healthy. Wild fans don't have to check World Juniors box scores.  They don't have to trade away fan favorites like Brent Burns and Nick Schultz.
Who would've thought that Minnesotans could get so excited about a Wisconsin Badger and a Fighting Sioux? 13 years and 196 million dollars later I will be 35 years old. I have no idea what 35 years old means, but I'll guess I might be married and have children. I was 1 year old when the Twins won their last World Series, I know who Kirby Puckett was. I saw Kirby Puckett play. Will my kids see Parise and Suter? Will my kids be 5, 6, and 7 years old when the Wild win their, not one, not two, maybe third Stanley Cup? Will No. 9, No. 11, and No. 20 be lifted into the rafters next to the, not one, not two, maybe three banners. It's called a dream. They'd be fine with one.
Zach Parise and Ryan Suter are not LeBron James and Chris Bosh. The Minnesota Wild are not the Miami Heat. They don't have a Title. They don't have a Finals MVP in Dwyane Wade. If Parise went to the Penguins, he'd be teaming up with the best Russian and the best Canadian in the World; that's Miami Heat like.
Mike Yeo is a likable coach. He's a sincere and humble man. He faces the media. I don't know if he's a Stanley Cup caliber coach, time will tell. Chuck Fletcher wheels and deals. Craig Leipold unloads his checkbook. They went all in and were dealt a pair of aces. Now Minnesota waits for the flop.
This team will be in at least one Winter Classic in the near future, if not two or three. This team will be expected to make the playoffs year in and year out. This team will have multiple all stars for the third time. Once when Minnesota hosted in 2004 when Filip Kuba and Dwayne Roloson were their representatives and then two years ago when Brent Burns and Marty Havlat made it, Havlat a replacement. We all know what happened to those two; they turned into Phillips, Coyle, Heatley, and Setoguchi.

Mikael Granlund was supposed to be the story of the summer, he was supposed to be the game changer, he was supposed to put people in the seats. Now he has no pressure as the second line center on a team who's odds just dropped from 200/1 to win the Stanley Cup in Las Vegas down to 20/1. He might be the run away rookie of the year. Jonas Brodin was supposed to be the Wild's future Norris Trophy winner, now he's going to learn and play behind Suter. Coyle, Larsson, Phillips, and Zucker were supposed to be fighting for over pressured top-6 spots on this year's teams. Now they can develop at their pace and wait for the likes of Heatley, Cullen, and Bouchard to come off the books; more cap room, can you believe it?
This is all apart of Fletcher's masterful plan. It's not cheating the system. It's not buying the cup. It's called changing a franchise. The future starts today.
It's fun to create line combinations that no longer need prospects or a future.
First Line:
LW: Parise                  C: Koivu                     RW: Heatley

Reasons: They are electric, they are creative, and they are the best three forwards on the team. Oh, and they're all extremely good in the defensive zone. Give them the minutes.
Second Line:
LW: Cullen                  C: Granlund                RW: Bouchard

Reasons: Granlund is the future of this team. They have 13 years of Parise and Suter to build around. Granlund needs to be the center. Cullen gets the nod over Setoguchi because he earned it last year and with his career. He will be a great mentor for Granlund, that of which Koivu doesn't mentor already.
Third Line:
LW: Setoguchi             C: Brodziak                RW: Mitchell

Reasons: Brodziak is the perfect third line center. He's physical, defensively sound, unique goal scoring capabilities, and a hard worker. Setoguchi talked extensively last year about wanting to play with a former teammate, well, say welcome back to Mitchell. This line is fast, feisty, physical, and has streaky scorers.
Fourth Line:
LW: Powe                   C: Konopka                RW: Clutterbuck

Reasons: I fully understand Clutterbuck deserves more minutes as general manager Fletcher said on KFAN radio this morning. But this line would be scary to play against. Clutterbuck would have that energy on a nightly basis; you'd keep him healthy. And this line would get more than fourth line minutes.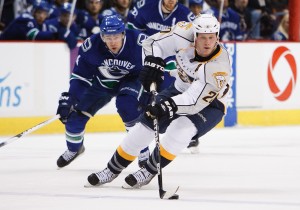 Defensive Pairings:
Suter and Scandella
Gilbert and Spurgeon
Falk and Stoner
Reasons: I understand that Tom Gilbert and Suter are friends, but they can be friends off the ice. Get lunch together. Suter's ceiling is Shea Weber's and Scandella has the ceiling of being Suter's Suter. Spurgeon and Gilbert are a puck moving, offensive skilled, and an electric pairing.
Prospects and extras fighting for spots:
Forwards: Stephane Veilleux, Matt Kassian, Charlie Coyle, Jason Zucker, Johan Larsson, Zach Phillips, and Brett Bulmer.
Defensemen:
Falk and Stoner are not locks by any means. Both signed extensions this summer, but they will be battled for extensively. Personally, I think Jonas Brodin will crack the opening day lineup.
Others:
Nate Prosser, Matt Dumba (2012 1st round pick), Brodin (2011 first round pick), Kampfer, Cuma, and Genoway.
Goaltenders:
Niklas Backstrom and Josh Harding with two beauties waiting in Houston, chomping at the bit. Wait one year, guys. Niklas, this is your shot.
Parise and Suter are saying all the right things. Parise called Koivu a great captain and can't wait to play on his team. This is Koivu's team, but I don't think he'll care if he passes up the spotlight of the 12th best team in the West, to a top-6 team in the NHL, and have him skating along his left side. In hockey terms, in all seriousness, I really believe the Wild got both players for a discounted price in some weird way. In fact, I think the Suter contract is more valuable and I think he will play at a very high level for most of his contract. 13 years is a long time and a lot of things have to fall into place for it to be worth 196 million dollars, but it was a no brainer, franchise changing move that no Minnesotan will ever forget where they were on the 4th of July, 2012.
I've been saying them, they, and Minnesota. For the first time in a long time, sports talk on the 4th of July at a Minnesota barbecue wasn't a quick joke making fun of our teams, our cities, and our state. We were celebrating American's freedom, by bringing two Americans home to the northern Midwest. Two franchise changing all-stars in the prime of their careers, something that has never happened for us in any sport in any decade. This was our day. This was Hockey Day Minnesota in July. The river never felt so cold.
Governor Tim Pawlenty announced that hockey is Minnesota's official sport. All it took was 196 million dollars. This isn't the end. This isn't the parade. This isn't the celebration. This is Minnesota's 4th of July. This is our freedom. This is the beginning of our new franchise. This is our birth of a new sports city. This is just our start.
Team of 18,000 say it with me, Let's Play Hockey.
David H. Brown is a writer based out of Minnesota, the State of Hockey, where he was born and raised. He's covering the Minnesota Wild for THW. He graduated from California Lutheran University in Thousand Oaks, Calif., where he regularly attended Kings and Ducks games. His personal website is dhbrownsports.com and you can follow him on twitter @dhbrownsports and @dhbrownTHW. He likes pepperoni pizza.