Early Thursday afternoon, the Philadelphia Flyers announced the signing of Ruslan Fedotenko to a one-year contract worth $1.75 million, bringing the 33-year-old left winger back to the city where his career began over a decade ago.
Many might have forgotten that Fedotenko broke into the league as an undrafted rookie with the Flyers' organization in 1999, working his way through the team's ECHL and AHL affiliate, before spending two seasons with the orange and black.  He was eventually traded to the Tampa Bay Lightning, along with two second round draft picks for up-and-coming defenseman Joni Pitkanen.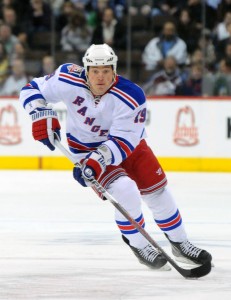 Fedotenko has accomplished a lot since he was traded in 2002.  During his time with four different teams, he not only played with the likes of Martin St. Louis, Sidney Crosby and Brian Boyle, but he also won the Stanley Cup twice – once in 2004 with the Tampa Bay Lightning and in 2009 with the Pittsburgh Penguins.  However, his career has steadily been on the decline since earning a spot on the New York Rangers as a training cap tryout in 2010.  Last season was the least productive of Fedotenko's career, finishing with just 20 points in 73 games.
So what exactly does Fedotenko bring to the Flyers?
Most importantly he brings experience, which could be huge for a team that is among the youngest in the NHL, while he is technically in the prime of his career though the numbers don't show it.  With the recent loss of Jaromir Jagr to free agency, the Flyers were in need of a leader and Fedotenko has earned a reputation for being a positive presence in the locker room.
The Flyers had a hole at forward that needed to be filled and since it had been reported that Columbus is asking for way too much for Rick Nash, general manager Paul Holmgren decided to go the cheap route – though that hasn't always worked for Philadelphia.
"We've actually tried to sign Ruslan a couple times over the last few years and we've always missed out," Holmgren said.  "I like him, and I think he's going to bring a lot to our team in terms of leadership, and I think he's a winner, I really do."
On the ice, Fedotenko depends greatly on his speed, despite having lost a step or two over the years.  He's a solid two-way forward who started the bulk of his shifts in the defensive zone, which leads me to believe that the Rangers' staff trusted him to not only keep the opposition off the score sheet but also to help clear the puck into the neutral zone.  The Flyers – who were the third-highest scoring team last season – will gladly give up some scoring for a forward with solid forechecking skills.
Plus now he can't score big-time goals against Philadelphia anymore.  His 16 career goals against the Flyers – many of which have come in the playoffs – are more than he's scored against any other NHL team.
After trading James van Riemsdyk to Toronto for defenseman Luke Schenn, the Flyers were in need of a left winger and although he won't be the missing piece Philadelphia needs, he could fit in well with this team.  But at this point in the summer, the Flyers still are no better than they were when they skated off the ice on May 8.  It might just be time to wait and let the young guys develop.
Ed is a die hard sports fan from Philadelphia who follows all of the city's local teams. He has written for a number of print and internet media sources and is a hockey junky. When he is not watching a game, he is spitting out useless trivia knowledge, or upholding his title as movie quote extraordinaire. You can follow Ed on Twitter @PhillyEdMiller.