We are one-third of the way through the 2018-19 NHL season, and it has been an interesting start to say the least. Rookie Filip Chytil became the first teenager in New York Rangers' history to go on a five-game scoring streak, Henrik Lundqvist moved into seventh on the all-time wins list with 440 wins, and new head coach David Quinn seems to have made an easy transition from the NCAA to the NHL. After what was supposed to be the first year for a "rebuilding" organization, the Rangers are sitting at one win (two points) away from a wild-card spot. So let's get right to it. Here is the Blueshirts' report card so far.
Offensive Performance
Goal Scoring: C-
Through the first 28 games, the Rangers have picked up 13 wins, 12 losses, and three overtime losses, for a total 29 points, and one of the first problems contributing to this record is scoring. With an average of 2.71 goals per game (GPG), the Rangers are six spots away from the worst GPG ratio in the NHL, sitting at 25th place behind the struggling Chicago Blackhawks.
While fans were expecting a learning curve for rookies like Filip Chytil, Brett Howden, and Lias Andersson, the performance from the top franchise players has been poor to say the least. Chris Kreider is currently leading the team with 14 goals and eight assists for 22 points, followed by Jimmy Vesey (9-5-14), Mika Zibanejad (8-17-25), and Kevin Hayes (5-12-17). However, maybe it is not so much performance as it is potential. It is important to note that these "top line" players are nowhere near the caliber of the other stars in the game.
For example, look at players like Mikko Rantanen and Nathan MacKinnon of Colorado, and Nikita Kucherov of Tampa Bay. They have already broken the 40-point mark for this season, and it's no surprise you find both of these teams at the top of their conferences. While it is true that defense wins championships, you need offense to win games.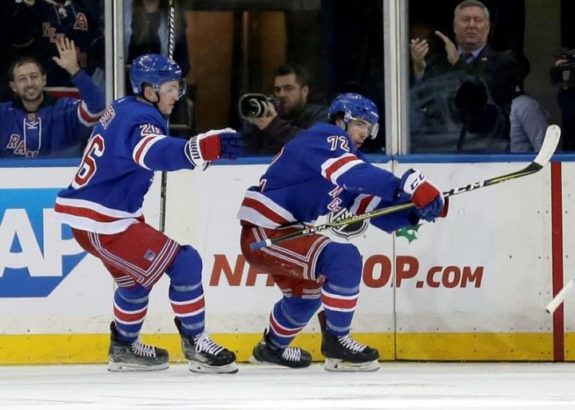 Right now, the Rangers' top two lines are failing to produce, and it may have to do with their lack of skill, not effort. Until the Blueshirts develop some players capable of mimicking these top talent stats, mediocrity will continue. For these reasons, I cannot justify anything higher than C-minus. The Rangers need to generate some chemistry if they hope to be playing in May and June in 2019.
Generating Scoring Chances: D+
While the chemistry may be lacking as head coach David Quinn continues to move players around in the lineup, there is no question that lower shot numbers lead to fewer scoring chances. It shouldn't come as a surprise that the Rangers are the 25th worst in the league for shots on goal per game, averaging a low 28.9 shots/game played. Maybe the scoring trouble up front is as simple as this: the Rangers are worried about looking pretty.
While some players can move the puck well, the Rangers are not stacked with highly skilled, veteran players (right now), that get highlight reel goals on a nightly basis. However, they are stacked with players that can make smart plays to change the flow of the game. They need to rediscover this hard-nosed, chippy style of play, the same style the 2013-14 team possessed that got them to the Stanley Cup Final.
Throw pucks in deep, forecheck hard, and throw anything and everything at the net. It is a system that's been tested time and time again, and it's because it works. A goalie can only handle so much in front of the net before a puck gets loose, and someone is there to slam it home. This is the exact style of play this young team needs to adapt.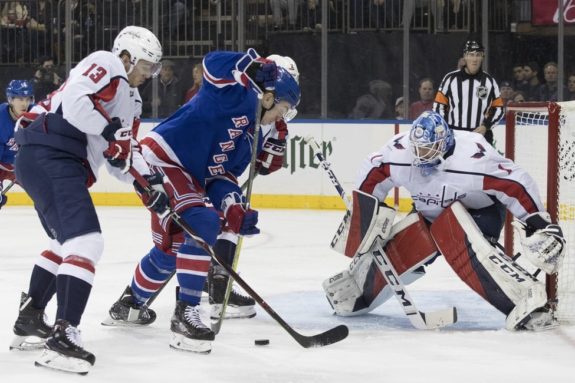 The Rangers are not good enough to go coast-to-coast and rip one bar-down from the top of the circles — not yet at least. Throw pucks to the net, get grinder goals, and start winning more games. I give them a D-plus for now, but I'm optimistic this will improve throughout the season.
Forechecking/Neutral Zone Play: A
One area in which the Rangers are playing consistently well is forechecking in the offensive and neutral zones. The Rangers have done a great job this season of forcing their opponent to pass through traffic, applying pressure in between the blue lines, and running a consistent dump-and-chase system, allowing for quick line changes on the fly.
This system works well for a young team, allowing speed and conditioning to outwork talent and experience. It is something Quinn seems to be focused on, with shifts not lasting longer than 45 seconds. This system is producing a great number of turnovers, and this has been reflected in the early scoring chances the Rangers have been able to generate.
If the Rangers can find a way to put more pucks on net, offering more opportunities to capitalize on these turnovers, young speed and conditioning will beat even the most talented players in the league. The Rangers have been great at utilizing the forecheck, and have earned a solid A so far.
Defensive Performance
Goaltending: A
One of the few aspects that have been a consistent positive for the Rangers, season after season, is goaltending. Henrik Lundqvist has been outstanding thus far, with a .921 SV % and a 2.63 GAA, ranking fifth and seventh in the league for goalies with more than 20 games played, respectively. He has been a role model for many of the younger guys on the ice, and night-in and night-out, plays with an intense amount of passion.
Lundqvist is struggling in the wins column compared with other starters, securing only nine wins in 21 games this season, and has not yet recorded a shutout. This falls more on the team than on himself, but is also not the best we've seen from Lundqvist. Regardless, Henrik shows up every night to compete, and independent of the talent in front of him, will give the Rangers a chance for a win.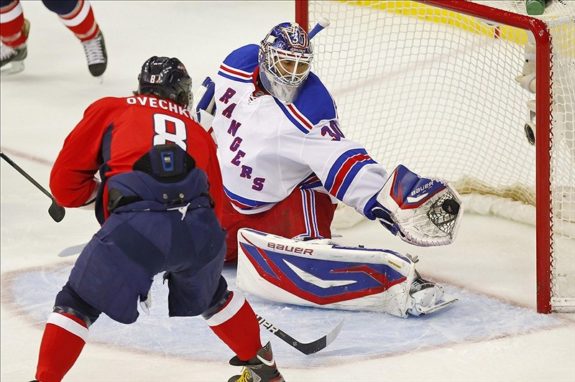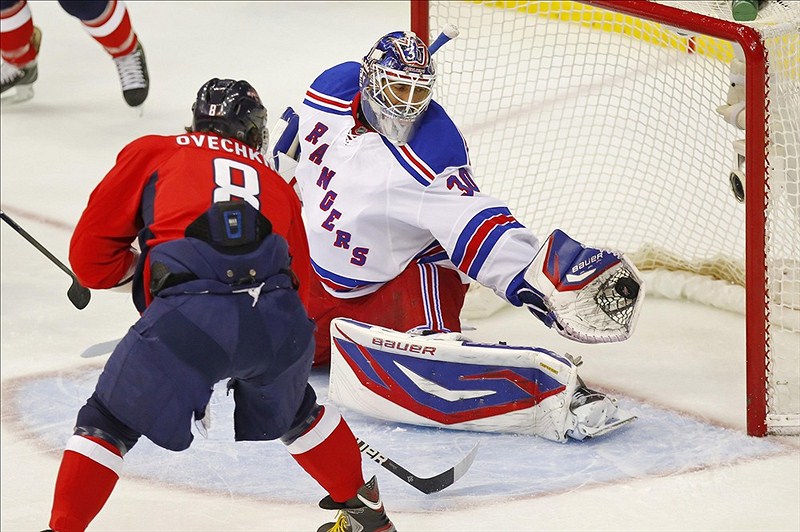 Lundqvist needs to stay strong and healthy for the remainder of the season, especially as he continues to climb in age, but so far, the King has earned an A.
Defensive Play: C
This has been a strange part of the Rangers' game so far, as the team as a whole is defending better than average. They are doing a great job of blocking shots, forechecking/neutral zone play has been strong (as mentioned above), and the team does not give up many odd-man rushes.
The defensemen are struggling, though, big time. Top defensemen, like Kevin Shattenkirk (minus-three) and Brady Skjei (minus-four), have been horrible. Many contribute Shattenkirk's struggles to his knee injury that has dampened his two seasons in New York thus far, but it is no question he has underperformed to the level Rangers' fans were anticipating.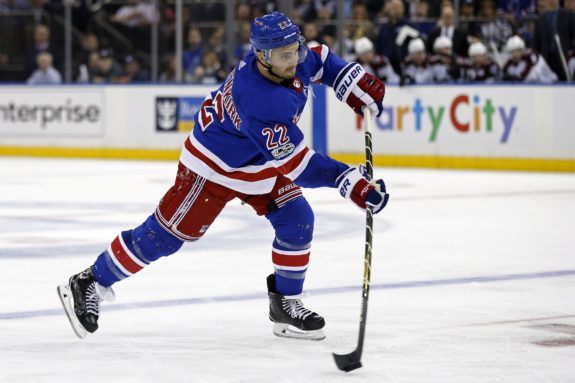 Overall, poor performance in puck battles in the corner, coverage in front of the net, and getting beat in one-on-ones have made Lundqvist's job that much harder. Due to the above-average performance by the team as a whole, but below average play from the defensive unit, defensive play receives a C, with plenty of room for improvement.
Maintaining a Lead: F
By far the worst part of the Ranger's game this season has been their inability to maintain leads. The Rangers are 7-5-3 this season when scoring first, and have lost the lead in the second or third period in five of their 15 losses. Close out three of those five blown leads, pick up a win, and the Rangers are tied for first in the Division with the Stanley Cup Champion Washington Capitals.
Part of this may be due to the inexperience on the ice, as well as an adjustment period to a new coach. However, the Rangers must be better in important fundamental aspects such as this if they are to make a run for the playoffs, especially as it gets late in the season. Injuries are prone to happen, and energy levels are lower than early season play.
This is something that will come as this young group continues to mesh and mature as a team, but absolutely necessary to build a solid hockey organization. So far, the Rangers have failed at maintaining leads: F.
Special Teams
Overall Performance: C
Lastly, the Rangers' power play and penalty kill have been nothing to note in either a positive or negative direction. The PP is converting 18.8% of opportunities, 17th in the league, and the PK is killing off 77.9% of penalties taken, 18th in the league.
Sitting around the league average isn't something to harp on with a group of young players and a rebuilding phase taking place, but could be an improvement that changes the outcome of some close games in the Rangers' favor. A solid C performance thus far, but should improve as the young talent continues to learn how to make use of special teams.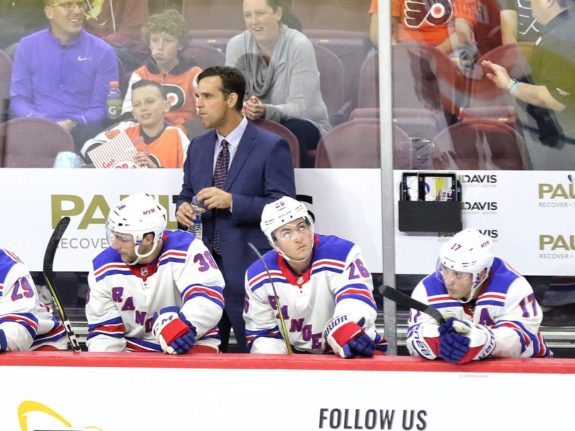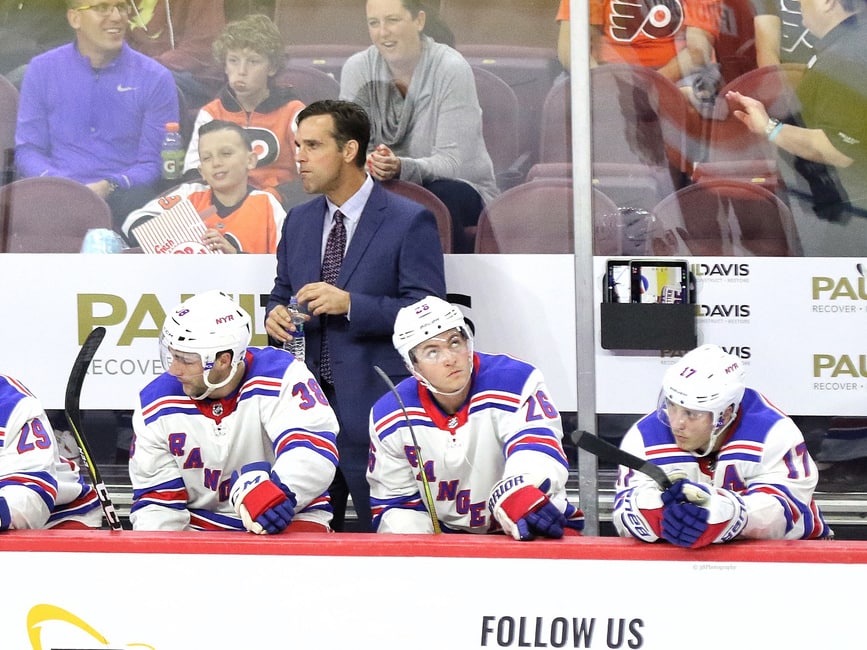 This season is definitely not the best start the Rangers have seen in the last few years. However, considering their inexperience, loss of influential players, and the hiring of a new head coach, being a few points outside of a wild-card spot is not the worst place to be. Increased intensity and cleaning up sloppy play are a must if the Rangers hope to be in the top-eight come the postseason.