The New York Rangers are expected to mix up their roster this off-season with the hope of getting younger and perhaps regaining some of the assets that they've parted with in recent years. But the focus again in 2016-2017 will be making this team more competitive.
No matter what the team decides, the Rangers need to go out and get someone who can be a pure shooter. The team is loaded with guys who are willing to pass the puck, but they don't have any forward who's strength is to shoot from the hip. If only there were some reliable, cheap, preferably right-handed forwards with such attributes. Oh wait, there is, his name is Radim Vrbata. After a down year, and a stagnant salary cap the Rangers could pull the Czech winger in as a low risk high reward type option.
Shoot First
Vrbata finished last season second on the Vancouver Canucks in shots on goal with 199 behind only Daniel Sedin. Now, the issue was that despite putting the puck on the net, it didn't go into the net very often. But there's reason to think the winger will rebound, considering the year before last he shot 11.6% and posted 31 goals and 32 assists. This past year he shot only 6.5%, and his 13 goals and 14 assists reflected that.
The Vigneault Factor
Rangers' Head Coach Alain Vigneault has an excellent track record of getting skilled players to harness their talent under him. He helped revive Chris Higgens in Vancouver, and more recently he's helped Benoit Pouliot and Viktor Stalberg assume significant roles on his teams. I'm not saying that Vigneault will be able to make a player like Vrbata return to being a 30 goal scorer, or a defensive stalwart, but I could see him finding a way to be a power-play specialist and depth winger when put in a good situation.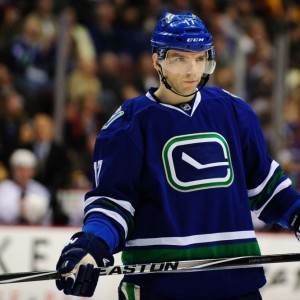 Under the Radar
After the trade deadline came and went last season, many Vancouver Canucks fans were stunned that their team (which was clearly not going anywhere) had failed to move veterans like Vrbata and Dan Hamhuis. Canucks General Manager Jim Benning told Joshua Clipperton of the Winnipeg Free Press that, "there weren't a lot of buyers in the marketplace" and explained that he "tried hard" to move the tandem but to no avail. Now hearing this makes one think that there was little interest in the winger, but the truth according to Jason Botchford of the Vancouver Sun, is that Vrbata used his no-trade clause to make any trade difficult saying, "I could have given a lot more, and I would have moved.".
The point is, despite a down year Vrbata was still a valuable player, the thought was that teams were afraid to grab a winger on the back nine of his career; the proof being that he wasn't moved when he could have been acquired for very little at the time. Most suspected his whopping -30 played a role, and while that's still a terrifying number, there's still reason to believe he could help a club.
Of course, now that the off-season is about to kick off we should expect Vrbata to be cheap considering most teams will look to lock in young talented RFAs and top tier UFAs.
My Take
An issue for the Rangers has been their lack of a right-handed sniper off the rush and on the power-play. In recent years, New York has turned to Dereck Stepan to be their guy on the left side of the ice in said situations, but the fact is that Stepan is another natural play-maker who seems to think 'pass first'.
The team has a ton of big questions to answer before they make a decision on a guy like Vrbata, but you'd have to think that if he's hanging around later in free-agency that he'd be worth a shot on a one-year deal worth a little over a million (if the team has any cap space.) If he gets more than that I'd personally be surprised.