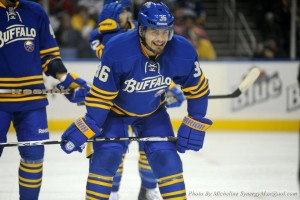 Sunday night, the Buffalo Sabres had the New York Rangers right where they wanted them. Leading 1-0, having essentially drained all the life out of Madison Square Garden  by slowing the game to a crawl, and New York on what has essentially been a non-existent, cringe-inducing power play early in the final period. It was all set up nicely for Buffalo to kill the man advantage, which undoubtedly would have brought boos and groans of frustration reigning down from the barely conscious crowd, and the Sabres could have slid quietly out of New York with an ugly but important victory.
That's when stupidity and lack of respect killed Buffalo and ignited the Rangers.
New York's Brad Richards was chasing a loose puck near the boards when, from behind, the Sabres Patrick Kaleta (who else?) landed a cross check to the small of Richards' back, driving the Ranger's center head first into the wall. While Richards lay writhing on the ice, thankfully more stunned than seriously injured, Kaleta was assessed a major penalty and thrown out of the game. The Rangers, moribund for over two periods, were awoken and made the Sabres pay. While on the ensuing five on three, Derek Stepan scored to tie it, and then Rick Nash beat Ryan Miller with New York still on the power play thanks to Kaleta's illegal and very dangerous hit.
Yes, the Sabres came back on the very same power play to score a shorthanded goal to tie it, and had numerous opportunities to win the game late in regulation and in overtime while on a two man advantage of their own. But the Rangers intensity had returned, spurring some big penalty kills and energizing the Garden crowd. The Blueshirts won the game 3-2 in a shootout, but without question Kaleta's hit was the turning point of the evening.
So perhaps Kaleta's cheap shot cost his team a game. Is that enough of a price to pay for potentially crippling another player? How will Brendan Shanahan and the NHL suits, who supposedly have the duty of ensuring players 'safety' , respond to this one? Based on their track record, there's no way to tell. Saturday night in Philadelphia, the Flyers' Harry Zolnierczyk launched himself into Ottawa's Mike Lundin, leaving his feet and driving his elbow and shoulder into Lundin's head. Shanahan suspended Zolnierczyk for four games. Four games for a hit that, as we all now know, could not only end a players career but could affect their long term health and quality of life?
Maybe we shouldn't complain. After all, it was just over a week ago that Montreal's Max Pacioretty drove the Rangers Ryan McDonagh's head into the glass while leaving his feet to deliver a hit from behind. Pacioretty skated off scott free, after a 'phone conversation' with Shanahan. It wasn't the first time Shanahan has let an obvious one go unpunished and, unfortunately, probably won't be the last. With Richards not being seriously injured and returning quickly to the game, what are the odds Kaleta receives more than just a slap on the wrist?
So where does it end? Zolnierczyk cost his team four games of availability, Kaleta his team a point in the standings. Is that enough of a price to pay? Does the overly image-conscious NHL really want to wait around for an on-ice tragedy before they take an actual stance on these dangerous cheap shots, especially those by repeat offenders? And to think, Gary Bettman truly believes fighting was the worst of hockey's ills. The all out campaign to end fisticuffs certainly has stamped out dangerous and gratuitous violence in the sport, hasn't it?
Brendan and Gary can keep waiting, while the clock is ticking on a tragedy.