If you put 10 individuals in a room and ask them their views on the same subject, I'll guarantee that you'll get answers from every different direction. That's why it isn't surprising you cannot get a consensus opinion on whether signing free-agent forward Ilya Kovalchuk would derail the New York Rangers rebuild.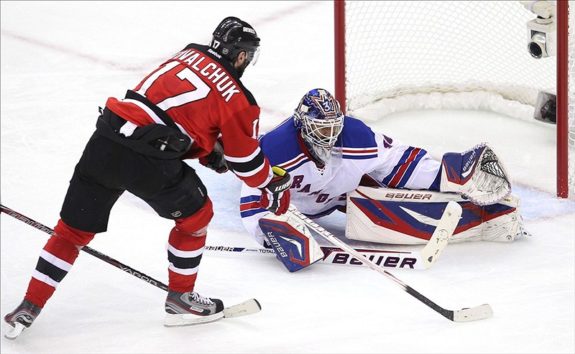 One thing for certain is that Kovalchuk is coming back to play in the NHL next season, and his goal is to compete for a Stanley Cup, so the window of opportunity may only be two or three years at the most. The Rangers are committed to a rebuild, which should eliminate them from the Kovalchuk free-agent sweepstakes, except if Rangers general manager Jeff Gorton could convince him to aid in the development of an inexperienced roster.
Kovalchuk's Voice Beneficial in the Locker Room
Next season, the Rangers will have lower expectations on making the playoffs, with greater emphasis on player development. Still, it's important to have some form of veteran leadership on the roster. Easily, Henrik Lundqvist has been the most vocal leader on and off the ice for the Rangers over the last few seasons. You see him constantly going over strategy with teammates during breaks in the action. Yet, another voice in the locker room would be beneficial in the development of a talented but inexperienced forward unit.
In 11 NHL seasons, Kovalchuk scored 417 goals in 876 games played, and his expertise could aid in accelerating the growth of Lias Andersson and Filip Chytil by taking the pressure off of them to produce on a nightly basis. His signing would grant the franchise's top two prospects some time to learn their trade before competing at a high-level. The Rangers would gain one of the most prolific goal-scorers of his generation who would improve their inconsistent power play with his heavy right-handed shot.
Kovalchuk's presence in the locker room could help Pavel Buchnevich with his ongoing transition to the bright lights of New York City. It would be wise for new coach David Quinn to have Kovalchuk skate on a line with Buchnevich, as he can give insight on how to capitalize on what the defense is showing during different rushes into the offensive zone. This will help him to become more aggressive around the crease, which should create better scoring opportunities for himself next season.
At 35, Kovalchuk Can Still Dominate the Competition
The biggest problem with signing Kovalchuk to a long-term contract is his age, as he's 35, but he shows no signs of slowing down. Kovalchuk scored 31 goals and 63 points in 53 games with the KHL's SKA St. Petersburg last season. The Rangers would be taking a huge risk if they make a commitment of this nature to Kovalchuk, especially if his offensive production curtails in the later years of the agreement. Suddenly, his contract would become an albatross around their neck in terms of available cap space moving forward. If Kovalchuk could score between 30 to 40 goals after signing with the Rangers, then he would become an absolute bargain.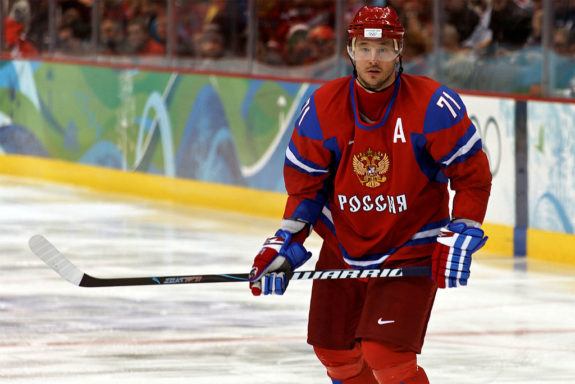 Helping maintain this level of longevity is the fact that Kovalchuk is one of the smartest players in professional hockey. He seems to be aware of his own strengths and weaknesses, as he is probably more athletic than he's given credit for being. For him, it's all about moving and creating space for himself in front of the crease. Over the years, Kovalchuk has adjusted his training and nutrition to keep his body fresh and sound for the grind of a long hockey season.
Personality Issues Could Derail Kovalchuk's Deal
Gorton must be aware of the red flags that come with Kovalchuk, as some believe he's a bit of malcontent with personality issues. Questions have to answered about his abrupt departure from the New Jersey Devils five years ago, or about him being stripped of his captaincy and sent back to St. Petersburg following a Game 1 loss in the 2016 KHL playoffs. These issues are very problematic, because the actions of a team leader cannot be deemed selfish.
Former teammates like Martin Brodeur came to Kovalchuk's defense, as Brodeur stated the following in an interview with the New York Post.
Kovy is one of the best teammates I've ever had. He really cares about winning, and cares about the guys on his team.
Brodeur felt Kovalchuk was being misrepresented in these allegations because he always brought a positive attitude to the rink each day and was well-respected inside the locker room during his time with the Devils.
Gorton doesn't have to be convinced about Kovalchuk's commitment to winning, but more about going it the right way. He plays with passion that can be misconstrued as being selfish at times. It may have more to do with Kovalchuk being a fierce competitor who now must show that he can play within a coach's system. It's important for Kovalchuk to be open and frank about his past actions, or Gorton should immediately cease in pursuing him.
Rangers Must Set Terms of Deal
From the Rangers' perspective, a move of this nature wouldn't derail their rebuilding effort, as adding a world-class goal scorer immediately upgrades the roster, but the deal must come at their terms. You never want to overpay for someone who hasn't played in the NHL since 2013. The only way this free-agent contract would work for the Blueshirts is if Kovalchuk agrees to a one- or two-year deal. If the terms are longer, then it comes at the expense of advancing a youngster like Jimmy Vesey into a top-six forward position.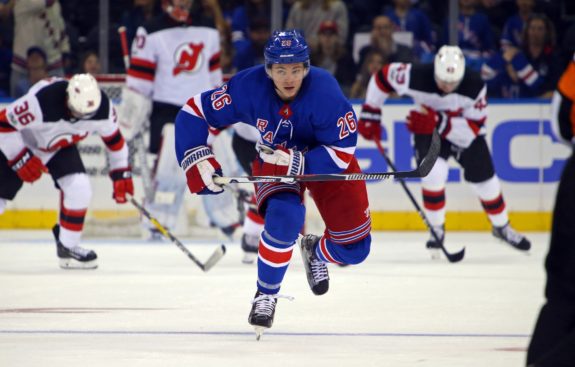 Granted, this scenario is a tough sell, as Kovalchuk has no time to waste. You have to believe there will be a number of factors taken into consideration before Kovalchuk makes his final decision to where he will play next season. The Rangers could contend for a playoff berth next season, but it may take two or three years before they become a serious Stanley Cup contender. The motivation has to be playing in his favorite U.S. city, in the best hockey league and helping an Original Six franchise return to elite status once again.