With their first pick in the 2017 NHL Draft, the Tampa Bay Lightning selected Callan Foote at 14th overall, the son of former defenseman Adam who won two Stanley Cups with the Colorado Avalanche, played in over 1,000 NHL games and was a captain with the Columbus Blue Jackets.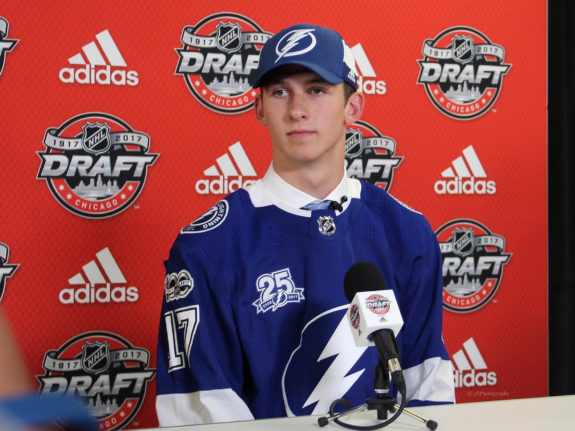 The younger Foote doesn't play like pops did though as he's much more of a dynamic, offensive threat on the ice — the exact opposite of dad who was a very formidable defensive defenseman during his era. Cal is tall (6'3", 209 lbs.) and lanky and once his frame fills out he has the potential to be a very good defenseman with the Lightning. Our own Ryan Pike thinks a likely comparison is Calgary's Dougie Hamilton and if that's the type of player that Tampa Bay drafted then the Bolts could have a formidable player on their future blueline.
"I like to play defense and I like to make sure I take care of my defensive zone, but I like to add some offense too," he said describing his game to Tampa Bay reporters. In his recently completed second season in the WHL with the Kelowna Rockets, Foote registered 57 points (6g-51a) in 71 games and represented Team WHL in the past Super Series against Team Russia.
Draft Day
"This is unbelievable; it hasn't really hit me yet, I think it'll take a few hours to hit me," Foote told the assembled media while wearing a brand new Lightning jersey over his button down shirt.
"I couldn't really sleep last night, I was tossing and turning," he said with a boyish grin. "I just relaxed today and got ready to come to the draft. I came here ready for anything and I'm very excited I was drafted."
He admitted he had no idea that the Lightning would be selecting him, or what their level of interest was in drafting him. "You never really know, you meet with a lot of teams," Foote said, "I talked with them at the combine, I talked with them during the season. But you never know what's going to happen."
An unforgettable moment. ⚡️ #NHLDraft pic.twitter.com/WsVuUnzy72

— Tampa Bay Lightning (@TBLightning) June 24, 2017
He also admitted he was somewhat awestruck when he first met Tampa's GM, Hall-of-Famer Steve Yzerman. "A little bit, yeah; for sure," he said while almost blushing. "Going into that room was an awesome feeling, getting to meet him and the whole staff was great."
He joins a team that has been fairly successful and has a solid core group of top end players with names like Steven Stamkos, Nikita Kucherov and Victor Hedman currently on the roster, and that excites him even more about this new journey. "They've had quite a bit of success the past few years, so I'm excited to be on the same side as those guys," Foote said.
He also knows that he has some work to do before he will be ready to make that next step and become an NHL player. "My foot speed, that's my number one focus this upcoming season," Foote said of his footwork. He'll learn even more watching Hedman closely, and admitted that his new teammate is a player he enjoys watching.
"He's an unbelievable player, he's special to watch. He's definitely someone that I look up to."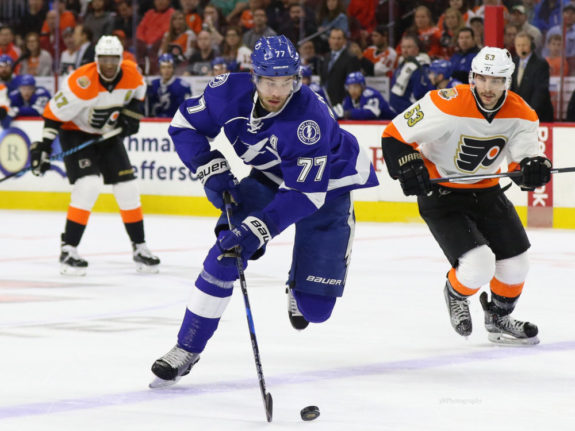 Foote One Step Ahead
"My dad has taught me pretty much everything or most I know about the game," said Foote. "He's helped me a ton and I'm very fortunate to have him in my life." But the younger Foote admitted he hasn't heard many stories about his new GM from his dad, yet. Yzerman's Red Wings and Adam's Avalanche had numerous battles over the decade where the two teams won a combined five Stanley Cups.
"I haven't heard many (stories), but I'm sure I'll hear much more now," the newest member of the Foote family in the NHL said with a laugh. He also noted that he was selected higher than dear old dad who was drafted 22nd overall by the Quebec Nordiques in the 1989 NHL Draft. "It feels really good, to be honest," he said jokingly before adding, "I'll definitely give it to him later for that.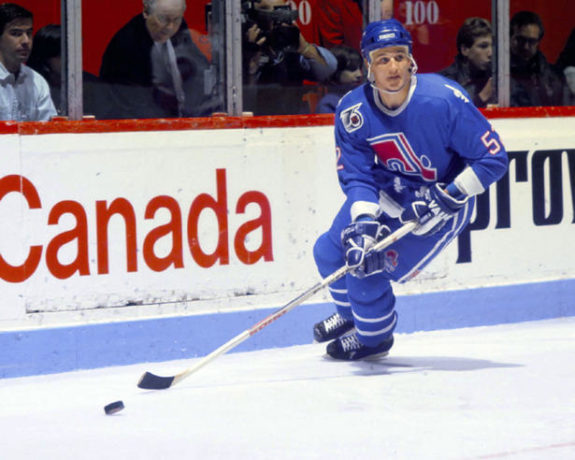 "He just told me to enjoy this moment, you never know what is going to happen here," Foote told The Hockey Writers after being drafted about the best advice that his dad gave him during the process leading up to the NHL Draft. "Just have fun and soak it all in."
Another thing he'll surely be soaking in will be the sun rays in Tampa Bay as the kid from Englewood, Colorado hopes to live and leave his Foote-prints in Florida.
Dan Rice is in his 9th year of reporting for THW & has covered NJ Devils home games for 15+ years at various websites. He began his journey working for legendary broadcaster/writer Stan Fischler from 2002-04 & completed an internship at the ECHL; he also has been writing features for the NWHL (nwhl.zone) website since 2016.