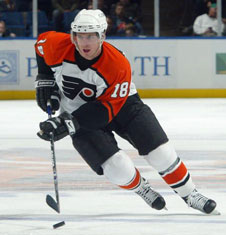 To say that Mike Richards is good just may be an understatement. In his last game Mr. Richards became the first player in NHL history to score 3 shorthanded goals when killing a 5 on 3 powerplay. That's no small accomplishment when you think about Richards turning 24 early in February. Tonight against Buffalo he put another record up on his big board. This was not an NHL record like his incredible goal last weekend. Instead it was a personal best. Richards put up 5 points against the Sabres in Philadelphia while adding yet another shorthanded goal to his career total. He has had plenty of four point nights but never an extra one. His important 5th point came on a steal late in the game where he carried it from the blueline to slice it into the Sabres' empty net. In fact he was either a part of of scored each of the Flyers' goals tonight except for the final empty netter scored by Darroll Powe who pulled a Richards-esque steal at the blueline to wrist the puck in finishing the Buffalo Sabres completely.
Richards may not score 3 or more points every night, but he is never absent when on the ice. He is constantly making his presence known whether it's his patience on the set up, the hit coming in the neutral zone when you least expect it, the fight for the pucks along the boards, or even the quick breakout on a steal during a penalty kill for an incredible goal. And before he does all of that, if he needs to, he will drop his gloves to give a spark to his team. That's what the Flyers captain brings to the table night in and night out. It's easy to say that there are guys out there who will dangle around defenders, but if you really want to be entertained sit in for a Flyers game and watch Mike go to work.
When he came into the league he was never expected to put up points but was drafted to be the new leader of Philadelphia for the next generation of Flyers hockey. He has since answered the call and then some. Even the Flyers very own Captain Cannon cannot do it alone though. Whether it's a break out pass from Timonen or Coburn, a set-up from Gagne on a two on one break, or Knuble sitting in front of the net to tip in a patient pass from his captain, Mike Richards is getting help. It all stems from him though. He sparks it; he creates it.
Tonight the Flyers win big against a tough Sabres team fighting for their playoff lives. This Saturday they welcome an ever dangerous Penguins team fighting for the same. No matter what happens you can be sure Richards will be there to make sure Pittsburgh knows that he is on the ice.
Philadelphia has played less games than everyone in the east but still sit in fourth place hoping to gain ground against New Jersey and Washington. The Flyers visit the Capitals soon as well. If you like flashy players like Alexander Ovechkin and guys that can do it all like Mike Richards then this is a battle for the ages. The new generation of hockey supremacy is about to clash for yet another epic battle.