The 2013 NHL playoffs are set to kick off on Tuesday night with the President's Trophy winning, and top seed in the Western conference, Chicago Blackhawks taking on the eighth seeded Minnesota Wild. The Wild only secured their postseason place thanks a 3-1 road victory over the Colorado Avalanche on the final day of the regular season.
A slow procession of previews and predictions have slowly been filtering through the various blogs and media outlets painting a pretty bleak picture for Minnesota fans. Just about all of the web's writers and bloggers have the Wild-Blackhawks series being wrapped up in four or five games by the 2010 Stanley Cup champions.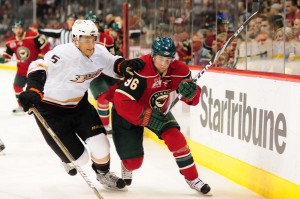 It is true that Minnesota slumped down the stretch, are a little young and generally don't appear to have the top end talent or depth to compete for their high-powered opponents. However, maybe just maybe there is a little more fight in this Wild team than many people are giving them credit for. Mike Yeo's roster might just be able to engineer an upset emulating the 2012 Los Angeles Kings, 2009 Anaheim Ducks and 2006 Edmonton Oilers, who have all recently won first round series as eighth seeds in the Western conference. The #1 seed in the West only owns a 4-3 record in the first round of NHL playoff series during the past seven years. That stat might just be significant.
Here's the three keys for Minnesota as they aim to add their name to that list.
Attack Corey Crawford
It's possible that no goaltender enters the 2013 NHL playoffs with more pressure than Chicago netminder Corey Crawford. His career has been the definition of up and down through three full seasons so far. He followed up an impressive rookie campaign with a disappointing performance in 2011-12 and entered the lockout shortened season with questions surrounding his long-term future as an NHL netminder.
Crawford has answered those critics pretty strongly posting a .926 save percentage and 1.94 GAA through 30 games during the past regular season. However, the playoffs are a very different animal. Nothing less than a Stanley Cup Finals appearance will be accepted by an expectant Chicago fan base and a player who posted an .893 save percentage in the 2012 postseason will have to shoulder that pressure.
He also enters the playoffs knowing that his starting spot isn't even completely secure. There are many who believe that Ray Emery should be the team's starter posted a 17-1-0 record to go along with a .922 save percentage and a 1.94 GAA. Injury will reportedly keep Emery out of Game 1, but if he returns to health during the series with pressure on Crawford then a disruptive goaltending controversy could well ensue.
The Wild need to get shots on Crawford and need to throw bodies to the net looking for second chance opportunities. Yeo needs his team to be aggressive and to get at a 28-year old goaltender whose confidence could still be tested.
'Special' Special Teams
Harping on about special teams has become one of the biggest cliches of NHL playoff coverage. Running a pair of successful special teams units isn't a 'golden rule' when it comes to playoff success, but it might just be the key for the Wild in this series. Minnesota owned a middle of the road short-handed unit killing off 80.7% of their penalties, while converting 17.9% of their man advantage opportunities.
This series isn't expected to be especially penalty filled considering that these two teams were the least and fourth least penalized teams in the regular season this year. Still, Yeo's team has no room for error in special teams play against a fast, highly-skilled and efficient Blackhawks' line-up.
Chicago's power-play under-achieved in 2013, especially towards the end of the year, but there's no doubt that Joel Quenneville has the talent at his disposal to run an effective unit. Minnesota goaltender Niklas Backstrom will play a critical role in that power-play. He will need to be sharp in terms of his lateral movement and he will need to step up to the task of playoff hockey more so than in his previous appearances. [See also: Exposed: Niklas Backstrom's Playoff Flubs].
There's no doubt that Minnesota's offense relied upon the power-play when at its most successful. They have the ingredients necessary to run a successful power-play unit in terms of skillful blue liners manning the points, a couple of great shooters and big bodies to throw in front of the net. However, production has been erratic from the power-play all season long and that will be a problem if it doesn't produce against a strong Blackhawks penalty kill.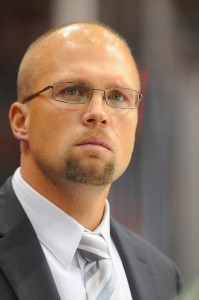 Mike Yeo Needs To Find Right Forward Combinations
Contrary to popular belief, this series is not a total mismatch in terms of offensive depth. Minnesota doesn't possess the outstanding top end offensive talent to match up against Chicago, but Yeo does have the personnel to put together three pretty decent two-way lines. The news that Dave Bolland will miss the start of the series will test the Blackhawks' depth.
The problem that Yeo will need to immediately address is finding the right balance in his forward combinations to start the series with winger Jason Pominville set to miss tonight's opener after he took an elbow to the face from Kings' captain Dustin Brown last week. It is likely that the coach will start Game 1 with the same lines that skated in the season ending win over Chicago:
Zach Parise – Mikko Koivu – Charlie Coyle
Jason Zucker – Matt Cullen – Devin Setoguchi
Pierre-Marc Bouchard – Kyle Brodziak – Cal Clutterbuck
Torrey Mitchell – Zenon Konopka – Mike Rupp
Conventional wisdom when facing the Chicago is that it is necessary to get after them physically and the fourth line, particularly wingers Mitchell and Rupp, will be crucial in doing that without taking too many penalties and without being a defensive liability.
In the longer-term, Yeo will face the challenge of managing rookies Coyle and Zucker in their first playoff series, while also juggling his lines to maximize offense when necessary. It wouldn't be surprising at all to see the likes of Jake Dowell and Mikael Granlund used as the Wild look for the best combinations.