The NHL All-Star Game is supposed to be a fun event, held at mid-season to put the talent and skill of the league's most coveted players on display. Sounds like a great time, right? The problem with the event isn't the idea behind what it sets out to accomplish but instead, the execution by the league. I'll admit that I thought they finally got it right this year, going to a three-on-three tournament that puts each division in competition with each other. It seems exciting, fun to watch and should provide ample entertainment.
The skills competition is always a fan favorite and maybe the most underrated part of the event is the fact that it brings a lot of revenue to whichever city it's held, while also bringing fans closer to their favorite players. It should be viewed as a vacation of sorts and a chance for players to unwind before entering the most grueling portion of the NHL schedule. Instead, it has become an event that many mock and have little interest in. It's an event that brings even more criticism to a league that needs no such thing right now. Honestly, it's time to scrap it.
NHL All-Star Game Fan Voting Created a Mess
Again, this is another piece of the All-Star game that sounds great in theory. However, we all know what happened when the fans voted in John Scott, the long-time goon that will serve little purpose in a three-on-three tournament among the league's best offensive threats. It seems that it became fan vs. league, as the NHL reportedly had a hand in Scott being traded to Montreal and reassigned to the AHL. Though it was never confirmed, some of the best sources in hockey aired some very concerning information around the swap that sent Jarred Tinordi to Arizona in exchange for Scott.
Prior to this, John Scott was asked by both the National Hockey League and the Arizona Coyotes to reconsider his decision to accept a spot on the team that was awarded to him by a fan vote. He refused to do that.
McKenzie also reported that the Arizona Coyotes were the party that wanted Scott included in the trade and that Montreal had no intentions of taking him. I'm not a conspiracy theorist, and the trade did make sense for both teams from a financial standpoint, but it sure reeks with the potential of something fishy.
The end result is that Scott is indeed taking part in the All-Star Game this weekend in Nashville. Many took to social media and hockey writers condemned the league for the possibility of them having a hand in this. The NHL announced that Scott would attend but was it only due to the added pressure from so many irate parties? We'll never know.
No Rest for the Weary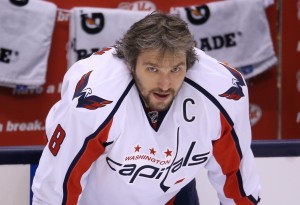 If the All-Star Game is supposed to be a fun occasion and provide mid-season rest for players, why have a rule that suspends a banged up individual for the following regular season game if they miss the event? Alex Ovechkin and Jonathan Toews will be suspended for their respective team's contests on February 2nd as they've both chosen to sit-out, with Ovechkin claiming a lower-body injury and Toews citing illness. In other words, fans that have spent large amounts of money on tickets to see the league's superstars will no longer have the chance to do so because the individual would prefer to use this time to recover. The NHL doesn't agree that resting is more important than their participation in the three-on-three exhibition tournament.
A similar issue occurred with Sidney Crosby last year and he also served a suspension for missing the game. I understand the reason for the rule, which is simply the NHL wanting to make it difficult for their main attractions to back out. If that rule needs to be in place, why not fine the organization instead of punishing the fans that have paid to see that individual? The issue is, how do you determine whether or not a player is healthy enough to play, thereby issuing a suspension or fine? Like I said, I get the reason but that doesn't make it right.
Loss of All-Star Game Means Loss of Revenue
I won't fault the NHL for wanting to cash in on an event like this. It generates a lot of revenue for the league and as I mentioned previously, it also brings people and money to the city it takes place. However, when it begins to shed negative light on the league and becomes a mocked event, why continue down that path?
My idea for a substitute product would be a week off from hockey and each organization run a youth hockey camp. While it surely wouldn't create the immediate revenue of the All-Star Game, it would create loyal fans and shed much-needed positive light on the league. Those loyal fans turn into ticket and merchandise sales, plus it helps grow the game of hockey in all of these regions. Unfortunately, we'll likely see the same circus occur every year.