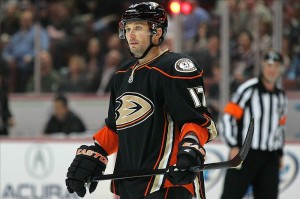 It seems that one thing after another had been going bad for the Islanders this summer, but finally the Islanders received some good news. Nearly three months after the June 22nd trade was made it became official Lubomir Visnovsky will be a New York Islander this season (of course assuming there is one).
As per the original trade the Islanders will send a second round pick in the 2013 draft to the Anaheim Ducks in exchange for Visnovsky. The trade was called into question by Visnovsky and his agent because they felt that a no-trade clause in his contract was still valid even though he had already been traded from the Edmonton Oilers to the Ducks. While there was a no-trade clause in his contract once he got traded the team who acquires him (in this case the Ducks) does not have to pick up the no-trade clause as well according to the current collective bargaining agreement. This is probably something that should have been discussed with Visnovsky's agent when that trade took place but apparently never was. The NHL arbitrator's ruling today was not unexpected but it does thankfully end one of the negative storylines around the Islanders.
Throughout this process Visnovsky and his agent managed to very carefully walk the line stating that while he loved the Islanders he thought the trade violated the terms of his contract. The Islanders took no part in the September 4th grievance hearing and as Visnovsky's agent Neil Sheehy said "this was a CBA issue between the NHL and the NHLPA." That may be true but the whole grievance process will not endear him to Islanders fans however, this certainly could have made both the team and Visnovsky look much worse. It is not an ideal start but these situations are not unfamiliar to the Islanders, and if Evgeni Nabakov and the Islanders could learn to get along after a rocky beginning to than there is hope for Visnovsky too.
On the ice having Visnovsky with the team will make defense situation for the Islanders looks much better. With solid veterans like Visnovsky and Mark Streit at the head of the pack and good young players like Travis Hamonic and Andrew MacDonald behind them the defense has potential both offensively and defensively. This also will also lessen the pressure on the Isles defensive prospects who do make the team.
While this certainly is a win for the 2013 Islanders, there is always bad news to go along with the good. With the NHL days away from a lockout the fact remains that if the season gets lost the Islanders will essentially lose a second round pick for nothing since Visnovsky's contract expires at the end of this season. Which given the luck the Islanders have had in recent years makes a lockout seem even more likely.