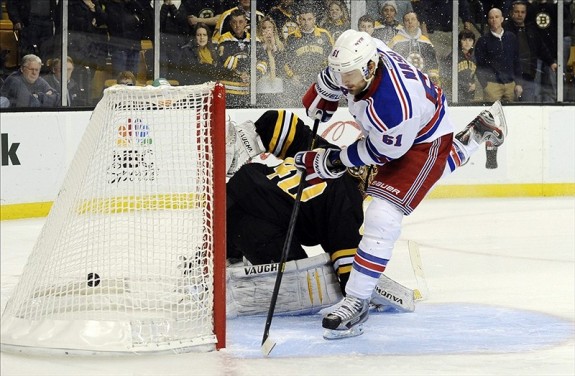 by Eldon MacDonald
Potential Carolina Hurricanes Picks
The purpose of this article is to give readers a feel for what the Carolina Hurricanes might be looking for in the upcoming 2013 NHL Draft in New Jersey and to provide some idea as to who may be available and picked with each draft selection. To give the reader a fairly wide range of information, we have provided the following:
Major Needs
Likely Draft Positions and Potential Picks
The Major Team Decision Makers
The Big Club – Current Roster
Top 10 Prospects
The Last Three Drafts
The reader should be aware that the suggested picks may or may not be available at the team's turn at the draft. They are indicative, however, indicative of the types of players that will be available and the types of choices that Jim Rutherford and staff will have to make come June 30th in New Jersey.
#NHLDraft Preview: #Canes in prime position to land impact player. STORY & VIDEO: http://t.co/FsbBYUbIQI

— Carolina Hurricanes (@Canes) June 14, 2013
Other Posts in This Series (THW's War Room Final Rankings)
You can use these posts to get more information on a player ranked 1 to 120 including the following on most prospects:
Nicknames
Audio
Video
Quotes
Twitter
Stats
Major Needs
1 – Someone to keep Alexander Semin company –Yes, if Jim Rutherford was prepared to stick out his neck signing Alexander Semin he might as well go all in and sign another Russian to make him to continue to feel comfortable in Carolina and help maintain motivation. His experience in Washington could make him the perfect mentor for a young Russian stud prospect.
2 – Power play controlling defenseman – Ryan Murphy on the horizon but he has not been the same guy since getting the concussion. Maybe we will get the old Ryan Murphy back like Marty Frk and Patrice Bergeron; maybe not. However, the power play is too important not to have a backup plan.
3 –Some grit – Either on offense or defense, a little more grit would go a long way in making Carolina more difficult to play against.
4 – Best player available (BPA) – Best player available is always a good strategy. However, when there are many players of similar value, it is usually the one who has the qualities your team values the most that comes out on top. Carolina's prospect cupboard is pretty bare, so BPA makes even more sense to Carolina this June.
Likely Draft Positions and Potential Picks
Round 1; pick 5 (The numbers in brackets are my rankings)
Preference 1 – Valeri Nichushkin (#5)
Preference 2 – Sean Monahan (#7)
Preference 3 – EliasLindholm (#6)
Preference 4 – Nikita Zadorov (#9)
Preference 5 –Rasmus Ristolainen (#8)
Preference 6 – Darnell Nurse (#10)
The Canes have a strong tendency with going for a forward in the first round. This year there are a number of excellent forwards who will be available at number 5, likely Valeri Nichushkin, Elias Lindholm and Sean Monahan. I can't imagine MacKinnon, Drouin or Barkov slipping beyond four.
Is Nichushkin just what the doctor ordered for the Canes? http://t.co/Qt1GuJWKZ3 #SunbeltHockey

— Sunbelt Hockey (@SunbeltHockey) June 18, 2013
Valeri Nichushkin hits the needs category dead on and can be argued to be the BPA as well. However, Jim Rutherford can meet his needs later without taking Nichushkin if he feels (maybe correctly) that Nichushkin is too risky a project for Carolina. Nichushkin did not have a great Combine and failed to impress many scouts during the interview process.
Scout on Nikushkin interview: "Early word was he's a different type of Russian kid (personality). Interviewed poorly, spooked by setting."

— Gare Joyce (now accepting bids for naming rights) (@GareJoyceNHL) June 14, 2013
The other two high-end forwards likely to be available are both centres: Elias Lindholm and Sean Monahan. With the Staal brothers at the core of the team for some time to come, the Canes would have to convert the one they select to a winger. I have a slight preference for Monahan as the convertee since his physical presence would augment the impact of the Staal brothers.
There are no wingers other than Nichushkin, in my opinion, who merit a selection at number 5 so that leaves the d-men, a category that Rutherford usually passes on in the first round (Ryan Murphy the obvious exception). There are three defensemen who may merit overcoming Rutherford's aversion to first round d-men:
Nikita Zadorov, ranked at 9 – a huge shutdown defenseman who may qualify as meeting need one as well. Unfortunately, He does not have a huge offensive upside. The Hunter brothers (London Knights owners and management) really like him, I really like him and he was very impressive in his interviews at the combine.
Scouts sees Zadorov as riser. "Improved leaps and bounds over course of season. Physically dynamic & showed skills more as he went on."

— Gare Joyce (now accepting bids for naming rights) (@GareJoyceNHL) June 14, 2013
Rasmus Ristolainen, ranked at 8. Risto doesn't meet need number one but could meet need number two while still providing a large physical presence at the back end.
Darnell Nurse, ranked at 10. Scouts are divided on Nurse; some rate him the best of the three as he has some Chris Pronger-like traits – size, nastiness, offensive potential. Others do not believe he has the hockey sense to be that great.
Wide variance of opinion on D Nurse. Some think difference between Jones & DN not so great. Others not fans of DN. #NHL #draft

— Gare Joyce (now accepting bids for naming rights) (@GareJoyceNHL) June 11, 2013
Round 2: Pick 35 – Historical success rate = 33%
Preference 1 – Dillon Heatherington (#43)
Preference 2 – Ian McCoshen (#36)
Preference 3 – JT Compher (#38)
Potentially available starting at 32 and ending at 43 are: Morgan Klimchuk, Robert Hagg, Shea Theodore, Zach Fucale, Ian McCoshen, Justin Bailey,  JTCompher, William Carrier, ArtturiLehkonen, Michael Mc Carron and Dillon Heatherington.
There is quite a bit of talent in this group and a team would be lucky with any one of them. There is very little difference in the talent coming from the 25 to 45 group so you could almost say the first round extends to around 45. Dillon Heatherington, a 6'4 maybe 6'5 hard to play against d-man, would be my first choice for Carolina in this group. Although, I have Dillon at 43 in my rankings, I keep recommending him as a solution over lower ranked players so I have probably have understated his ranking.
Round 3: Pick 66 – Historical success rate = 24%
Preference 1 –PavelBuchnevich (#69)
Preference 2 –Micheal Downing (#66)
Preference 3 –Gustav Olofsson (#70)
Potentially available starting at 62 and ending at 72 are: Eric Roy, Linus Arnesson, Nick Sorensen, Oliver Bjorkstrand, Michael Downing, Lucas Wallmark, Jan Kostalek, PavelBuchnevich, Gustav Olofsson, Yan PavelLaplante and Mitchell Wheaton.
If Rutherford doesn't take Nichushkin in the first, Pavel Buchnevich, a very talented Russian forward (can play centre or wing), who may slip to the third because of being Russian would be a nice second choice as a companion for Semin. Buchnevich looked very strong at the U18's outscoring his more famous countryman, ValeriNichushkin. Alternately, there are two defensive prospects who would be picked in the second round in most years likely to be still available in Michael Downing and Gustav Olofsson. Both have decent size and skating ability.
Round 5: Pick 126 – Historical success rate = 11%
Preference 1 –Tyler Lewington (#122)
Preference 2 –Ben Harpur (#129)
Preference 3 –Jarred Hauf (#130)
Potentially available starting at 122 and ending at 132 are: Tyler Lewington, AlexandreCoulombe, Marcus Högberg, Connor Rankin, ColeCassels. Mitchell Theoret, Spencer Jensen, Ben Harpur, Jarred Hauf, Jeff Corbett and Stephen Harpur.
Hmmm…starting to get close to darts time. There are really no prospects in this group screaming "take me". Likely you will be getting a better pick by selecting from the group I have listed under the round six pick, players I have ranked higher than NHL Central Scouting who may fall to the fifth round or beyond. However, some of the defensive prospects in the 122-132 range may have long-term potential so I have listed them above.
Round 6: Pick 156 – Historical success rate = 9%
Me 90 – NHL 156 – Matt Murphy
Me 97 – NHL 211 – Peter Trainor(3rd time available)
Me 109 – NHL NR – Jesse Lees
Me 114 – NHL 230 – MiroAaltonen(3rd time available)
Me 119 – NHL >290 – MarkusSøberg
Me 124 – NHL 200 – Marcus Högberg
Me 125 – NHL 165 – Cole Cassels
Me 131 – NHL 175 – Steven Harpur
Me unranked – NHL unranked – Albert Yarullin (3rd time available)
Me unranked – NHL unranked – Mitchell Theoret (re-entry prospect)
Me unranked – NHL unranked – BrendenKichton(re-entry prospect)
It is virtually impossible to tell who might be available from 156 on  so what I did was list those personnel who I have ranked in the 3rd and 4th rounds which the NHL has ranked 156 or greater that still have a decent chance of still being available. As this is as good time as any to make sure you take the best player available, I have listed the prospects in ranking order. I have also added Albert Yarullin who has a big shot on the power play,  Mitchell Theoret (6'2, 212) who looked very good for Barrie in the OHL playoffs and Brenden Kichton, a power-play quarterback with Spokane.
The Major Team Decision Makers
1 –President and General Manager: Jim Rutherfood
2– VP of Hockey Operations – Ron Francis
3 – Head Scout: Tony McDonald
4 – Coach: Kirk Muller
The Big Club – Current Roster
| | | | |
| --- | --- | --- | --- |
| No. | Left Wing | Centre | Right Wing |
| 1 | Jiri Tlusty | Eric Staal | Alexander Semin |
| 2 | Jeff Skinner | Jordan Staal | Chad Larose |
| 3 | Drayson Bowman | Tuomo Ruutu | Patrick Dwyer |
| 4 | | Tim Brent | Kevin Westgarth |
| 5 | | | |
|   | Prospect | Prospect | Prospect |
| 1 | Zach Boychuk | Victor Rask | |
| 2 | Zac Dalpe | Riley Nash |   |
| 3 | Erik Karlsson | Jeremy Welsh |   |
| | | | |
| --- | --- | --- | --- |
| No. | Defense | Defense | Goal |
| 1 | Joni Pitkanen | James McBain | Cam Ward |
| 2 | Jay Harrison | Joe Corvo | Dan Ellis |
| 3 | Tim Gleason | Justin Faulk | Justin Peters |
| 4 | Marc-Andre Bergeron | Bobby Sanguinetti |   |
|   | Prospect | Prospect | Prospect |
| 1 | Keegan Lowe | Ryan Murphy | |
| 2 | Austin Levi | Danny Biega |   |
Top 10 Prospects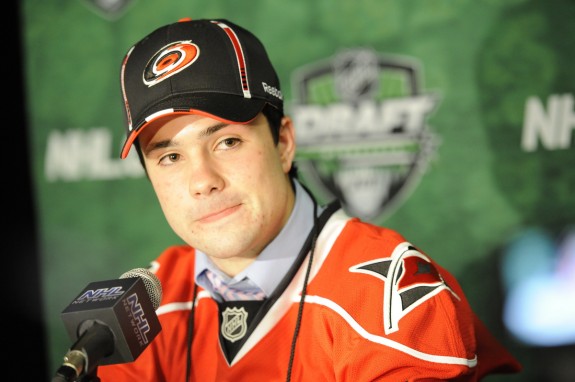 1 – 2011 – 012 – Ryan Murphy
2 –2011 – 042 – Victor Rask
3 – 2011 – 073 – Keegan Lowe
4 – 2008 – 014 – Zach Boychuk
5 – 2008 – 045 – ZacDalpe
6 – 2007 – 021 – Riley Nash
7 – 2012 – 099 – Erik Karlsson
8 – 2010 – 067 – Danny Biega
9– 2006 – FA – Jeremy Welsh
10 – 2010 – 085 – Austin Levi
Murphy and Rask remain top prospects for Carolina Hurricanes – http://t.co/ddfQztIMR4 #Canes

— Hockey's Future (@HockeysFuture) May 26, 2013
The Last Three Drafts
| | | | |
| --- | --- | --- | --- |
| No | 2012 | 2011 | 2010 |
| 1 | 038 Philip Di Giuseppe | 012 Ryan Murray | 007Jeff Skinner |
| 2 | 047 Brock McGinn | 042 Victor Rask | 037Justin Faulk |
| 3 | 069 Daniel Altshuller | 073 Keegan Lowe | 053 Mark Alt |
| 4 | 099 Erik Karlsson | 103Gregory Hoffman | 067 Danny Biega |
| 5 | 115 Trevor Carrick | 163 MattMahalak | 085 Austin Levi |
| 6 | 120 Jacob Slavin | 193Brody Sutter | 105 Justin Shugg |
| 7 | 129 Brendan Woods | | 167 Tyler Stahl |
| 8 | 159 Collin Olson | | 187 Frederik Andersen |
| 9 | 189 Brendan Collier | | |
Chris is THW's senior draft/prospect analyst and a Managing Editor. Watch for "The Next Ones" Prospect Profile series, exclusive rankings, mock drafts, as well as the annual THW NHL Entry Draft Guide. Follow @ChrisRalphYQ on Twitter as he infiltrates, dissects and analyzes all happenings of hockey prospects and the NHL entry draft. Email: cralph[at]thehockeywriters[dot]com