The 2013 NHL Entry Draft is rapidly approaching. At No. 11 overall, the Philadelphia Flyers will have plenty of options to choose from, including a wide range of talented defensemen. There's also the possibility of using that pick as leverage to land a proven veteran who can help right away. If the Flyers choose to use their pick this year, let's hope it turns out to be like their 2006 or 2011 first round selections.
With that said, let's take a trip back in time and look at what the Flyers did with their last 10 first-round draft picks:
2003: C Jeff Carter, 11th overall and C Mike Richards, 24th overall
Ten years ago, the Flyers landed two of their best draft picks in the 2000s. The two would go on to play six seasons in Philadelphia. In 461 games, Carter went on to score 181 goals with 343 points. He played an integral part in guiding Philadelphia to a Stanley Cup appearance in 2010 and his chemistry with Mike Richards on the top line translated into many great moments. Similarly, Richards netted 133 goals and 349 points in his his six seasons in the black and orange.
In hindsight, it would have been interesting to see what could have been with a player like Zach Parise or Dustin Brown in Philadelphia, both of whom were selected after Carter.
Notable players picked after No. 11: Dustin Brown (13), Brent Seabrook (14), Zach Parise (17), Ryan Getzlaf (19)
Notable players picked No. 24: Brian Boyle (26), Corey Perry (28)
2004: No pick
The Flyers traded their first round pick (25th overall) to Edmonton, who went on to select center Rob Scremp. The Flyers acquired Mike Comrie in the deal.
Had Philadelphia kept their pick, they could have selected defenseman Mike Green (29th overall).
2005: RW Steve Downie (29th overall)
The Ontario native played just two seasons in Philadelphia,  totaling 12 career points in that time span. He would eventually be packaged in a deal to Tampa Bay for defenseman Matt Carle. In Tampa (and later in Colorado), Downie became a productive skater, tallying 46 points in the 2009-10 season.
Notable players picked after No. 29: James Neal (33), Ondrej Pavelec (41), Paul Statsny (44)
2006: C Claude Giroux (22th overall)
It's safe to say Giroux has been a fantastic player since making his debut in the 2007-08 season. Named team captain this past season, Giroux has 291 career points with 91 goals and 200 assists. His passion for the game has made him a fan favorite in Philadelphia. No moment has been more memorable in his young career than his crushing hit on Pittsburgh's Sidney Crosby right after the puck drop in the 2012 playoffs.
The Flyers have made some bad decisions in the past, but they nailed their 2006 first round selection.
Notable players picked after No. 22: Semyon Varlamov (23)
2007: LW James van Riemsdyk (2nd overall)
JVR just never became the player everyone thought he would be in his short stint in Philadelphia. The major reason for that was injuries, though. When healthy, van Riemsdyk was a strong player in the black and orange. In three seasons, he posted seasons of 35, 40 and 24 points. Eventually, though, the Flyers moved on from him, sending him to Toronto last season for defenseman Luke Schenn.
In his first year across the border, JVR was a key cog for the Maple Leafs, registering 32 points with 18 goals and 14 assists.
His selection will always be remembered as "the pick right after Patrick Kane."  Curse you, Chicago.
Notable players selected after No. 2: Jakub Voracek (7), Logan Couture (9), Ryan McDonagh (12), Kevin Shattenkirk (14)
2008: D Luca Sbisa (19th overall)
The Swiss national team defenseman only played one year in Philadelphia before being dealt in a package with Joffrey Lupul that landed fan favorite Chris Pronger and Ryan Dingle. He has since played four seasons in Anaheim, where has had his ups and downs. There is still a lot to be desired in Sbisa's on-ice performance.
This is one draft pick that would have been nice to redo, especially if they selected center Jordan Eberle.
Notable players picked after No. 19: Michael Del Zotto (20), Jordan Eberle (22), Tyler Ennis (26)
2009: No pick
This selection was included in the Pronger deal. With the Flyers' 21st pick, Columbus (acquired in a trade with Anaheim) chose defenseman John Moore. He was included a deadline deal this past season between Columbus and New York that sent Marian Gaborik to the Blue Jackets and Derek Brassard to the Rangers.
The 2009 draft was not one of the deeper drafts in recent memory. There were some brilliant top picks, though, including John Tavares (1), Matt Duchene (3) , Evander Kane (4) and Brayden Schenn (5). Luckily, Schenn would eventually find his home in Philadelphia after being included in the Mike Richards trade.
2010: No pick
This pick was another selection forfeited in the Pronger trade. The Ducks went on to draft right winger Emerson Etem. At No. 29, the Flyers didn't  miss out any special players. The only notable players selected after their would-be pick was defenseman Justin Faulk (37) and Devante Smith-Pelly (42).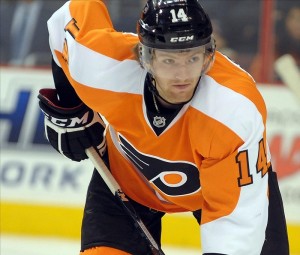 2011: Sean Couturier, 8th overall
Acquired in the Jeff Carter trade, the Flyers used the eighth pick in the draft to nab one of the best defensive forwards in the NHL. Couturier has developed into a reliable two-way player for the Flyers, making his biggest splash when he practically took Evgeni Malkin out of the equation in the Pittsburgh-Philadelphia battle in 2012. There's still plenty of growth left for the 20-year old. However, His name is being tossed around the rumor mill this offseason. Teams around the league are infatuated with his defensive play and offensive potential. The Flyers have stressed they want to keep him in Philly, but we have seen them trade away young talent before.
Notable players picked after No. 8: Dougie Hamilton (9)
2012: C Scott Laughton, 20th overall
Fans have heard all about Laughton, especially after his brief stint (5 games) this past season in the NHL. He has all the tools to be a productive forward at the top level. Reverting back to the Couturier trade rumors, the reason the Flyers may be willing to ship away their talented 20-year old is because they have Laughton waiting in the pipeline. In 49 games with the Oshawa Generals this year, Laughton tallied 56 points with 23 goals and 33 assists.
He has a very good chance of making the Flyers opening day roster next season.
Notable player selected after No: 20: Mark Jankowski (21), Malcom Subban (24)
A journalism student at Rowan University, Kyle is a Big Ten Reporter for Scout.com (owned by Fox Sports) and spent the 2013 season interning with the Philadelphia Flyers.