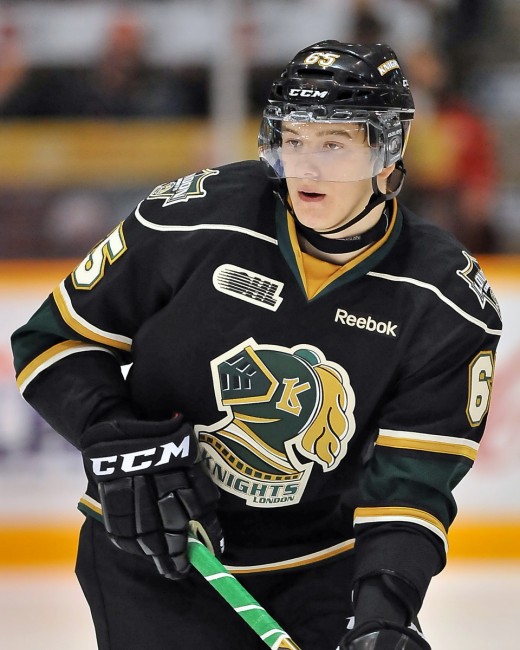 by Eldon MacDonald
Potential New Jersey Devils Picks
The purpose of this article is to give readers a feel for what the New Jersey Devils might be looking for in the upcoming 2013 NHL Draft in New Jersey and to provide some idea as to who may be available and picked with each draft selection. Even if you don't agree with all of my suggestions, this article should be able to provide you with most of the information needed to make your own selections. To give the reader a fairly wide range of information, we have provided the following:
Major Needs
Likely Draft Positions and Potential Picks
The Major Team Decision Makers
The Big Club – Current Roster
Top 10 Prospects
The Last Three Drafts
The reader should be aware that the suggested picks may or may not be available at the team's turn at the draft. They are indicative, however, indicative of the types of players that will be available and the types of choices that Lou Lamoriello will have to make come June 30th in New Jersey.
Other Posts in This Series (War Room Final Rankings – Top 120)
You can use these posts to get more information on a player ranked 1 to 120 including the following on most prospects:
Audio
Video
Quotes
Twitter
Stats
Major Needs
1 – Number one goalie –Yes, Martin Brodeur is likely to return next season but his run is coming to an end in the not so distant future; at least one would think so. Time to find the next Martin Brodeur. Is his name, Zach Fucale, Eric Comrie, Tristan Jarry, Spencer Martin or someone else entirely?
2 – Number one centre  –You want to win a Stanley Cup, the winners usually have one. They are a rare commodity so if one happens to be available, you jump on it.
3 – Lots of defensemen – After Adam Larsson, the list of quality defensemen gets short and the players on it start to age. There are a few quality prospects such as Jon Merrill in the system but most are unlikely to be impact players. Besides, you can never have too many good defensemen.
4 – Best player available (BPA) – Best player available is always a good strategy. However, when there are many players of similar value, it is usually the one who has the qualities your team values the most that comes out on top.
Likely Draft Positions and Potential Picks
Round 1; pick 9 (The numbers in brackets are my rankings)
Preference 1 – Valeri Nichushkin (#5)
Preference 2 – Sean Monahan (#7)
Preference 3 – Nikita Zadorov (#9)
Preference 4 – Max Domi  (#11)
Preference 5 – Zachary Fucale (#35)
Potentially available at 7 ending at 15 are: Sean Monahan, Rasmus Ristolainen, Nikita Zadorov, Darnell Nurse, Max Domi, Bo Horvat, Alexander Wennberg, Frederik Gauthier and Hunter Shinkaruk. The number one ranked goalie, Zachary Fucale is likely to be available and the 6'4 Russian, Valeri Nichushkin, could drop from the number five ranking.
In Lou We Trust >> NHL Mock Draft 2013: New Jersey Devils Select Hunter Shinkaruk with No. 9 Pick http://t.co/hqSJYFCLVH

— New Jersey Devils (@devilsbuzztap) June 19, 2013
For me, if Valeri Nichushkin were to be available, it would be awfully enticing not to draft him to pair with Ilya Kovalchuk. While Sean Monahan does not fit the definition of a number one centre, he certainly fits the bill of a number two centre which is almost as scarce. Then, there is always the giant defenseman or the goalie. Lots of good choices, lots of tough decisions – however, what the choice, whatever the decision, a good player is likely to become a New Jersey Devil from that draft selection.
Being the hosts, the Devils may want to make a splash and trade up a couple of spots and pick someone they covet, like a Valeri Nichushkin.
Prospects are our future. Find out how ready #NJDevils scouts are for the #NHLDraft on June 30 from @MikeMorrealeNHL: http://t.co/SPg0vybzfM

— New Jersey Devils (@NJDevils) June 3, 2013
Round 2: Pick 39 – Historical success rate = 33%
Preference 1 – Zachary Fucale (#35)
Preference 2 – Eric Comrie (#45)
Preference 3 – Tristan Jarry (#48)
Preference 3 –Ian McCoshen (#36)
Preference 5 – Dillon Heatherington (#43)
Potential picks in the 35 to 45 range are: Zachary Fucale, Ian McCoshen, Justin Bailey, JT Compher, William Carrier, ArtturiLehkonen, Michael McCarron, Jimmy Lodge, Dillon Heatherington, Anthony Duclair and Eric Comrie. The third ranked goalie is Tristan Jarry at 48 and Spencer Martin is the next goalie at 59.
If Lou doesn't take a goalie in round one, he is very likely to take one in round two. Also, there are a couple of defensemen with first round talent (45 first round talents just don't fit into round one no matter how much you squeeze) who might be still available in Ian McCoshen and Dillon Heatherington, to name a couple.
Peter Cehlarik: 2013 NHL Draft Prospect Profile – A skilled Slovakian winger climbing experts' draft boards. http://t.co/ENDSvBe4zH

— All About the Jersey (@InLouWeTrust) June 18, 2013
Round 4: Pick 100 – Historical success rate = 19%
Preference 1 – Will Butcher (#100)
Preference 2 – Mason Geertsen (#102)
Preference 3 – Gage Ausmus (#104)
Potentially available starting at 96 and ending at 106 are: Niklas Hansson, Peter Trainor, Brendan Harms, Tyler Hill, Will Butcher, Mason Geertsen, Emile Djuse, Anthony Florentino, Gage Ausmus, Viktor Arvidsson and Greg Chase.
Three defensemen with decent potential are available in this group – which style do you prefer:
Will Butcher – Puck mover
Mason Geertsen – People mover with belligerence
Gage Ausmus – Steady stay at homer with reasonable size
Round 6: Pick 160 – Historical success rate = 9%
It is virtually impossible to tell who might be available from 160 on  so what I did was list those personnel who I have ranked in the 3rd and 4th rounds and the 5th round up to 145 which the NHL has ranked 160 or greater that still have a decent chance of still being available. As this is as good time as any to make sure you take the best player available, I have listed the prospects in ranking order. I have also added Albert Yarullin who has a big shot on the power play, Mitchell Theoret (6'2, 212) who looked very good for Barrie in the OHL playoffs and Brenden Kichton, a power-play quarterback with Spokane.
The Major Team Decision Makers
1 –CEO, President and General Manager:Lou Lamoriello
2– VP of Hockey Operations: Steve Pellegrini
3 – Executive VP of Hockey Operations, Director, Scouting: David Conte
4 – Coach: Peter DeBoer
The Big Club – Current Roster
| | | | |
| --- | --- | --- | --- |
| No. | Left Wing | Centre | Right Wing |
| 1 | Ilya Kovalchuk | Travis Zajac | Dainius Zubrus |
| 2 | Patrick Elias | Andrei Loktionov | David Clarkson |
| 3 | Steve Sullivan | Adam Henrique | Matt D'Agostini |
| 4 | Ryan Carter | Jacob Josefson | Steve Bernier |
| 5 | Krys Barch |  Stephen Gionta | Tom Kostopoulos |
| 6 | Alexei Ponikarosky | | Mike Sislo |
|   | Prospect | Prospect | Prospect |
| 1 | Reid Boucher | | |
| 2 | Stefan Matteau | |   |
| 3 | MattiasTedenby | |   |
| 4 | Blake Pietila | |   |
| | | | |
| --- | --- | --- | --- |
| No. | Defense | Defense | Goal |
| 1 | Bryce Salvador | Adam Larsson | Martin Brodeur |
| 2 | Anton Volchenkov | Andy Greene | Johan Hedberg |
| 3 | HenrikTallinder | MarekZidlicky | |
| 4 | Mark Fayne/Alexander Urbom | Peter Harrold | |
|   | Prospect | Prospect | Prospect |
| 1 | Jon Merrill | Damon Severson | Keith Kincaid |
| 2 | Éric Gélinas | Matthew Corrente | |
| 3 | Brandon Burlon | | |
Top 10 Prospects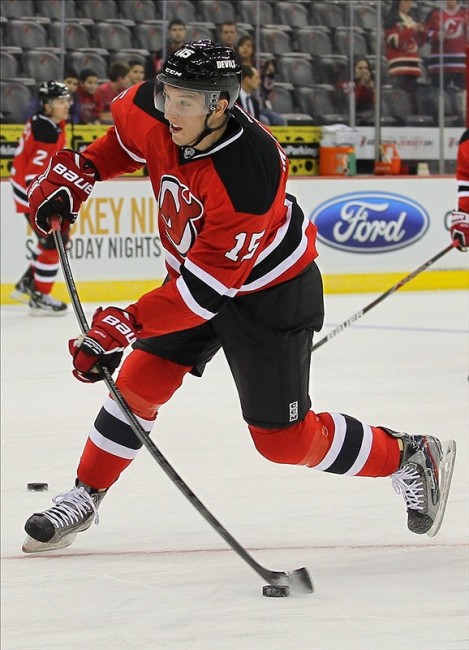 HF's @John_A_Iadevaia hands out some end-of-season awards to the prospects of the New Jersey Devils – http://t.co/JIYsmcztua #NJDevils

— Hockey's Future (@HockeysFuture) June 7, 2013
1 – 2011 – 099 – Reid Boucher
2 –2012 – 038 – Jon Merrill
3 – 2012 – 029 – Stefan Matteau
4 – 2011 – 060 – Damon Severson
5– 1989 – FA – Keith Kinkaid
6 – 2009 – 054 – Éric Gélinas
7 – 2008 – 024 – Mattias Tedenby
8 – 2008 – 052 – Brandon Burlon
9– 2011– 129 – Blake Pietila
10 – 2006 – 030 – Matthew Corrente
https://twitter.com/DevilsProspects/status/318196297238716416
The Last Three Drafts
The Real Story On Devils' Prospect Stefan Matteau: from Tom Gulitti of Fire & Ice, Devils 2012 first-round draft… http://t.co/E77hGGKD70

— Kukla's Korner (@kuklaskorner) April 22, 2013
| | | | |
| --- | --- | --- | --- |
| No | 2012 | 2011 | 2010 |
| 1 | 029 Stefan Matteau | 004 Adam Larsson | 038 Jon Merrill |
| 2 | 060 Damon Severson | 075 Blake Coleman | 084 Scott Wedgewood |
| 3 | 090 Ben Johnson | 099 Reid Boucher | 114 Joe Faust |
| 4 | 096 Ben Thompson | 129 Blake Pietila | 174 Maxime Clermont |
| 5 | 135 Graham Black | 159 Reece Scarlett | 204 Mauro Jorg |
| 6 | 150 Alexander Kerfoot | 189 Patrick Daly | |
| 7 | 180 ArturGravus | | |
| 8 | | | |
| 9 | | | |
Chris is THW's senior draft/prospect analyst and a Managing Editor. Watch for "The Next Ones" Prospect Profile series, exclusive rankings, mock drafts, as well as the annual THW NHL Entry Draft Guide. Follow @ChrisRalphYQ on Twitter as he infiltrates, dissects and analyzes all happenings of hockey prospects and the NHL entry draft. Email: cralph[at]thehockeywriters[dot]com