In the 2011-12 season, the New York Rangers established themselves as one of the best teams in the NHL. They recorded 51 wins and 109 points during the regular season, which was good enough to be tops in the Eastern Conference. Ultimately, they Rangers finished the season two wins shy of reaching the Stanley Cup Finals. Going forward, the Rangers will undoubtedly look at options outside of the organization in order to improve their roster. However, one question that lingers for the defending Atlantic Division Champions is how many of the Rangers' own free agents will they choose to bring back for the 2012-13 season.
Entering the off-season, the Rangers have ten players who will become free agents if they aren't re-signed before July 1st. Out of their ten free agents, eight will be unrestricted. Some are key contributors, players who scored timely goals in the postseason. Others are grinders, players who helped define the identity of how this Rangers team plays night in and night out. They all helped the Rangers on their journey to the playoffs, but they all won't be wearing red, white, and blue jerseys next season.
Stu Bickel
When Stu Bickel made his Rangers' debut in December of 2011, the belief was that he was filling for a few games until Michael Sauer and Marc Staal recovered from concussion-like symptoms. After Bickel made his debut, he remained in the Rangers' lineup until Game 3 of the Eastern Conference Finals against the New Jersey Devils. Although he wasn't flashy, Bickel was a solid and physical presence on the Rangers blue line.
However, Bickel didn't earn enough of head coach John Tortorella's trust to play significant time in the playoffs. Although Bickel dressed for all but two of the Rangers' twenty playoff games, Bickel never played over ten minutes in any game. Even though it would be unlikely for the Rangers to offer Bickel, an unrestricted free agent, a one-way contract, it won't be a surprise if they sign him to a two-way contract, and let him compete with prospects Tim Erixon and Dylan McIlrath for a shot to play on the Rangers' third pair.
Martin Biron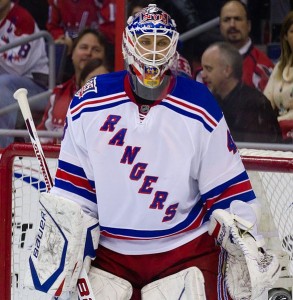 When Martin Biron signed with the Rangers in the summer of 2010, the plan was for him to be a capable backup for franchise goaltender Henrik Lundqvist. In his two seasons as a Ranger, Biron has more than done his job. The Lac St. Charles, Quebec native won 20 of the 35 games he started for the Rangers, giving Tortorella confidence to use Biron regardless of the opponent on any given night. Biron's steady play was also one of the reasons why Lundqvist was so successful in 2011-12. In playing the fewest games of his career since his rookie season, Lundqvist established career bests in wins, goals against, and save percentage, and was nominated for the Vezina and Hart Trophies. At 34 years old, Biron will become an unrestricted free agent if the Rangers don't re-sign him before July 1st.
A great personality in the locker room, and the consummate teammate, Biron is the ideal backup. He's reliable enough to play for an extended length of time if something were to happen to Lundqvist, but his presence won't cause a goaltending controversy. The Rangers and Biron have already started negotiating a new contract, and there is plenty of reason to believe that he will play his 3rd season in a Ranger uniform in 2012-13.
Michael Del Zotto
In his first three NHL seasons, Michael Del Zotto has gone through many peaks and valleys. The Rangers' first round pick in 2008, Del Zotto burst onto the scene as a 19-year old rookie, showing flashes of offense from the blue line that had Rangers fans believing that he could be the next Brian Leetch. However, to say that Del Zotto's second season was a sophomore slump would be an understatement. Del Zotto struggled through the first half of the season in New York, and finished the year playing for the Connecticut Whale in the American Hockey League.
In 2011-12, Del Zotto had a bounce back year. The 21-year-old finished 5th on the team in scoring, as he paced Rangers' defensemen with 10 goals and 41 points. Under the current CBA (which expires on September 15th), Del Zotto, a restricted free agent, doesn't have much leverage. Unless he is packaged in a trade for a big-time player, Del Zotto will be a Ranger for the 2012-13 season, and the foreseeable future (at a favorable price for the Blueshirts).
Steve Eminger
In his two seasons on Broadway, Steve Eminger proved to be a solid defenseman on the Rangers' blue line. Similar to Bickel, the 28-year-old was a steady presence, and earned Tortorella's trust as a third pair defenseman. Unfortunately for Eminger, his season was derailed in December when he suffered a separated shoulder against the Coyotes. Although he returned to the lineup in mid-February, he wasn't able to regain his form, and ultimately missed all but four of the Rangers' twenty playoff games.
Although Eminger is a steady presence, he may have run his course with the Rangers. The Blueshirts are hoping that young defensemen like Erixon and McIlrath will push veterans for roster spots and it's unlikely that Eminger, a nine-year veteran and unrestricted free agent, would be willing to sign a two-way contract at this point in his career.
Ruslan Fedotenko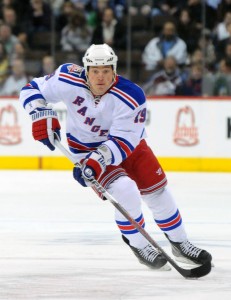 In the last two seasons, Ruslan Fedotenko has primarily been a bottom-six forward for the Rangers, who had the ability to contribute with timely goals. One of John Tortorella's favorite soldiers in Tampa Bay, Fedotenko scored 19 goals over two seasons, but never managed to finish with over 25 points in either of his two seasons on Broadway.
As an unrestricted free agent, it is likely that the Rangers will part ways with Fedotenko. Although he can still play in this league at 33 years old, the Rangers would have to give Fedotenko at least $1 million to re-sign, and they might be more willing to give one of their prospects a chance to make the roster at a minimum salary.
John Mitchell
In late November, the Rangers called up John Mitchell, and his play kept him on the roster for the remainder of the season. Although his final stats don't look too impressive (5 goals and 16 points in 63 games), Mitchell played a number of roles for the Rangers. Mitchell spent most of the year on the Rangers' 4th line, but Tortorella wasn't afraid to use him on the power play, or for a defensive zone faceoff.
At 27 years old, Mitchell will be an unrestricted free agent. Whether Mitchell will be a Ranger or not in 2012-13 will depend on the team's ability to sign other free agents after July 1st. However, at $650,000 per season, Mitchell could once again be a solid role player for the Rangers next year.
Brandon Prust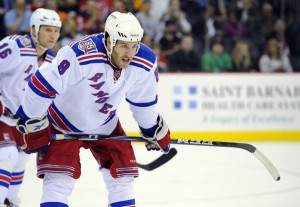 Brandon Prust is one of the Rangers that represents the team wants to play on any given night. Prust's willingness to fight, his strong play on the penalty kill, and ability to block shots have made him a fan favorite at Madison Square Garden. Prust's efforts were recognized by the "Garden Faithful" in 2010-11, when the fans selected him as the winner of the Steven McDonald Extra Effort Award.
As an unrestricted free agent, the Rangers' negotiations with Prust can get dicey. Although Prust's offensive stats weren't as good in 2011-12 as they were in 2010-11, he still should get a pay raise from the $800,000 he made last year. Prust has indicated that he would like to stay with the organization, so barring any surprises, Prust will be a Ranger in 2012-13.
John Scott
After the Rangers spent the majority of Trade Deadline day talking to the Blue Jackets about Rick Nash, they acquired John Scott from the Chicago Blackhawks for a 5th round draft pick a few minutes before the deadline. Scott was added as an insurance policy, and he only played in six regular season games after being acquired by the Rangers.
While Scott can be a valuable member to an NHL team, he doesn't fit into the Rangers plans. It shouldn't be a surprise if Scott signs with another team before the start of next season.
Anton Stralman
When Anton Stralman was signed by the Rangers early in the season, the hope was that he could provide offense from the blue line. Stralman's first season in New York was a decent year, but his two goals in 53 games were much less than what the Rangers anticipated. Stralman scored three goals during the playoffs, but spent the majority of the time as the team's fifth defenseman.
Stralman, a 25-year-old restricted free agent, made $900,000 last season. The Rangers will extend him a qualifying offer, and should Stralman choose to accept it, he will be back in a Rangers jersey next year.
Jeff Woywitka 
To say that Jeff Woywitka's season was frustrating would be an understatement. Woywitka was claimed off of waivers from Montreal just before the Rangers opened up their season in Sweden. During the first half of the season, Woywitka was a mainstay on the blue line, as he helped the Rangers reach 1st place in the Atlantic Division in late December. However, after being scratched for the Winter Classic when Marc Staal returned from injury, Woywitka missed significant time with a foot injury. Woywitka only played in one game for the Rangers after December 30th.
As an unrestricted free agent, Woywitka will find a new home in 2012-13. As is the case with Eminger, the Rangers' have a stockpile of young defensemen that they would like to see make the team, and with defensemen such as Staal, Dan Girardi, and Ryan McDonagh already established, there isn't a lot of room for extra defensemen on the Rangers roster.